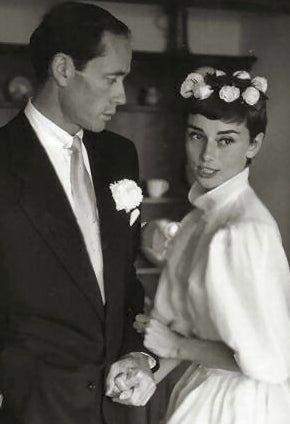 My Top Tips For Bridal Make-Up
Women often make a real departure from their usual look on their wedding day because of the desire to achieve something extra special with their hair and make-up. However, extra special and dramatically different are not the same thing. We all put everything (time, money, dreams) into this one day and normally pragmatic women can become slightly unhinged with all good judgement going out of the window. Take a step back. Look through lots of pictures of yourself….chances are you looked your best on holiday when you hadn't tried too hard with your hair and make-up...bear that in mind. Your fiancée fell in love with your beautiful blue eyes, don't drown them in bright purple eye shadow just to be different!
Don't go all out for a definite 'look', much better to aim to make yourself look as beautiful as possible. For example, weddings have long been associated with pastel make-up but it suits few, doesn't give enough definition and tends to look washed out in the photographs. Also it can look very old fashioned and a bit 'mother of the bride' circa 1975. Instead always stick to a classic 'beauty' make-up...a better, more flawless but natural version of yourself. I'd say avoid white-based pastels completely unless you are going to combine them with neutral pencil or shadows to bring the definition back.
Changing your look dramatically is never a good idea. Chances are you won't look your absolute best. Stick to what you know really suits you. Your guests (and the groom) need to be able to recognise you immediately.
Don't be be swayed by catwalk trends. For example if 1980's make-up or particular colour combinations are being featured in all the magazines don't be tempted to follow. It's guaranteed you will look back at the photos years later and cringe.
Despite all advice to keep it simple, pretty, natural etc it's important to remember that it is also possible to 'under do' wedding make-up. White dresses can be very draining against the face so a peachy or rosy blush is a must. Remember you'll also need some definition in your make-up for the photographs. Define your eyes with beautiful dark thick lashes, good brows and a nicely shaped eye socket. Stick to neutral shades.
Overdoing the fake tan will result in an overly orange skin and against a white dress this will look cheap and nasty. Extremely tanned faces don't photograph or take make-up well. Why do you think all the Hollywood A-listers keep themselves pale? They know this only too well.
Keep tans (real and fake) soft, subtle and chic.
High maintenance make-up like very painterly glossy red lips or false eyelashes etc can result in stress if you are not used to wearing and maintaining them. A few tears and a lot of kissing and you could end up looking like coco the clown!
Take advantage of advances in technology like long lasting formulations as these can really help, especially when it comes to lipstick and foundation. The main thing is to make your skin look amazing, after that everything else just falls into place. It's not unusual to have a sleepless night before the wedding so good concealing, highlighting and evening out works wonders. Always use waterproof mascara (and eyelash glue if you use lashes) even if you end up not needing it, it's better to be safe than sorry.
High def cameras and flash photography mean that you need to avoid too much light reflection. This is especially important around the eyes as none of us want to suffer from 'reverse panda syndrome' on our big day. Set your make-up with non-shimmery powders that don't contain titanium dioxide or any kind of light reflective particles – particularly under the eyes. A little shimmer on the high points of the cheeks, apples of the cheeks, collar bones and shoulders can look lovely but keep it subtle and chic.
Ask your bridesmaid to keep a few things for you in her bag for touch ups throughout the day and into the night.
The essentials I suggest...
1. A small powder compact and brush or Blotting papers (these are especially good if you are in a hot country).
2. The lipstick or gloss (or both) you are wearing – for touching up in-between all the kisses.
3. Some Q-tips for any smudges under the eyes (or anywhere else) – dry ones and some soaked in a little make-up remover and wrapped in a tissue. These are a godsend if you need to refresh your under eye area, remove any mascara or liner which has moved and generally clean things up as the night wears on.
4. A little concealer palette – fab for repairing or refreshing under eye area, touching up any blemishes which start to peep through as time goes on and for covering any red patches that develop on you face, neck or body.