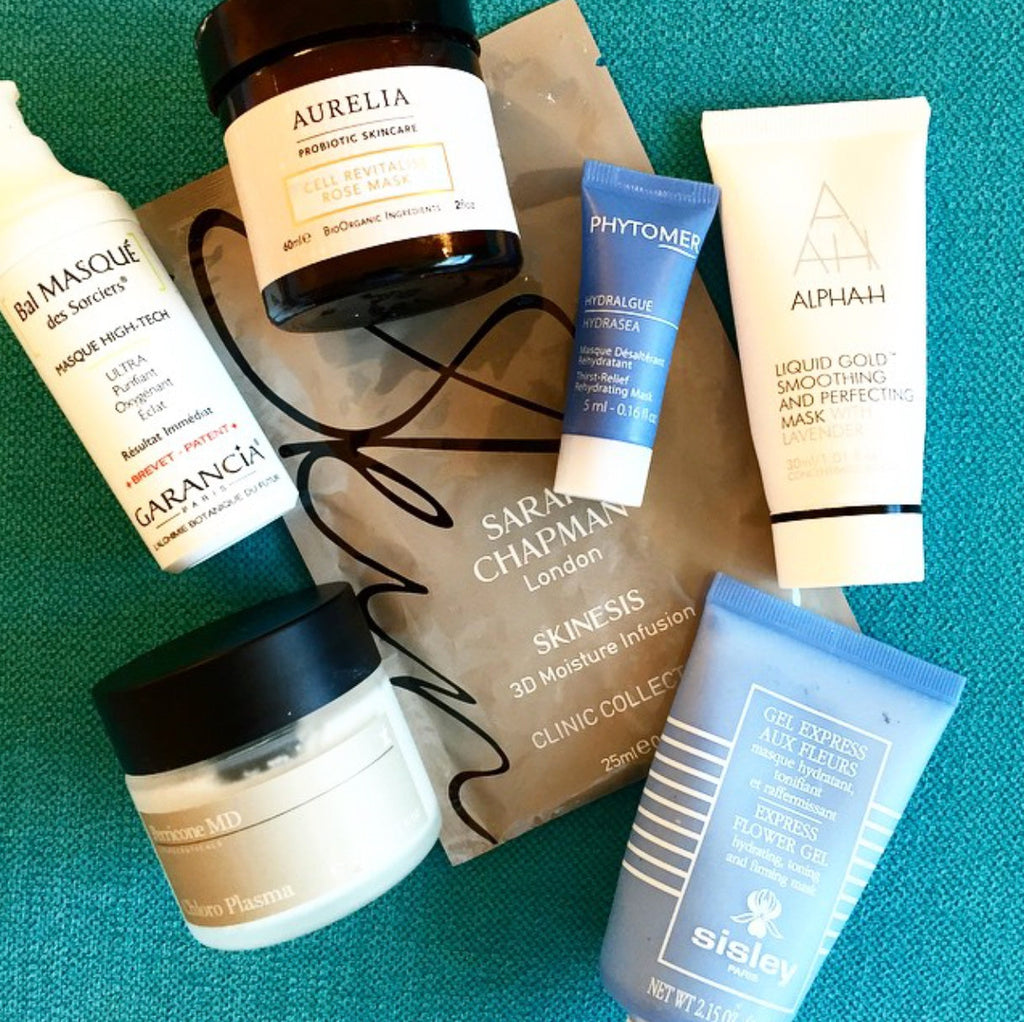 My Mayr mask must-haves
If you subscribe to my newsletter you will have already had a first look at this post last week (if you don't, sign up here for more exclusives). I'm just back from a week at the Mayr health retreat in Austria - I've been so busy with work recently and had been suffering from migraines so I jumped at the chance to spend some time out there.

It was also the perfect excuse to treat my skin to different masks as, for once, I had lots of free time. I don't know about you, but my skin changes from day to day - one day it's oily and the next it's dehydrated. I packed different options so that I was prepared for any skin eventuality! I also knew that I would be splitting my time between the original Mayr centre in the south of Austria, near the Italian border, and the new centre in the north where I would be outside in a cooler climate, going on lots of walks and mountain hikes, so I was able to mix and match my mask routine according to what my skin craved each day.

Have a look at the ones I brought with me below…

Aurelia Cell Revitalise Rose Mask
If you have sensitive skin or skin that tends to go red in cold weather, this one's for you. I used it after my hikes at the north clinic - the all-natural formula is rich in probiotics that are designed to soothe, strengthen and lower stress levels in skin (just what I needed) and can quickly calm any redness or inflammation.

Phytomer HydraSea Thirst-Relief Rehydrating Mask
Drier skin will drink up this creamy, moisturising mask - it's another one I used when I was in the north clinic and spending lots of time outside. It feels deeply hydrating and quickly plumped up my tired skin.

Garancia Bal Masqué des Sorciers Purifiant
This mask is great for all skin types but especially dull, oily or combination skin. Think of it like a mini peel - you can feel it fizzing as it forms little bubbles that disperse oxygen to boost circulation for a hit of radiance. It's really easy to use and works in a matter of minutes (just rinse it off when the bubbles disappear), perfect before an event for instant glow.

Sarah Chapman Skinesis 3D Moisture Infusion
Sheet masks are one of my skincare obsessions. They're perfect for travelling - easy to pack and quick to use. This hydrating, hyaluronic acid-packed formula came into its own the morning after I (accidentally) slept with the heating on and windows closed and my parched face needed moisture, quick! It was the first time I'd tried it and it gave me a visible face lift after one use! (for morning puffy face, you could keep it in the fridge to reduce facial swelling in minutes)

Perricone MD Chloro Plasma
I packed this to give my combination skin a deep cleanse. The creamy mask contains chlorophyll (an antioxidant that's great for skin) particles which burst as you massage the mask onto your skin - I like to spend a while massaging with this one. You can tell all the particles have delivered their chlorophyll when the mask goes from pale to deep forest green. It sets like a classic clay mask and helps to tighten pores and balance oil without drying out your skin

Alpha H Liquid Gold Smoothing & Perfecting Mask
If your skin is congested or dull (or you've just had a string of long days and late nights, like me), I like this glycolic mask as it exfoliates, smoothes and brightens tired complexions quickly. It does contain essential oils so not suitable for very sensitive or reactive skin - although this is balanced with soothing manuka honey.

Sisley Gel Express aux Fleurs
This hydrating mask is one of my all-time favourites so it often makes its way into my holiday skincare kit. I put it on in the morning and leave it for three minutes (or longer if I have time). If I'm following it with make-up I'll wash off completely or, if I'm having a day off, I just tissue off and massage any remaining gel into my skin.

Let me know if you've tried any of the above and what your must-have masks are in the comments below...