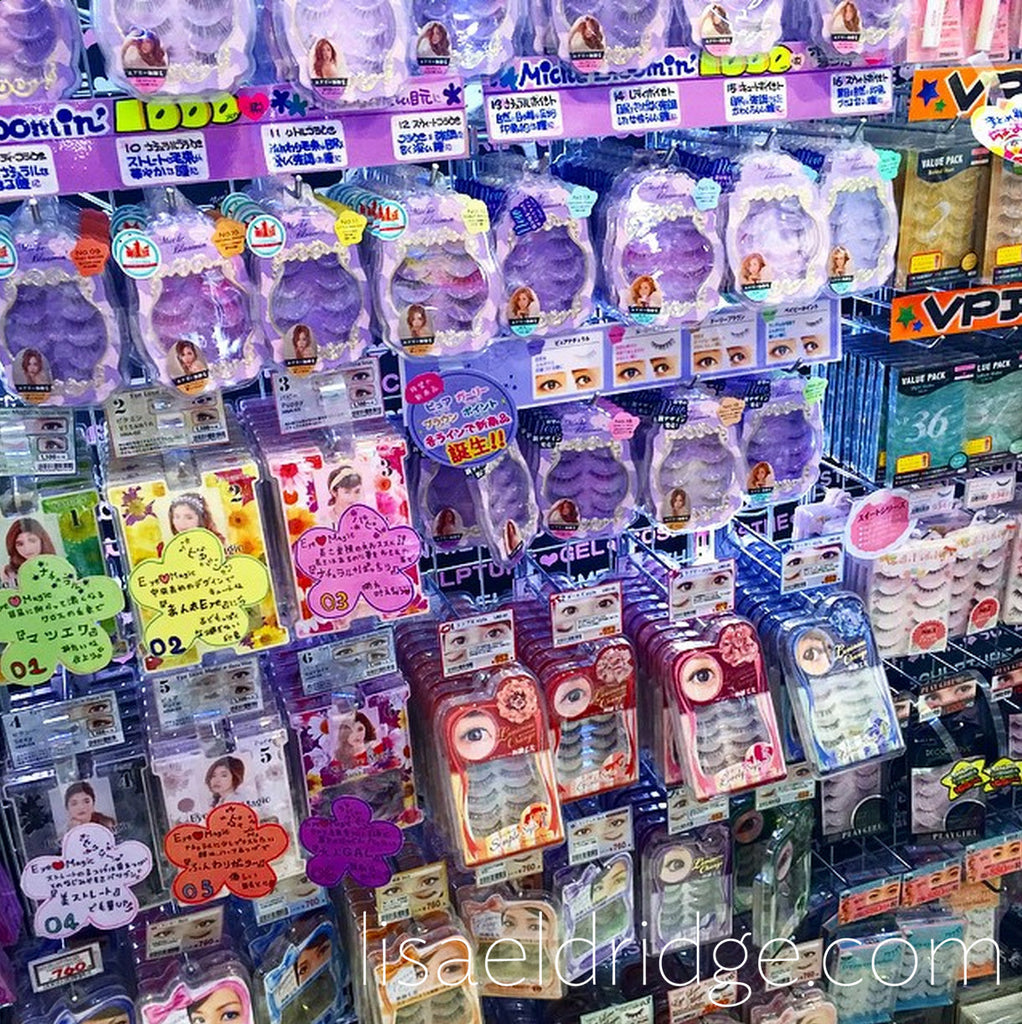 My Japanese Lash Lowdown
I'm like a kid in a candy shop whenever I visit a drugstore, and the Japanese ones are out of this world - absolutely crammed with makeup, skincare and beauty gadgets, with discount signs, talking advertisements and music playing from every shelf… It's chaos, but I love it! On my recent trip to Tokyo I did a mega haul (if you haven't already, watch my Japanese Makeup Look film to see some of the products I bought), including a lot of false eyelashes which I wanted to show you all.
Japanese girls' eyelashes tend to be naturally shorter and finer and lots of the girls crave a big, doe-eyed look, so there's huge demand for high quality false lashes. Competition is fierce and Japanese brands go the extra mile to deliver - there's a lot more choice than you find in Europe or the US, with hundreds of sets piled high in every drugstore (as you can see from my photo above), from natural and subtle to full-on, crazy styles, with lots of variation in weight, length and featheriness.
The packaging also tends to be typically Japanese (pink, bows, hearts, glitter and flowers on every packet, with girly names like 'pure sweet' and 'natural cute') and the prices are often very reasonable - the 100-yen shops (the Japanese equivalent of a pound or dollar store) have huge selections - I took a photo below to show you all.
Here's a (small!) selection of some of the lashes I picked up that shows just how much variation there is, and the different effects they achieve…
UPPER LASHES
The most natural false lashes are very fine with a mixture of brown and black hairs (1 D.U.P. Secret Line Brown Mix Eyelashes 925). You can see that these ones above are also slightly longer in the centre - this is a typical shape that's popular because it's a natural way of making eyes look rounder for that girly, wide-eyed kawaii look (a similar shape to the ones I wore in my film). Lots of the Japanese beauty journalists I met wore lashes like these every day - they're so subtle you hardly notice them, but they open up the eyes beautifully.
Then there are lashes that are winged and longer towards the outer edge (2 D.U.P. Koda Kumi Selection Love Cherie 05), with a wispy, feathery shape that makes lashes appear naturally longer and fuller. Half sets are also really popular (3 Miche Bloomin' No.15 Cute Point) as they can subtly elongate the eye and give the illusion of thickness, but again in a very natural way. For more of a statement or evening look, there are lots of fuller styles, from long and feathery (4 Dolly Wink 11 Pure Sweet) to thick, dark and broken up (5 Nature Is Lovely Eye Lash S-01 Beauty Eye).
BOTTOM LASHES
Wearing false eyelashes on lower lashes is uncommon in the West, but lots of Japanese girls wear them with upper lashes to really enhance the illusion of big, round eyes. Just like upper lashes, there are lots of different styles to choose from.
There are some very natural, soft and pretty styles (6 Dolly Wink 21 Secret Girl) - again, some so fine that you hardly notice them once they're on. Then there are slightly darker (but still soft), broken-up styles (7 Dolly Wink 13 Baby Girl) that give a cute, dolly look - very Japanese and kawaii. I also picked up these dark under-eye lashes that are much more statement (8 Nature Is Lovely Eye Lash S-17 Nudie Eye) and perfect for creating striking, ganguro girl looks.
Watch my Japanese Makeup Look, Haul and Chat below and let me know if you have any favourite false lashes in the comments.