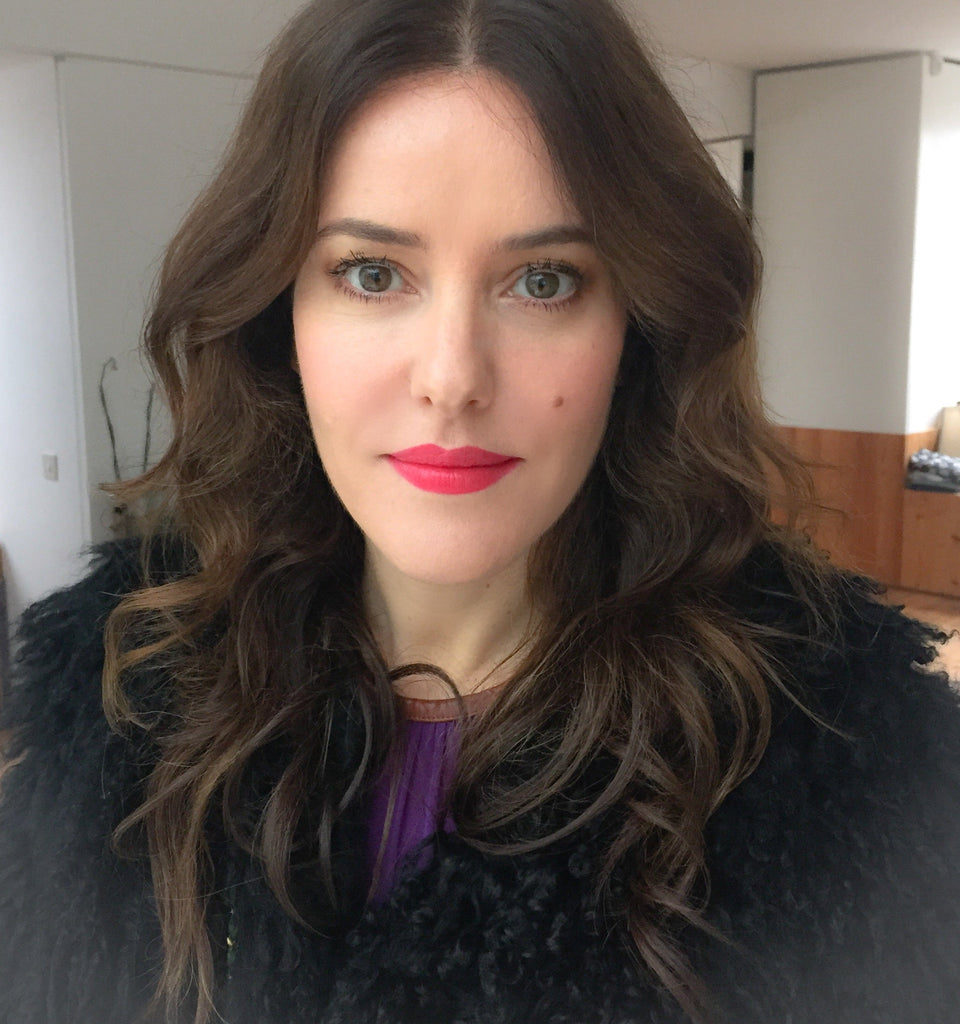 My #FOTD Makeup Look for my FacePaint Signing
I've had lots of highs throughout my makeup career, but yesterday was a BIG moment for me - the launch of my first book, FacePaint. As many of you know, I've been working on the book for a long time so it was a real pinch myself moment when comments and photos started to come in from my makeup bunnies who'd bought a copy.
For such an auspicious occasion I decided to wear one of my favourite dresses (the purple shade always makes me feel good), teamed with a bright lipstick for a boost of confidence. I went for a vibrant pink-red shade for a twist on a glamorous classic.
Here's a breakdown of my makeup...
BASE
I started with Lancôme Miracle Cushion Foundation in Beige Rosé 02 to even out my skin, then used Clinique Airbrush Concealer in Neutral Fair under my eyes and Laura Mercier Secret Camouflage in SC3 to pinpoint conceal a few spots that had typically appeared right before my event! I basically followed my Natural, Flawless Skin tutorial ; )
CHEEKS
I wanted a pinky blush to compliment my lipstick, and used Urban Decay Naked Flushed palette in Native, a pretty, matte pink with blue undertones (like the lipstick I'd chosen). This palette also has a shimmery powder highlighter that I used along on the high points of my cheekbones, browbones and in the corners of my eyes to keep my makeup looking fresh (there's also a warm bronze shade that you can use for sculpting if you want to - like I do in my Universally Chic Makeup Look tutorial).
EYES
This look was all about the bright lip, so I wanted to keep my eyes subtle but defined. I used Becca Ombre Nudes eye palette (which has five soft, matte, warm tones, perfect for sculpting) to shade my socket and under the lash line, but any neutral palette would work. Then I gave my lashes a really good curl and applied a couple of coats of Lancôme Grandiôse Mascara. For brows, again I kept them natural, filling in any gaps with a bit of Suqqu Balancing Eyebrow brow powder in 02.
LIPS
The lipstick I chose is one of my current favourite brights, Lancôme L'Absolu Rouge in 1951 Rose Désir. It's a beautifully vibrant, pink-red that's part of a three-piece lipstick collection, inspired by Lancôme's vintage colours to celebrate their 80th anniversary - so it felt very fitting for the launch of my book about the history of makeup. As it's limited edition, two good alternative dupes are Revlon Super Lustrous Lipstick in Cherries in the Snow and Rimmel Colour Rush Balm in All You Need is Pink. I also lined with No7 Precision Lip Pencil in Fire.
I was overwhelmed with how many of you came to see me last night, thank you SO much for all of your support. For anyone not in London, I'll keep you up to date with more signings and events once plans are finalised.
I loved scrolling through all of your FacePaint pictures and comments on the way home, and am happy that so many of you seem to be enjoying the book - remember if you're uploading anything about it to social media, please tag #facepaintbook so that I can see, like and comment on your posts X
To find out more about my book, have a look at my FacePaint page here.