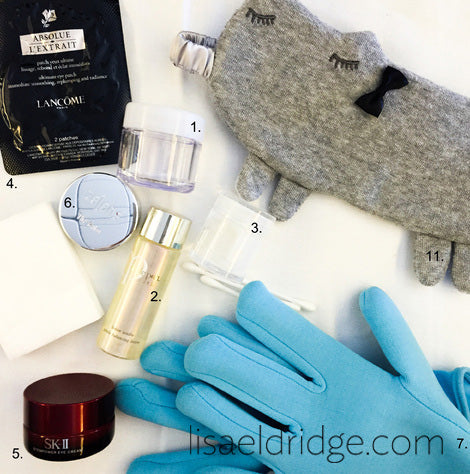 My Beauty Regime on Long Haul Flights - an update!
I follow a major tried and tested beauty regime on long haul flights (which you'll already know about if you've watched my film) - I like to turn every plane journey into a spa opportunity! Last week I flew to Tokyo for a shoot and to celebrate Lancôme's 80th birthday and packed lots of my usual in-flight favourites as well as a few new things that I wanted to tell you about.
I know it might seem be a bit extreme to sit on a plane with gel eye masks and hand-moisturising gloves on, massaging my face with an odd-looking silver roller, but this was a long, overnight flight (with the lights turned down for most of it) and I admit I go to great lengths to kill the boredom! Plus, as I had zero recovery time when I arrived in Tokyo, and a long day of interviews ahead, I wanted to make sure I landed with fresh, glowy skin. I admit I do occasionally get the odd funny look, but I don't care because I find it relaxing - and fun! Here's a round-up of what I used…
For cleansing - La Roche-Posay Physiological Micellar Solution (1)
This is the first thing I used to take off all of my make-up and give my skin a quick refresh. The travel pots I use are from Muji. I also like the This Works In Transit No Traces pads for in-flight cleansing - they're saturated in rosewater and water mint so as you can imagine feel super-refreshing.
For hydrating - Clé de Peau Beauté Gentle Balancing Lotion (2)
I normally carry a face mist with me but this moisturising toner is a nice alternative. I swept it all over my face with a cotton pad to counteract the drying plane air and it helped keep me dewy and hydrated.
For nourishing - Laneige Firming Sleeping Pack (3)
I bought this in Korea after my Instagram followers told me that it was the mask to get while I was there (I also picked up the Water Sleeping Pack but chose the Firming one this time as I knew that I would have a long day of being filmed and photographed when I arrived). It's an overnight mask, so perfect for a long flight, and full of collagen peptides that keep skin plumped up. Once again, I used a Muji travel pot for portability.
For eyes - Lancôme Absolue L'Extrait Ultimate Eye Patch (4) and SK-II Stempower Eye Cream (5)
I love these Lancôme eye patches (sadly only available in Asia and were a lovely present from the Japanese team on my previous visit). At home I keep them in fridge and put them on in the morning, and when I'm flying I use them to quickly de-puff and pep-up my eye area before I land (yes, I know I'm high maintenance, but I enjoy it!). I tapped on SK-II's antioxidant-rich cream (called Essential Power Eye Cream in the UK) throughout the flight - the eye area is so fragile and vulnerable to cabin area and dehydration that I wanted to stop any adverse effects in their tracks.
For Lips - Zelens The Balm (6)
This is one of my current favourite lip balms - it's packed with shea butter and hyaluronic acid so super-nourishing, and you can use it on cuticles and other dry patches too.
For hands - Talika Hand Therapy Gloves (7)
I normally apply lots and lots of hand cream during a flight but thought I'd give these gloves a try (partly for the novelty factor!). They're heavier than they look with a gel lining that contains active moisturisers (including olive, avocado and jojoba oil and vitamin E) that are released on contact with skin, nourishing your hands as you wear them. I kept the gloves on throughout most of the flight (hiding them under my blanket to avoid too many strange looks) and my hands felt super-soft afterwards. To be honest, I got a shock when I saw my bank details online the next day (I bought them on the plane and paid in Yen) and realised they had set me back almost  £70 ... but decided that if they last me for a few years its ok ... Ooops! 
For massaging - ReFa S Carat Platinum Electric Roller (8)
I bought this great Japanese face massager in the Air Nippon inflight magazine and found lots of similar ones in the Tokyo drugstores. It has roller balls that stay cool and grip your face as you massage up and along your jawline, cheekbones and forehead. The massaging action relieves tension, firms skin and reduces puffiness - plus performing lymphatic drainage as you watch a film is a good way to pass the time! It also has a solar panel that generates a low current that's supposed to help tighten the skin - I'll let you know in a few weeks how well this has worked! The gold and black roller in the image is actually an applicator from a new Lancôme face cream (9) - it has a cool tip that felt lovely tapped and rolled under my eyes.
The extras
I'm obsessed with discovering new teas (and am something of a connoisseur in this area), and get frustrated when I'm denied my favourites over a long period of time, so I always take my own tea bags on flights. I love these Pukka Peppermint & Licorice ones (10 great for digestion and relaxation). The little bottle contains some homeopathic drops that were prescribed to me at the Mayr clinic. And how cute is this Betty-esque Tsumori Chisato eye mask?! Just what I needed when it was time for a plane nap…
If you haven't already seen it, watch My Beauty Regime on Long Haul Flights film below...