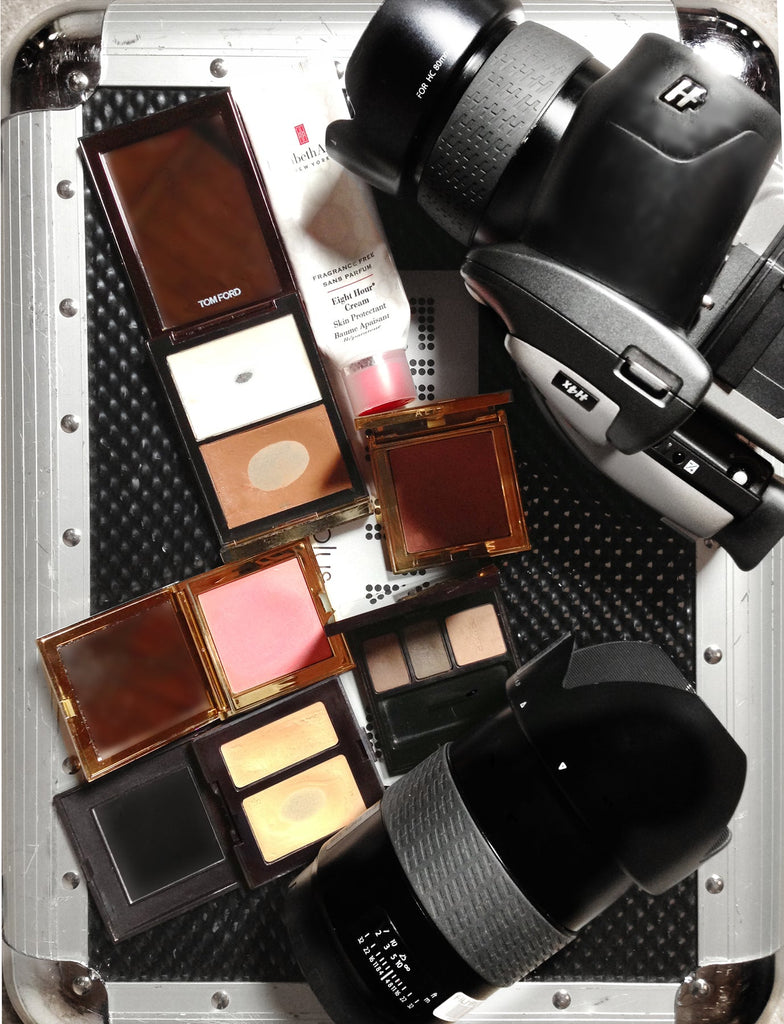 Multi-Purpose Marvels
My favourite products that do double – and sometimes triple – duty!

I love a product that can do more than one job and even better if it can do three. That said, even the most versatile multi-tasker has to perform. It's no good to me if it does three jobs half-heartedly – it has to do them all brilliantly. So many multi-purpose products that claim to be must-haves don't make it past the first hurdle, never mind into my kit.
I rely on having products in my make-up kit that I can really count on. They need to stay-the-day, look great under all kinds of light and never let me down. Here are a few of the multi-purpose all-stars I count on and which get a serious amount of use day to day.I love trying new products and experimenting with the latest formulations and textures, but I'm extrememely fussy when it comes to what makes it into my pro kit, especially if it has to be pared down for a shoot on location or a Red Carpet event when I might only have a short time (and small space) to do the make-up.
Multi-taskers, should not be considered the boring staples of your make-up bag. I find I'm at my most creative when I only have a few things to use and when I can experiment with a lipstick used as a blush, an eyeshadow that doubles up as cheek contour or a brow powder that I can also use as eye colour. It's fun to play around and to mix and match what you've got in your make-up bag – and to see what you can do with very little. Here are my favourite multi-function, high-performance portable products.
Tom Ford Shade & Illuminate, I love the sheer, easy to blend texture of this cream duo. The darker shade is perfect for contouring and sculpting cheeks, as an eyeshadow and works beautifully as a sheer, dewy (non shimmer) bronzer. The light shade is great for highlighting the high points of the face and for adding a touch of sheen and shimmer to eye and lip make-up. Expensive but worth it as it really does multi-task fantastically. Available in two shades
Aerin Lauder Multi Color for Lips & Cheeks, Cream lip and cheek products have always been a favourite of mine and I usually carry several brands and multiple shades in my main kit. My latest love in this category is from Aerin Lauder. Not only does it smell deliciously of roses, this glide-on extra creamy colour can be used on eyes, lips and cheeks and comes in a suit-all nude and a fresh pink. The effect is so real, so natural it really does look as though you are blushing from within. It can also be mixed with lip balm, gloss or highlighter for a bit of variety.
Suqqu Balancing Eyebrow, Two brilliant palettes containing three brow defining and filling in powders. The texture of the powder is just right, dry but not too dry with a good level of colour payoff to ensure a natural effect.  I find the shades in the palettes cover all colourings - and can be mixed together in various combinations to create the perfect shade and look.. I also use them as eyeshadows, socket shading and liner so although it's expensive, it really does double-up.  Perfect for a minimalist make-up bag and lasts a long time.
Laura Mercier Secret Camouflage, I've searched high and low for a concealer that lasts and does the job as well, but always come back to it time and time again (especially if I'm travelling light). Not only can it be used to conceal blemishes and uneven pigmentation, it's also great to mix with a light reflective pen for extra under-eye coverage or a bit of brightening wherever you need it. And if you don't want to carry or wear full foundation, simply blend with your usual face cream or moisturiser and apply with a brush to make a super lightweight make-up base. Available in 8 good duo palettes, so theres a good chance you'll find one that matches your skin tone perfectly.
Elizabeth Arden Eight Hour Cream Skin Protectant,  When Elizabeth Arden first created this multi-purpose balm back in 1936, she couldn't possibly have imagined how many fans it would have 77 years on! A mix of petrolatum, beta hydroxy acid (which gently exfoliates) and vitamin E, it can be used anywhere and everywhere, as a lip balm, cuticle cream, brow tamer, as well as being mixed with lipstick to make a tinted lipbalm. I also really love using it as a cheekbone highlighter on photoshoots.
So these are a few of my go to favourites, what are the multi purpose heroes of your make-up bag?