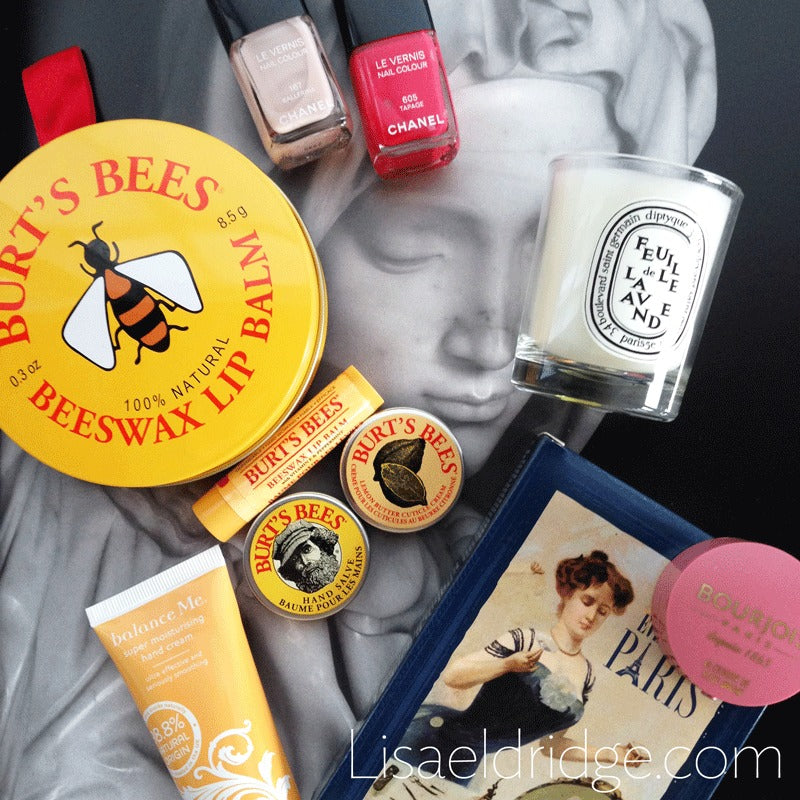 Mother's Day Treats
This Sunday is Mother's Day in the UK and over the next 6-8 weeks it will be celebrated all around the world, so I thought I would share some of my favourite gift ideas that are around at the moment. I've picked things from all price points that are perfect for spoiling all of the lovely mums (and Grandmas) out there. New mums may also like to treat themselves!
Under £10.00 & $10.00
I love Burt's Bees lip balms and this cute little Mini Collection £5.99 ($9.88) in its colourful tin also comes with a hand salve and cuticle cream, perfect for popping into make-up bags or for travelling. I don't think there's anyone who wouldn't love this and find it useful! 
My mum, who's a big lipstick lover, has recently taken to using chubby stick style lip pencils. The moisturising, balmy feel and sheer to medium pay off make it easier to wear bright colours without any fuss or fear of feathering and they feel so hydrating on the lips. Revlon Colourburst Balm Stain  £7.99 ($8.99) comes in 6-10 (depending where you are in the world) great shades.
£10 - £20
Chanel Nail Polishes £18 ($29) are always a bit of a treat as they consistently do the most wonderful shades. Here are two of my spring favourites: Ballerina (a classic pale rose pink) and Tapage (a vibrant pink/red).
Who wouldn't be delighted to wake up on Sunday morning to a beautiful Diptyque Candle?! £20 ($32.98) The mini versions have a burn time of up to 20 hours. They all smell divine, so you can't really go wrong whichever fragrance you choose.
If you've seen my tutorials you'll know that one of my must-have tools in my kit is a good pair of eyelash curlers - Shu Uemura's  £20 ($32.98) ones are still the best and make a really lovely gift for lash lovers!
For those hard working mums, a moisturising hand cream is a must and Balance Me Super Moisturising Hand Cream £14.50 ($23.91) is a great product to have in your handbag, it includes shea butter and sweet almond oil to moisturise and benzoin which helps improve elasticity and cracked skin.
£20+
A beautiful palette always makes a great gift and this Stila In The Know Matte Eyeshadow Palette £25 ($39) is perfect for creating subtle, everyday looks and the darker shades can be layered up for sophisticated evening drama. Lots of mums still prefer shimmer/glitter free when it comes to eye shadow and the soft, matte textures in this palette work well on mature eyelids.
Something a bit different is this Deep Sleep Pillow Spray £30 ($49.47) from This Works – perfect for all the busy, overworked mums out there! It's a gorgeous spritz with essential lavender, vetivert and chamomile oils. The original is £16 ($26.38) but I love this limited supersized edition with the beautiful floral print on the bottle (and it's more than three times bigger than the original, making the £30 price tag pretty good value).
A great face palette for spring is the Clarins Opalescense Face and Blush Powder. A light, smooth peachy toned powder with hints of coral blush and light bronzer (all matte) it's finished of with a touch of gold shimmer. It would suit fair to light and medium skintones.  
For glam, make-up loving mums, what about Bourjois' Evening in Paris Kit? £26 ($42.87) The box features one of the brands original advertising images from 1900. It comes with a pink blush (Bourjois blushes are one of my favourite high street beauty buys), a mini nail polish plus regular sized smoky eye trio, lipstick and mascara.
Clinique's All About Shadow set  £32 ($36 on Sephora) comes in a sleek silver case with oversized mirror and contains 8 beautiful, wearable eyeshadows to suit all. Chic and understated the shades can be used to create everything from a simple sculpted eye to a full on smokey look.
Murad do some really good sets and this Environmental Shield Start Kit - out this week £29.50 ($39.95) is a great little introduction to the Murad line and perfect for mums who need a bit of skincare pampering! The set is filled with mini versions of the Essential-C Cleanser, Advanced Active Radiance Serum, Essential-C Day Moisture SPF 30  and the Essential-C Eye Cream 4ml. It's a great price as the kit is worth nearly £80.00! There's also the Murad Glowing Duo Set £45.00 ($74.21)
which includes the Age-Diffusing Serum and Age-Balancing Night Cream or the Complete Renewal Set  £45.00 ($74.21) which is designed to restore moisture and minimise the appearance of wrinkles.
For something a bit more indulgent, Aurelia's Cell Revitalise Rose Mask £65 ($107) – the perfect pick-me-up for dull and tired skin. Made with 100% Bio Organic ingredients, it's great for all skin types and is packed with antioxidants, omega oils and damask rose so smells amazing.
So if you have been thinking about what o spoil your loved ones with this weekend, I hope this has given you some good ideas – and of course a huge happy Mother's Day to all the gorgeous mums out there X