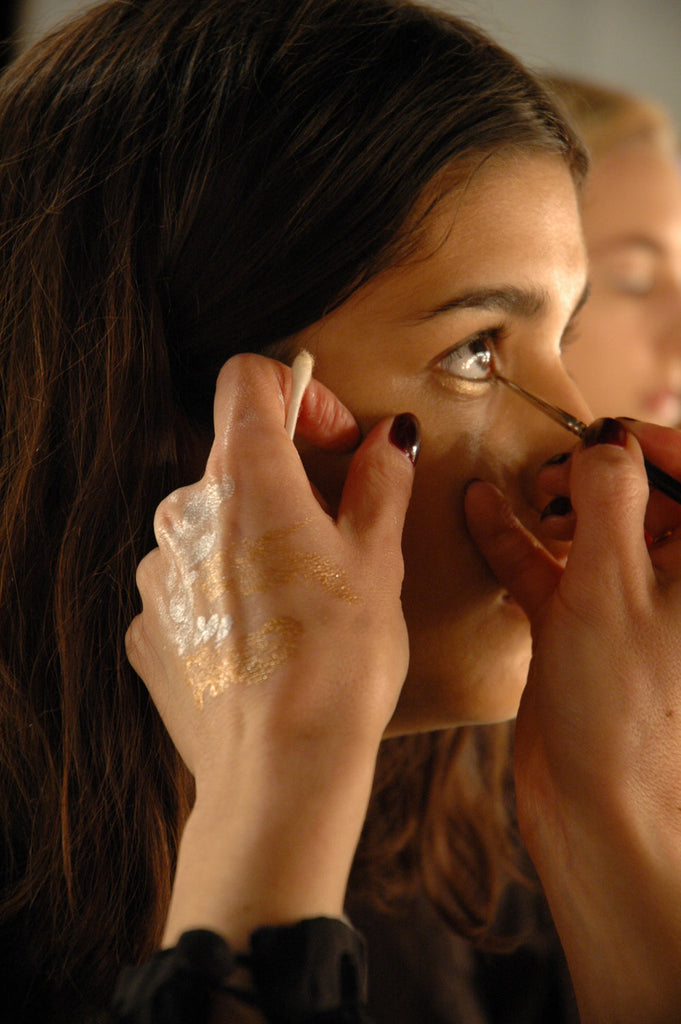 Molten Silver and Rose Gold - Luxe Grunge at #LFW
Osman's collection was inspired by Narnia with lots of white, clean lines and metallic touches so I wanted to create something modern but with an ethereal, magical edge.
For skin I used Mac's Face and Body foundation to give a very natural, not too done, 90's look. I then applied Becca's shimmering skin perfector to cheekbones and concealed any dark circles and blemishes using Clinique airbrush concealer and Laura Mercier Secret Camouflague. A little contour added definition, I used Tom Fords Shade and Illuminate.
This look was ALL about the eyes which were embellished with a swish of Eyeko's new Metal Liquid Liners (launching mid May). I used 'Platimun' along the upper lash line - which went on as smooth as molten silver and stayed put like you wouldn't believe - and 'Rose Gold' along th'e lower lashes. Both caught the light gorgeously. Next I curled upper lashes and applied Skinny' Mascara in Black.  To complete the eye look I coated the tips of the lashes in the Platimun Metal Liner – this gave the eyes a really beautiful, shimmery and ethereal quality - perfect for the catwalk.
Brows were backcombed using Eyeko's Tinted Brow gel and left full and natural. I treated lips with a little balm before applying a touch of the Rose Gold liner to the cupids bow with a dot of Platimun right at the centre.
The final look is best described as Luxe Grunge as the skin and overall vibe was very 90's but the flash of metallic on the eyelids and twinkly lashes added a super lux-y element.
To take this look from runway to 'realway' you could just use the 'Platinum' OR 'Rose Gold' Liner along the upper lash line and apply black mascara for great summer look.
Thanks to Eyeko and my wonderful team who did a great job and to Nick from Tigi Hair who, as well as doing the hair for the show, put together the best hair & Make-up room playlist ever #toptunes