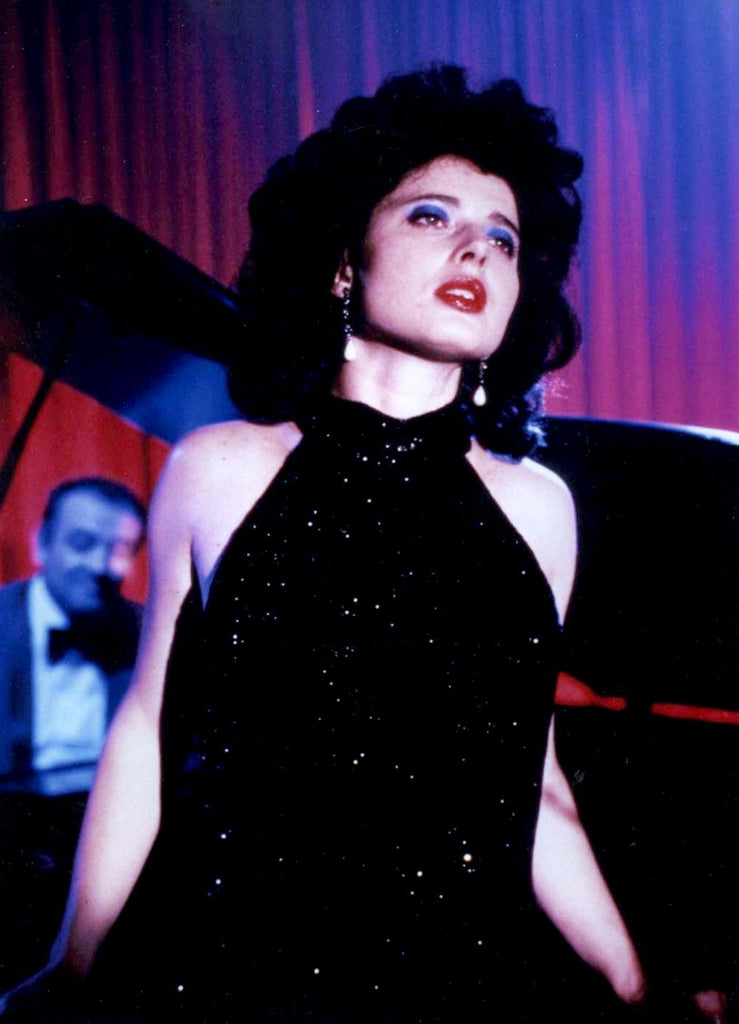 #MakeupMoments - She Wore Blue Velvet
Before doing Isabella Rossellini's make-up recently I wanted to remind myself of the makeup she has worn for movies and in everyday life. As usual with internet (and the power of Google images), I ended up going through all the looks she has worn since her career began. Although Isabella didn't begin acting until she was 31, she's played some truly brilliant and iconic roles. The one that she's perhaps best know for is the beautiful, mesmerising Dorothy Vallens in Blue Velvet, and when I was looking  at some of the images from the film I was reminded of just how amazing her look was - I'm still inspired by that electric blue eyeshadow and those glossy cherry red lips, everything about the makeup was so bold and ravishing.
Blue Velvet is a dark, neo-noir mystery film, written and directed by David Lynch, that explores themes of sex, violence, crime and power against a peaceful backdrop of a 'perfect' suburban town in mid-80s America. It tells the story of student Jeffrey Beaumont (Kyle MacLachlan) who returns home to mange his father's hardware store after his father has a stroke. When Jeffrey discovers a severed ear in an abandoned field, and is unsatisfied with police investigations, he attempts to solve the mystery with detective's daughter Sandy Williams (Laura Dern). They believe that beautiful lounge singer Dorothy Vallens (Isabella Rossellini), is connected with the case, and Jeffrey finds himself being drawn into her seductive, twisted world.
The makeup for the film was designed by Jeff Goodwin (he also designed the special effects, including that ear - more on that later!). Jeff kindly let me quiz him about all things Blue Velvet while he was on set for Under the Dome, a TV series he's currently working on. He is a really fascinating man and had lots of brilliant behind-the-scenes stories, as you'll see below...
L.E. How was it working with David Lynch, had you worked with him before?
J.G. That was my first and only time unfortunately, I love him. Although I recently worked with his daughter Jennifer and she was just as great. I was very young when I worked on Blue Velvet, it was my first film as department head for makeup and effects, but I wasn't too nervous because David puts everyone completely at ease.
L.E. Did he get involved with the makeup or did he leave it to you?
J.G. He actually gave me carte blanche - those were his exact words - to do whatever I wanted. We had a lot of meetings before we started filming but he didn't talk much about the movie. Instead what he did, which was very smart, was get me inside his head so that we were thinking the same, in the same mind frame, to then go on this Blue Velvet journey.
When we did Isabella's first makeup test as Dorothy Vallens, David loved it and told me I'd nailed it with my first attempt. So we did the one test and that was it! What I never got to tell him is that I based her look on a character in his film Eraserhead, the Beautiful Girl Across the Hall. I didn't say anything to David so I don't think that he was aware of it.
L.E. But like you said, you'd got into his head and knew what he was looking for. Eraserhead is black and white, so how did you come up with the idea for the really intense, scorching red lip and the amazing blue eyeshadow? It's a real primary, lapis lazuli, kind of historic blue - and a colour that you never really see on eyes.
J.G. When I read the script, there was a description of Dorothy with red lips, and I thought the blue tied in nicely with 'Blue Velvet' - which also transcended into her clothes and blue velvet robe. I had to mix quite a few different lipsticks and eyeshadows to get the exact tones that I was after. I mixed two Lancôme eyeshadows and one from La Femme to make that deep, deep blue, and two different lipsticks, one of which was a Bob Kelly fire engine red, the deepest red I could find at the time.
Most of the makeup I used doesn't exist any more, because we made the film 30 years ago! But we did something which I think has really helped give Blue Velvet a long shelf life - we mixed up the time frames, so throughout the makeup, hair and set dressing there's 50s stuff, 60's stuff and 80's, too. By referencing these different periods we helped give the film a timeless feel. When you look at a lot of 80s films now they seem so dated by the hair and makeup, it almost takes you out of it when you're watching. Whereas Blue Velvet still feels timeless.
L.E. Yes true, you can't nail it to a particular decade or era. I think that's why it's so iconic because like all good classic movies it does have a timeless quality.
Whenever I get a brief for a job that's really makeup-y, rather than natural, it's so exciting - when you knew that you were going to be able to do this really full-on makeup look you must have been really excited?
J.G. Well the whole project was really exciting, especially as I was so young, and it was my first attempt at department head for the makeup and all the effects. And if you think about it that film had everything - street makeup, character makeup and prosthetics. So for me it was a blast! As well as Isabella's look, one of my favourite makeup looks from the film, and actually one of my favourite looks that I've ever designed, is Dean Stockwell's character, Ben. We only had Dean for one day, and there wasn't any description in the script of what Ben looked like, so Dean and I came up with his whole look in the trailer on the day!
L.E. Wow! How long was the shoot, were you on location the whole time?
J.G. The only studio work we did was in Ben's apartment, everything else was shot on location. We started prep in August 1985 and we wrapped around the first week of November, so it was a fairly quick shoot, and fairly low budget.
L.E. Do you prefer working on location to a studio? I find location shoots make everything harder, but I guess you had good team and a good assistant?
J.G. Every film is different, but each project I work on usually has a mixture of location and studio work, and to be honest I like both. But as far as assistants go, on Blue Velvet I had an assistant called Dean Jones for a couple of weeks to help me build some of the effects, but I didn't have him the entire shoot. Sometimes I look back on films from my early career, and now that I'm getting older and slowing down I think, 'how the heck did I manage to do all of that on my own?!'
L.E. Are there any products in your kit that you never go on location or start a movie without?
J.G. The one thing that I still can't do without that I have in my set bag with me everyday is Kryolan's Dermacolour Camouflage Cream Palette 24 Colors - you can mix and match any skin tone that's put in front of you with that palette, I've used it on every film I've worked on and it holds up in all kinds of crazy weather, even water.
L.E.  I use that in my kit a lot too, I agree, its great. Aside from Dorothy and Ben, were there any other characters in the film that you particularly liked making up?
J.G. Well there's a funny story about the scene in Ben's apartment - I made up all the extras in the background to look like Far Side characters, from Gary Larson's The Far Side comic. I didn't say anything to David Lynch or anyone else at the time, but if you watch the movie you'll see exactly what I'm talking about - the glasses, the hair, the makeup and clothes, they're Far Side people!
L.E. Oh brilliant, so that was like your little in-joke!
J.G. Yes! And there's another funny story about the severed ear, which starts the whole film and investigation. David and I called it Mr Ear and we really treated the ear like a character in the film, because it's so key to the storyline. In the tests I made latex ears with moulds of own ears, and when I showed them to David he said that they were great, but told me we should make the moulds from adult ears. I told him that they were moulds of my ears and he said, 'you've got the smallest ears in the world!' I'd never noticed before but when I looked at my ears properly for the first time I thought, 'wow, I really do have tiny ears!' So I started looking around for bigger ears! I ended up casting our producer Fred Caruso's ears, and his are the ones we used for the final cast.
So David was happy with the ear but I wasn't, because when Jeffrey picks it up for the first time I wanted it to wiggle a little. So I ended up making the ear out of silicone, which gave me the movement I wanted. And after Blue Velvet it was another 10 years before silicone became a mainstream material in movie make-up affects - so I guess that was one of the very first times silicone had been used for creating special effects.
L.E. Ah, so you're a real pioneer, or should say, Pion-ear!
J.G. Haha, that's it!
L.E. I remember how the ear moved, it was really creepy and added another surreal element to the scene.
J.G. There's also a little bit of hair on it, which was actually David Lynch's - Barbara Page, the hair stylist on the film, gave David a haircut in his trailer and I swept it up and used a little bit for the ear (without telling him).
L.E. Brilliant! When people read this interview they're going to watch the movie again and look out for the hair, the wriggling ear, the Far Side people... You've really brought the film to life Jeff, it's so cool to talk to you. 
J.G. Well it was just such a fun experience and it's a film I'm very proud of - there wasn't a bad egg amongst anyone on that shoot.
A HUGE thanks to Jeff for giving us such a great insight into such a cult film. I absolutely loved chatting with him, and could have kept going if he didn't have to get back on set! If you want to read more about the films he's worked on, have a look at his IMDB here. And if you have any suggestions for my next Makeup Moment, please let me know in the comments. X
Images from top
1 Isabella Rossellini as Dorothy Vallens
2 Dorothy and Jeffrey
3 Isabella and Jeff in her trailer
4 Dorothy in her blue velvet robe
5 Dean Stockwell as Ben
6 Jeff applying a bruise to Kyle on set
7 Jeffrey and the severed ear