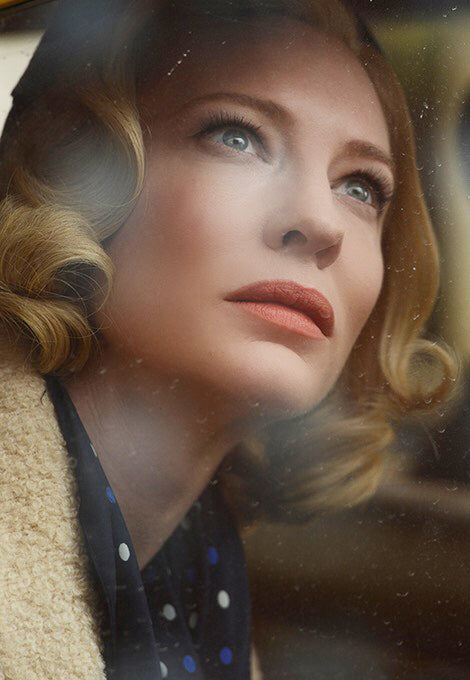 #MakeupMoments - 'Carol' Cate Blanchett's Dreamiest Makeup Look Yet
Before the holidays I went to see Todd Haynes' critically acclaimed and exceptionally beautiful new film, Carol, and was swooning over how gorgeous and brilliant Cate Blanchett is in it (newly Oscar nominated for her performance). With incredible costumes (designed by the legendary Sandy Powell), set design, cinematography, performances, hair and, of course, makeup, it truly is a visual feast of beauty - dreamy, alluring and completely intoxicating.
Set in 1950s New York, Carol is a romantic drama adapted from Patricia Highsmith's 1952 novel, The Price of Salt. It tells the story of two women, Carol (Cate Blanchett) and Therese (Rooney Mara) who meet in a Manhattan department store and develop a fast bond that becomes an unexpected love affair, with complicated consequences.
Cate's makeup was designed by the fantastically talented and truly transformative makeup artist Morag Ross, who's worked with Cate many times before on iconic films like Elizabeth: The Golden Age, The Aviator and Charlotte Grey. She's also worked with other brilliant, award-winning actors, actresses and directors like Tilda Swinton, Scarlett Johansson, Hilary Swank, Sofia Coppola, Bill Murray and Sally Potter… talk about a dream career! Morag let me quiz her about the inspiration behind the Carol makeup look, her life and the intriguing art installation she's been working on recently. She's not only an amazing talent with fascinating stories but also super-lovely to boot, so it was a pleasure chatting with her.
L.E. I was really blown away by Cate's makeup in Carol - everything was so authentic, I loved the film, I want to go and see it again it's just so beautiful. How did you feel when you saw the script, you must have been salivating right?!
M.R. Absolutely! I already knew Todd Haynes as I'd worked with him before on his film I'm Not There, when Cate played Bob Dylan - he's such a lovely director, really focused and prepared, so I knew it would be a great job to do. Todd always creates a lookbook for his films which he sends to his team so that they can get into his head and see how he wants to shoot - the Carol lookbook was so gorgeous and yes, I absolutely salivated over it. You don't always get to do gorgeous films, so I was really excited about this one and couldn't wait to start researching the palette and products.
L.E. Did you do lots of mood boards too?
M.R. Yes, when I spoke to the team, Todd, Sandy and Kay (Georgiou, Cate's hair designer), Grace Kelly was an absolutely obvious reference point. So I pulled together lots of images of her alongside other references and worked with Cate to show her the direction we were going in. Cate also has a lot of very specific ideas herself - she's got a wonderful sense of style and a great intuition, and there were things in the character that she wanted to bring out, so it was very collaborative in that way. A lot of people have asked me about the coral lip colour - Sandy was using lots of coral colours for the scarves and accessories and I thought that shade of lipstick would be perfect. When I've worked on other period films with Cate we've used darker reds so it was nice for me to be able to create a different look - and the gorgeous softness of the coral is so beautiful against Cate's pale skin.
L.E. Yes, it looks so feminine and glamorous at the same time.
M.R. It also stopped her from looking too harsh - Carol is very, very sophisticated, but she's not hard, and the coral colour suited that. Matte red lips can often have that slightly scary, 'don't touch me' perfection about them, whereas there's a softness to the coral colour isn't there?
L.E. Absolutely. And not only was the colour so authentic of the period but I also loved the shape of the lips, they looked like they were slightly extended at the outer edge. You also captured the thick texture - they really piled on the lipstick in those days!
M.R. Cate has amazing, generous lips but yes I made them as full as possible. And you're right, lipsticks back then were much waxier, quite heavy duty and highly pigmented - there was always a bit of lipstick colour left behind on cigarettes and glasses, which you don't really see so much nowadays! A cigarette with red lipstick on the end has a very period effect I think.
L.E. Which lipstick did you use?
M.R. The coral shade was Chanel Rouge Allure 96 Excentrique. I also used Rouge Allure 97 Incandescente and Rouge Allure 98 Coromandel whenever Carol has to go to the party with her husband (see the image above), and she applies extra lipstick in the car. She needed to look a bit stronger for this scene, so I thought, let's move more towards red to pump it up - I wanted it to reflect the narrative but in a very subtle way.
L.E. And what about the eye makeup?
M.R. When I studied reference material from the period I noticed that women often used definite eyeliner and paler tones of eyeshadow which created a slightly hooded effect, so I followed that look to differentiate the makeup from the earlier 1940s or later 1960s, when eye sockets were shadowed heavily. It also made Cate's features different from other characters she's played (like the Stepmother in Cinderella). I love this eye look on her - it's quite feline, soft and sexy. I used Laura Mercier Matte Eye Colour in Blue Suede and Kanebo Kate Eyeliner Pen in Black. Then some days, depending on the weather or if we had a very long shooting day, I switched to Bobbi Brown Gel Eyeliner (which I applied with a very fine brush) or Laura Mercier Tightline Cake Eyeliner. Whenever I shoot for a period of three months or so I often substitute products to cope with changes in skin, season and light. I also used very fine strip lashes and, for brows, Chanel Crayon Sourcils Eyebrow Pencil in Blond Clair with Suqqu Eyebrow Liquid Pen in Brown.
L.E. Where did you shoot the film?
M.R. We shot the New York scenes in Cincinnati because there are a lot of period shop fronts. Plus it's much cheaper than filming in New York, and a lot easier to get around.
L.E. Do you still enjoy going away to work for long periods even though you've done it for a few years?
M.R. I do because I find that I don't have to deal with… life! You're in a bit of a bubble, staying in an apartment or a hotel room and each day is all about the work. I find it makes it much more concentrated without any distractions. Do you feel the same?
L.E. Yes absolutely, you only have to think about work, you don't have to worry about what you've got in the fridge! How did you get into makeup?
M.R. I first started getting into it when I was a student at Glasgow School of Art. It was around the time of Punk and New Romanticism, which I got very involved in - a group of us used to make the pilgrimage to London now and again to go and buy clothes. It was a really inspiring time, my friends at college used to say that I did more work putting on my makeup in the morning than I did for the rest of the day! I started doing art makeup, working for free with hairdressers in Glasgow, and half of my degree show was art makeup. Somebody said to me, 'You know you could actually try and do this as a job, you could try and get into the BBC.' - it had never occurred to me. I was lucky - I applied, I got an interview, I did a test, I got in and then that was it, I started two days after I graduated.
L.E. How long did you stay at the BBC?
M.R. Just under four years. By that point Channel 4 had just started and another makeup artist I knew said, 'I'm doing this series for Channel 4, it's got loads of makeup in it and it will be really good fun - why don't you leave and do it with me?' I did and never looked back. The series was called Pookiesnackenburger, it was a spoof show created by Luke Cresswell and Steve McNicholas, who then went on to create Stomp, which is so brilliant and such a huge global success. Pookiesnackenburger was a very creative show as you can imagine - in fact we did the drum dance with the two gangs, which was the basis of Stomp. It was really nice to feel free and to have fun - the BBC was quite regimented, there was a protocol to how you worked. I remember you had to wear an overall, which really upset me - I actually started a movement towards not having to wear an overall! But it was truly amazing training, which I was then able to use to be my own person.
L.E. What was your first feature film?
M.R. It was Caravaggio - my first film as a designer, Sandy Powell's first film as a costume designer and Tilda Swinton's first film, too. It was a very young crew and was all about retelling the life of Caravaggio through his work, so making painting into images. It was epic, it was like a gift.
L.E. You were so lucky to get something so creative so early on.
M.R. I know and that's the thing, some jobs want minimal makeup and you have to go with the brief, not everyone wants you to do an amazingly creative look where you can showcase what you're capable of or explore something new.
L.E. Did you strike up a friendship with Tilda then?
M.R. Yes I did and it's been amazing to work with her so much since then - there's a real shorthand with someone you've worked with before, when you know somebody's face it's really nice to make them up again and again.
L.E. I agree. And you worked with her in Sally Potter's Orlando, which is my favourite book - and when I saw the film I wasn't disappointed, it was everything I wanted it to be. When I saw that you'd done the makeup on that too I was blown away.
M.R. It's funny because when you make a film it's such a long job and you never know how it's going to turn out. For us Orlando was a hard film - we went to St Petersburg and the Gulf of Finland but everything was very low budget and there were lots of problems. I remember there were points when we thought, 'is anybody even going to watch this?!'
L.E. Tilda just looks so incredible - her colouring is so naturally beautiful and you really enhanced that ethereal quality, it's so subtly nuance which is what I love about your work. When did you first work with Cate Blanchett?
M.R. The first time just I worked with Cate was just after she was nominated for the first Elizabeth film, on another of Sally Potter's movies, The Man Who Cried. Again, it was quite an ambitious film, set during the war. Cate played a starlet so that was quite makeup-y which was fun. We got on really well and she asked me to work with her again after that.
L.E. I'd love to know if you have any must-have products in your kit?
M.R. I love LeMaqPro 36 Colour Foundation Palette, a big palette with practically every shade. I always have it in my kit because you can do anything with it - you can use the colour as the sheerest, most gorgeous veil of colour or build it up and conceal with it. Because the pigment is quite strong it really holds up under light and it's waterproof too, it's quite phenomenal - I've done full faces of makeup with just this palette. LeMaqPro Makeup Mixer is also great, it's a primer which gives skin a lovely luminous quality - I've used it on Cate for years. I also love Laura Mercier Secret Camouflage concealer, balms like Homeoplasmine, Lucas' Papaw Ointment and Sensai Total Lip Treatment - it's great for softening and plumping lips, especially the lip line area. I'm also crazy about Suqqu's Eyebrow Liquid Pen.
L.E. Me too! I've used that for years.
M.R. It's such a clever thing - so subtle and controllable, and the tip is just so fine. I'm sure you think the same - eyebrows are everything!
L.E. Is that your favourite part of the face, apart from skin?
M.R. I think so. Obviously I spend absolutely ages on skin before anything - the better your skin, the less makeup you have to put on. And once skin looks perfect you can go forward with whatever finish you like.
L.E. With all your early starts you must have a lot of tired faces that you have to deal with?
M.R. Yes, I think that it's very hard on actors to come in at 5am and be so exposed, they must feel so vulnerable. Which is why the relationship with a makeup artist is so key, it makes you nurturing. I love products and tools that help me first thing in the morning - I always carry a Jade Roller to massage the skin, wake it up, detox, depuff and help it absorb moisturiser (but learning how to do a good facial massage works just as well). On long shooting days I decant some SKII Facial Treatment Essence into a fine spray bottle and use it to perk up skin and makeup and stop it looking dry. I've also just started using Kaplan MD's Hydrating Essence - I put a few drops in the palm of my hands and delicately press it into skin (on top of makeup) - it gives a newborn sheen and smells glorious, which wakes you up mentally as well.
L.E. I saw on your Instagram the art project you've been doing with Cate, making her up into all the different characters - it looks amazing! How did that happen?
M.R. Cate struck up a friendship with the video artist Julian Rosefeldt, who makes amazing art films, and they decided to do a project together, 'Manifesto'. Cate then asked me if I would work on it with her. It was very low budget and we had two days to prep and twelve days to shoot the twelve characters, so it was very much flying in and out which was extremely inspirational - sometimes when you have to plan for a long time you can overthink it. I just brought masses of stuff with me and the only things I had made were various teeth - I used all the budget and they were horrified, but they thanked me in the end as they really helped to change Cate's face for each character. It was great fun and really rewarding to do - as I said to Cate, in a whole film career you might never get to create that many different characters on one person, and we did it in two weeks!
L.E. It's incredible and really shows the transformative power of makeup - when I saw some of the images on your Instagram I did a second take, 'is that really Cate?!'
M.R. I take my hat off to Cate because she's just so committed and so inspirational as an actor because she's fearless. She's also a perfectionist which I like as it pushes me as well to go that extra mile.
L.E. Yes, when you work with people at the top of their game you're inspired to be as brilliant as they are - it's a knock-on effect.
M.R. It really is an honour. I've worked on some incredible films with some truly incredible people - it's been amazing and I never imagined it, never.
Huge thanks to Morag for being so generous with her time. All makeup fans MUST check out and follow her Instagram here - full of images of her groundbreaking work. X