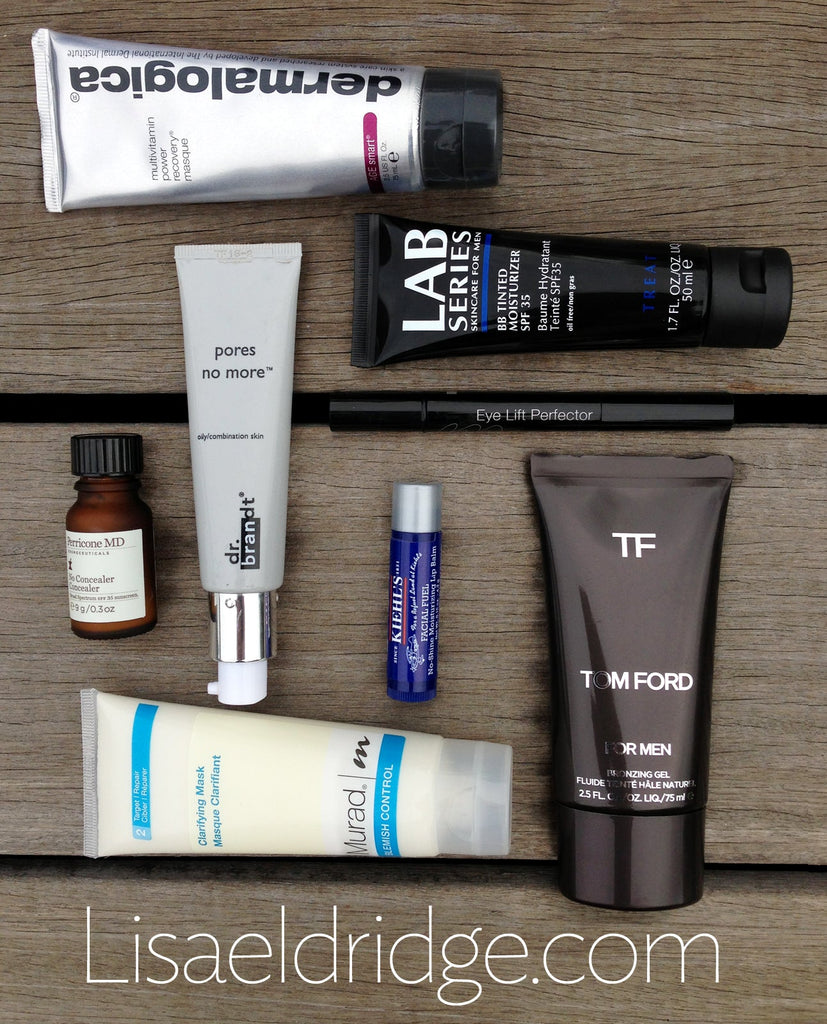 Make-up For The Boys!
Over the past 10 years there has been a quiet revolution going on in our bathrooms. Initially, strictly the preserve of the metrosexual, it's now gaining momentum and men in their thousands are tentatively reaching for the 'make-up'.
A recent UK study showed that nearly half of British men steal their girlfriends products, 47% stating they would steal their partners lip balm, 12% their concealer and 8% are using their fake tan. Statistics indicate that men are taking more interest in their appearance than ever before and it's predicted the global male grooming market will rise to more than $33 billion by 2015 (Global Industry Analysts).
So it is no wonder the barometer of all that is cool in men's fashion and grooming, Mr. Tom Ford, will be launching his new range of male 'make-up' this November. A modern day Beau Brummel, Tom is never knowingly under groomed. He is quoted as saying  "I don't think it has ever been done properly" and from what I've seen of his range he's (as usual) right on the money.
To protect the coveted contents of our make-up bags, it may be worth arming ourselves with a little product knowledge to help the men in our lives navigate their way around this brave new world.
Terminology
Most guys have a real aversion to the word make-up as it holds too many female connotations. So 'coverage', 'tinted', 'brightening' and 'camouflage' feel so much more male friendly.
Packaging
Simple, clean lines, functional and monochromatic tend to be what men are attracted to when it comes to product design. Whilst us girls can get super excited by the latest fancy, colourful palette, for most men it's a turn off.
Concealer
Not surprisingly, the most popular male 'make-up' product is concealer - and why shouldn't men join us girls in the right to conceal a late night or a temporary blemish? The main thing to avoid is anything that's too light reflective - men sporting the Kim Kardashian 'reverse panda' look is just wrong!! Mens skin tends to be thicker and rougher than women's so anything too thick or drying will be too visible. So look for sheer, textures that don't appear too light and reflective under the eye.
A good under eye concealer for guys is Murad's Hybrids Eye Lift Perfector (now sadly discontinued) as it's completely imperceivable on the skin and doesn't contain any glittery light reflective particles. Another good option, for the same reasons, is Dior's Hydra Life BB Eye Cream a tinted treatment which instantly brightens dark circles. 
In terms of application, less is definitely more. Apply only where under eye dark shadows appear, gently patting and blending into the skin with the ring finger to ensure light pressure. The most important thing is that it looks natural.
For blemish concealing it's best to apply a tiny amount with a concealer brush and blend in. But as this may be a step too far, fingers work fine too, just apply a small amount to the required areas and blend so no obvious lines appear around the edges.
A great concealing product for men is Perricone's MD No Concealer Concealer as it's very thin and easy to blend. It smooths and softens imperfection on the face and under the eye area without sitting on top of the skin making it obvious. For blemish prone skin, Murad's Acne Treatment Concealer Stick (now sadly discontinued) is good as it treats and heals with 2% exfoliating Salicylic Acid. For drier skin the creamy consistency of Recipe For Men's Liquid Concealer contains soothing Vitamin E so will cover and hydrate.

The trick to covering blemishes successfully on any face - male or female - is getting a really convincing colour match. As most of the products mentioned above only come in a couple of shades a concealer palette like Sonia Kashuk's Hidden Agenda will give you the option of custom blending from four shades to get an exact match. Don't judge the colour by testing on the back of your hand as the skin on your face is very different.
Adding a healthy glow
Tinted Moisturiser is a great way to naturally even out skin texture quickly. Apply like any moisturiser ensuring its applied all over the face and blended well on the jaw to avoid dreaded tide marks. Check the eyebrows, beard or stubble for any left over product and gentle wipe off with a tissue or Q-tip. Lab Series BB Tinted Moisturiser is a good one and the packaging is really masculine too.
Clear wash off Bronzing gel works great as most of them are easy to apply and don't contain shimmer. Apply a small amount onto moisturised skin and blend into all areas in the face, down the neck and right up past the ears so no tide lines are visible. Tom Ford's Bronzing Gel is fantastic.
Manly Masks
For those guys who are not quite ready to move onto make-up but are already using facewash and moisturiser,  treatment masks are the next step. Two of my favourites for men are Dermologica's Multivitamin Power Recovery Masque suitable for all skin types and Murad's Acne Clarifying Mask which really clears out the pores. For a cheaper alternative try Superdrug's Men's Licorice Mud Mask. 
Lovely Lips
I personally don't like to see men sporting glossy, shiny lips, but a nicely moisturised and healthy looking mouth is great. Kiehls Facial Fuel Non shine Lip Balm is a killer product for guys as it has a moisturising but matte finish.
Photo Finish
We are living in the age of the selfie. Open pores and greasy shine do not photograph well so mattifying primers/moisturisers are perfect for men as on average their skin is x3 oilier than womens. Most brands now make this type of product. For a good general pore and fine line blurrer try Benefit's The POREfessional it suits all skin tones and types and gives a smoother look to the skin. For acne/blemish prone skin the active ingredients in Dermalogica's Clearing Mattifier will eliminate shine, regulate oil production, prevent blackhead build up and give an all-day matte finish. It also contains Vitamin A for anti aging.  Another favourite of mine for large open pores is Dr Brant - Pores No More. Available in clear and tinted versions it regulates oil whilst giving skin an almost airbrushed velvety finish. For a quick touch up on the go, Shiseido's Pureness Oil-Control Blotting Papers are quick and practical.
Finally
My pet peeve, the overly groomed and excessively plucked brow. Encourage the man in your life to follow the old adage of less is more. A tiny touch of tidying between the nose and some careful minimal pruning is all thats needed. Tweezerman's Slant Tweezers.
Personally I think any other 'make-up' i.e. blusher, mascara etc doesn't look good on a man (unless he's a theatre actor or drag queen of course!). As the owner of a man whose idea of grooming is shower gel and shaving foam ..... I guess there will always be a whole section of the male population for whom this level of preening is simply unacceptable.
Have you noticed any of your skincare, beauty products and make-up migrating to your mans side of the bathroom?