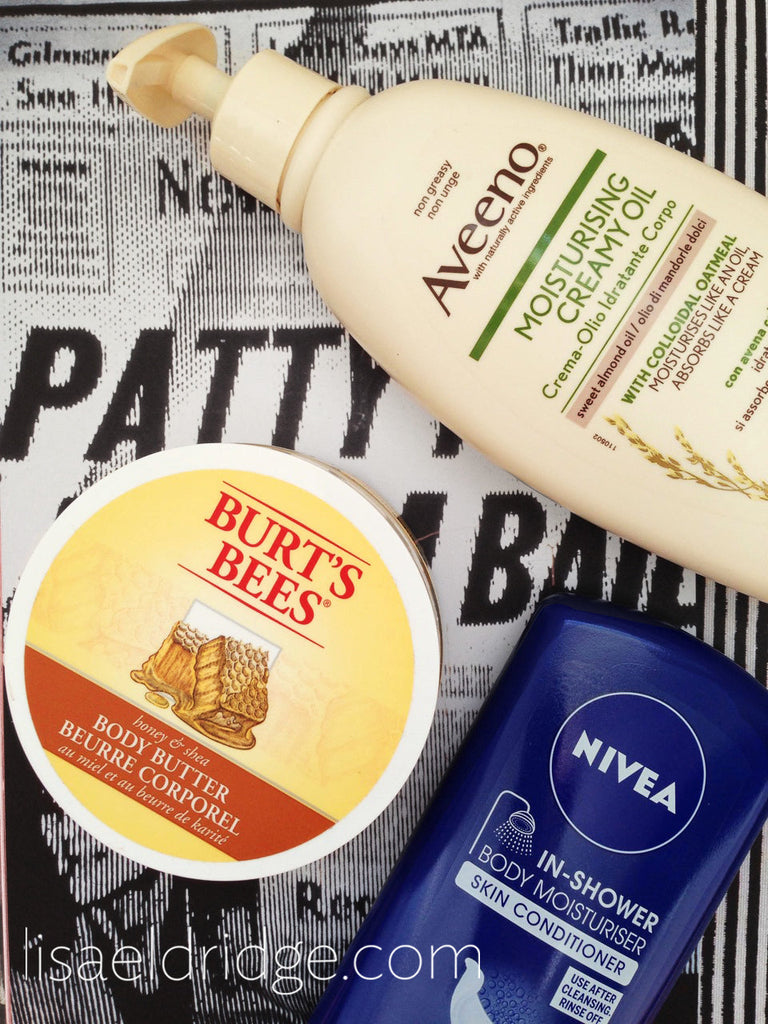 Lotion Low Down - Smooth Into Summer
It's always a bit of moment when the legs finally come out of hiding for Spring. Although I usually need to give mine a hint of colour so I don't scare the neighbours, the condition of the skin is usually good. My thinking goes that body care (like exercise sadly) is an all year round business – that way, there's no need for a summer pre-holiday panic.  Think about it, we are happy to take the time to moisturise our faces, and maybe even apply hand cream a couple of times a day, so why not take another five minutes to keep our bodies' in tip-top condition?
I know that most gals, myself included, don't have tonnes of time to spend beautifying, so one of my favourite discoveries is L'Occitane's Almond Shower Oil – it turns into a milky foam when it comes into contact with water and really sinks into skin. I find that I don't need to moisturise when I come out of the shower with this one - and it smells absolutely divine! Great for shaving legs.
Nivea's In-Shower Body Moisturiser is another great little time-saver. Think of it like a conditioner for your body – you use it as the last step in your shower routine (after shower gel/whatever), smoothing it all over and rinsing off to leave your limbs lovely and soft. So if you have dry skin and are in a rush to get out the door in the morning this should give you just the right amount of hydration to avoid leaving your skin feeling tight or dry.
You don't need to spend a fortune on body care, or indulge in anything particularly fancy – brands like Dove make great, simple moisturisers (I like their Essential Nourishment Body Lotion) or try a classic body butter like Burt's Bees (a firm favourite in the House of Eldridge as it smells great and sinks in without greasy residue), or Palmer's Cocoa Butter (there's lots of different versions available now – fragrance free, olive, firming etc...). Another purse-friendly option I've been trialling recently is Aveeno's Moisturising Creamy Oil – also rich in almond oil (great for dry skin) and colloidal oatmeal (calming and soothing for sensitive skin), it's as nourishing as body oil with the benefit of having it in a light, non greasy lotion. It sinks into skin quickly so you can get dressed pretty much straight away. The initial marzipan smell is a bit overwhelming but it disappears once it sinks in.
If you have very dry/sensitive skin, or if you've left it  late and need to sort out scaly limbs ASAP, there are a couple of rich products that I love for their quick-working abilities. La Roche-Posay Lipid Replenishing Body Balm is a brilliant fragrance free balm for itchy, dry skin; it contains niacinamide which helps stop the cycle of itching and irritation, whilst the shea butter softens and nourishes. It leaves a nice light film on your skin which feels very comforting.  Avene's Cold Cream is also great for sensitive skin as it's paraben free formula uses the nourishing benefits of beeswax to restore the skin and creates a barrier against irritations. This one is very light and sinks in immediately without having to work at it. Another good skin restoring product (especially if you like your skincare organic)  is The Organic Pharmacy Ultra Dry Skin Cream which is full of seriously quenching ingredients like rosehip, neem and tamanu. Perfect for extra dry and scaly pins, it's best applied to slightly damp skin as it takes a hell of a lot of massaging in (think of it as a workout!) but the results are skin that looks fabulously healthy and plumped up with a sheeny film of moisture on top. 
If you're less on the dry and sensitive side and want something light and high tech to suit all skin types, another favourite of mine is Sunday Riley's Disrobe It's packed with lactic acid, one of my most worshipped ingredients ever (basically a very gentle, non-grainy exfoliator that gets rid of dead cells, without the need to scrub!), shea butter, urea and glycerin (great for holding moisture) and squalene (to repair any rough or damaged skin – think age, pollution and sun exposure). After using it for about a week I found that my skin was noticeably smoother, firmer and more even so, for me, although it was pricey, it was a good investment. There's also Aesop's Geranium Leaf Body Balm with it's deliciously crisp citrus-floral scent is as much of a winner in my books as the super-nourishing, shea butter and coconut oil formula. Aussie brand Aesop like to combine science and nature (with practical, seriously good looking eco packaging) and the result is effective care with the added bonus of delicious smelling natural ingredients. This one takes a little working in but sinks in without any greasy film after some massaging.
And finally a cult classic, I couldn't mention body lotions without including Kiehl's, Crème de Corps  a firm favourite for over three decades. It's super rich, thick, beta carotene formula seriously moisturises and leaves skin with a sexy shine. It takes a long time to sink in so not a good one to use if you are in a hurry or wearing silk. The Creme de Corps family has grown substanially over the past few years and there are now a lot of different formulations available including lighter weight versions and one with SPF. Their newest edition Crème de Corps Soy Milk and Honey Body Butter  has a whipped texture that feels and smells like you're putting your hand in a tub of shea butter with honey and coconut ice cream! 
For more ideas do check out my, 'How to Make Your Legs Look Great' video for instant fixes and lots of ideas for giving pasty legs a healthy glow, click here to watch it. 
Do you have any favourite body treats you can always count on to keep your skin in tip-top condition?