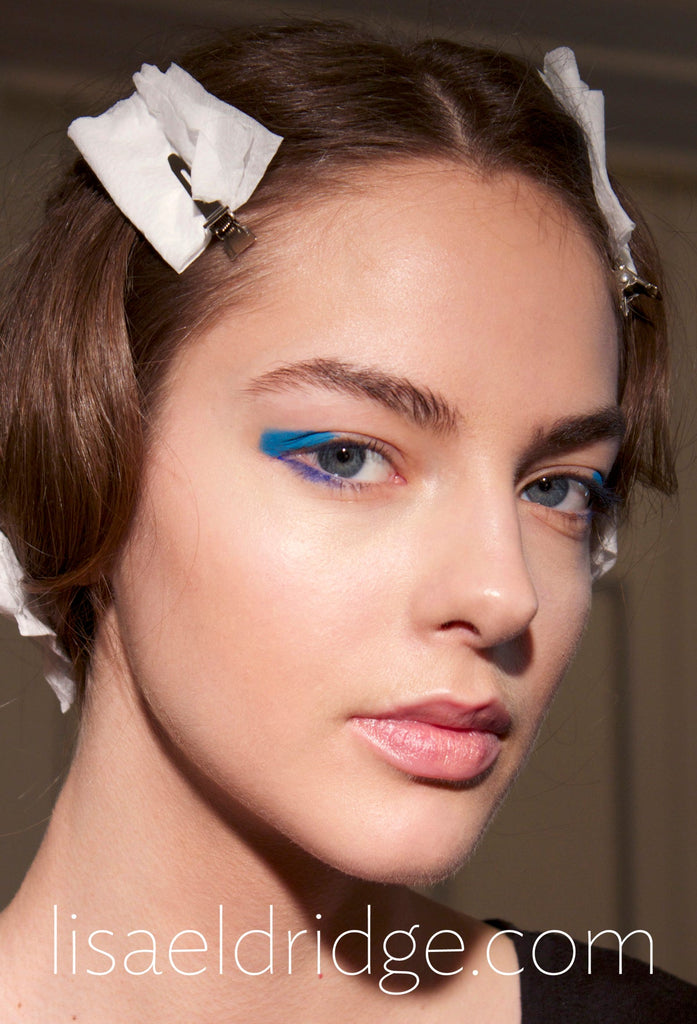 London Fashion Week A/W14- Alice Temperley and Matthew Williamson
Beauty breakdowns for two more shows I designed make-up for...
The first show of day two was Temperley London. The collection was beautifully ornate, with folk-inspired embroidery with a lot of textures and layers. For the make-up I wanted to do something that would contrast with the collection.  The final look was a blue eye with attitude! Graphic, modern and minimalist with a 'boxy' blunt shape.
Here's how I created the look:
Face
Although the look was all about the eyes, the skin was really the star of the show. To create the fresh faced glow, I started with Bionic Moisturiser and then applied  Sunday Riley's effortless breathable tinted primer all over the face. Next I used their Liquid Light foundation mainly onto the T-zone and for extra coverage and concealing. I finished skin off using concealer in a shade darker than the girls skintone to very subtly contour, working into the skin and blending.
Eyes
For the electric pop of colour on the eyelid, I used Kryolan's BL.10 Aquacolour. To create the boxy shape I started a third of the way across and, with the girls looking straight ahead, took the liner straight out bluntly.
Underneath the eyes, I used a vibrant royal blue pigment, letting it drop down a little  from the waterline and then blended to create the bottom of the square. I wanted it to be really abstract and not perfect.
Finishing the eyes off by curling the lashes and using The Influencer mascara in Midnight Sapphire, a rich, deep navy blue just on the top lashes completed the eye look.
Brows were kept glossy and groomed with a brow gel. 

Lips
I used the beautiful (Sunday Riley's Modern Lip Colour in Mona Lisa) a great Belle de Jour, Catherine Deneuve-y peachy lip. It's a sheer colour so suited all skin tones in the show.
So that was the look -  a graphic and young make-up with a minimalist feel.
For a wearable blue liner long, watch my film Beach Makeup Brights Tutorial 
On to Matthew Williamson and yet another beautiful location. The clothes were bold, colourful, grown up and a lot of fun, with some amazing party dresses. For the makeup I wanted everything to be super glam. My muses for this look were Anjelica Huston and Bianca Jagger - a 70's, studio 54 vibe.  
The make-up for the show was sponsored by Benefit cosmetics and here's what I used:
Face
The makeup needed to be dramatic, glamorous and super sexy, so for skin I wanted glossy, glossy, glossy! Lots of highlighter (High Beam and Girl Meets Pearl) was used on top of a light dewy base using Benefit's Hello Flawless Oxygen Wow. 
Eyes and Cheeks
On eyes I used Longwear Powder Shadow in Gilt-y Pleasure all over lids, blending right up onto the brow bone, with Kiss Me, I'm Tipsy a deep bronzey/brown metallic worked into the socket line and winged out towards the temple. Next I began really working (Bella Bamba and  Hervana blushers in a 'C' shape high onto the cheeks, blending with the winged eyeshadow to create a seamless, almost sprayed on effect. To add maximum impact and definition I used BADgal waterproof eyeliner scrubbed along the roots of the lashes and along the waterline. Curling lashes and applying a tonne of They're Real mascara in Black.  I finished with black liquid liner all along the upper lash line. 
Lips
I wanted lips to be a dark cherry shade with a rich, glossy texture so I mixed a chocolatey brown eye liner with a red lip gloss  Bella Bamba Ultra Plush Lipgloss.
Everything about this look was just super glam! To recreate this look check out my 'Gorgeous Smokey Eye with Glossy Lips Tutorial'  here. 
Runway make-up isn't neccessarily about looks the average person would wear everyday... but would you adapt either of these looks for real life?
Hair -  Malcolm Edwards
Nails - Katie Hughes
Models - Alma Durand
Hair - Mark Hampton 
Models - Charlotte Wiggins / Carolina Thaler / Sung Hee Kim