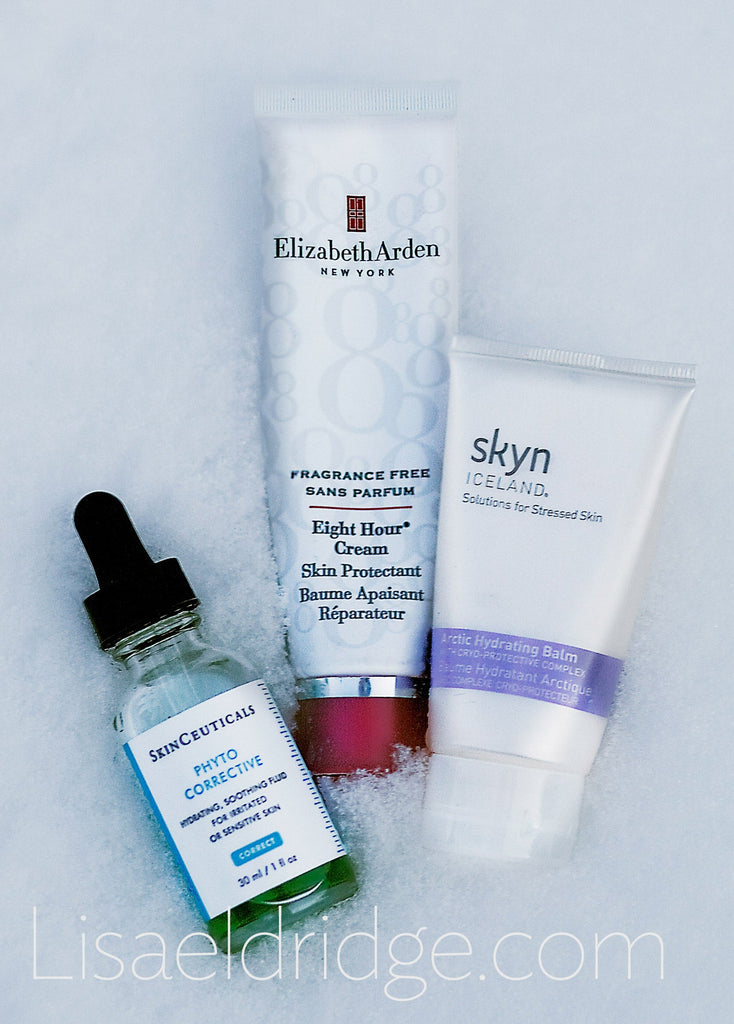 Lisa Loves - Winter Skin Favourites
Anyone who follows me on Twitter or Instagram will know that I'm just back from a winter trip to Northern Finland. I'd never been before and it was really exciting to do something so different – I'm used to sunnier winter escapes, but this time we were up and about doing everything from husky sled rides to skiing to seeing the Northern Lights (a life long dream come true for me). All the while wrapped up in tons of layers to combat temperatures of up to -20 degrees!
While I was away, my make-up regime was minimal, but I did make sure to keep my skin super-hydrated and protected from the harsh weather conditions, and these three products were my absolute skin saviours.
Elizabeth Arden's 8 Hour Cream (unfragranced) really speaks for itself – it's a cult classic for a reason, and still unbeatable at keeping delicate skin (especially lips) protected and well moisturised.
I also love SkinCeuticals' Phyto Corrective Gel which is a light but potent anti-inflammatory, oil-free serum that keeps irritated skin soothed and calm – perfect for times when you're constantly having to adjust from freezing outside temperatures to indoor heat.
Like all SkinCeuticals products, this serum is packed with antioxidants which I believe are key to any good skin regime – especially when your skin is feeling a bit out of sorts. This gel is particularly great at counteracting sensitivity and redness caused by dramatically changing temperatures, which is ideal when you don't want to wear too much make-up! I'm generally a big fan of their super effective serums and tend to rely on their Blemish and Age Defence and C.E Ferulic ones throughout the year when my skin needs urgent extra help.
Finally, I was really looking forward to trying out this Skyn Iceland Arctic Hydrating Balm, and was really impressed. I didn't know too much about the brand before I tried it but it was developed under the principle that it is everyday stress that causes our breakouts/puffy eyes/dull skin and, by combating this, our skin with naturally become clearer, brighter and healthier.
From what I've seen, the products in the range are all fairly simple, natural and paraben free. Using mineral water, antioxidant berries, soothing algaes and active botanicals from Iceland, they're really effective at nourishing and combating the effects of stress on our skin. It could be the perfect range for all of us crazy multi-tasking women (and men!)
I used this balm as a daily moisturiser over the top of the skinceuticals serum while I was away – it's super-nourishing but not too heavy and most importantly didn't cause my combination skin to break out!
I also love this Detox Kit which contains four minis – it's a perfect introduction to the brand and also great for travelling. 
So these three heros kept my skin nourished and glowing throughout my trip – what are your winter/cold weather skincare essentials?
Hope you like my pictures below, the corridor is a bedroom corridor at the Ice Hotel in Finnish Lapland and the other, one of our pics of the Northern Lights!