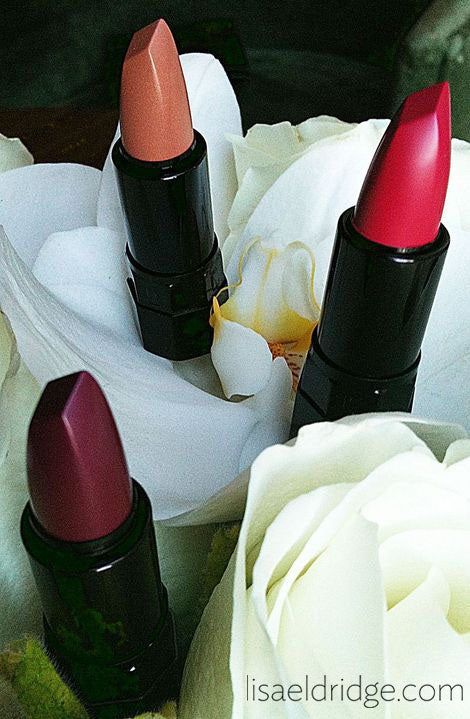 Lisa Loves - The Worlds Most Expensive Lipstick?
I've been meaning to get my mitts on these for a while. Serge Lutens is the iconic make-up artist, photographer, fashion and jewellery designer, art director, perfume creator and film-maker probably best known for his collaboration with Japanese uber brand Shiseido. During his creative direction throughout the 80's he was responsible for creating some of the most arresting beauty commercials and advertising images of all time.
By the time I started working at Shiseido in 1998 Serge had long gone but his presence and legend lived on. I was lucky enough to visit the archives at Shiseidos headquarters in Tokyo and was totally mesmerized by what he had achieved. I love to visit his salon at Le Palais Royal every time I go to Paris and already collect his fragrances, so his lipsticks were very much next on my wish list. As an avid collector of make-up from all over the world I knew my collection wouldn't be complete without them.
The lipsticks – first let me say they are VERY expensive $75 (around £50) each and they are approximately HALF the size of regular lippies….a bit like mini lipsticks.
There are 10 shades, six highly pigmented and four sheers. They are incredibly chic and come in a very heavy metal case that is refillable (I have no idea how much the refills are, I'll cross that bridge when I come to it!).
I decided against buying a classic red and instead went for Compliment Beige (a beautiful neutral tawny beige), Garde Rose (a 'to die for' bright fuchsia which Dita Von Teese had bought the day before) and Poupre Maure (a shade which looks dark berry in the bullet but goes on the richest and most divine cyclamen). I applied Garde Rose immediately straight from the bullet and walked proud and pouting down 5th Avenue in the bright sunshine.
I stopped for a giant bowl of spaghetti with capers, tomatoes and black olives in a lovely little restaurant with tables outside. When I got back to my hotel hours later and without touch-ups, the colour had not moved one little bit.
OK I admit it I also bought a mascara and a neutral lip pencil so all in all I spent the equivalent of the best part of a weekend in Paris but I LOVE it all.
One day I'd like to open a make-up museum, somewhere to house my archives and I think Mr Lutens is going to fit in there rather well...