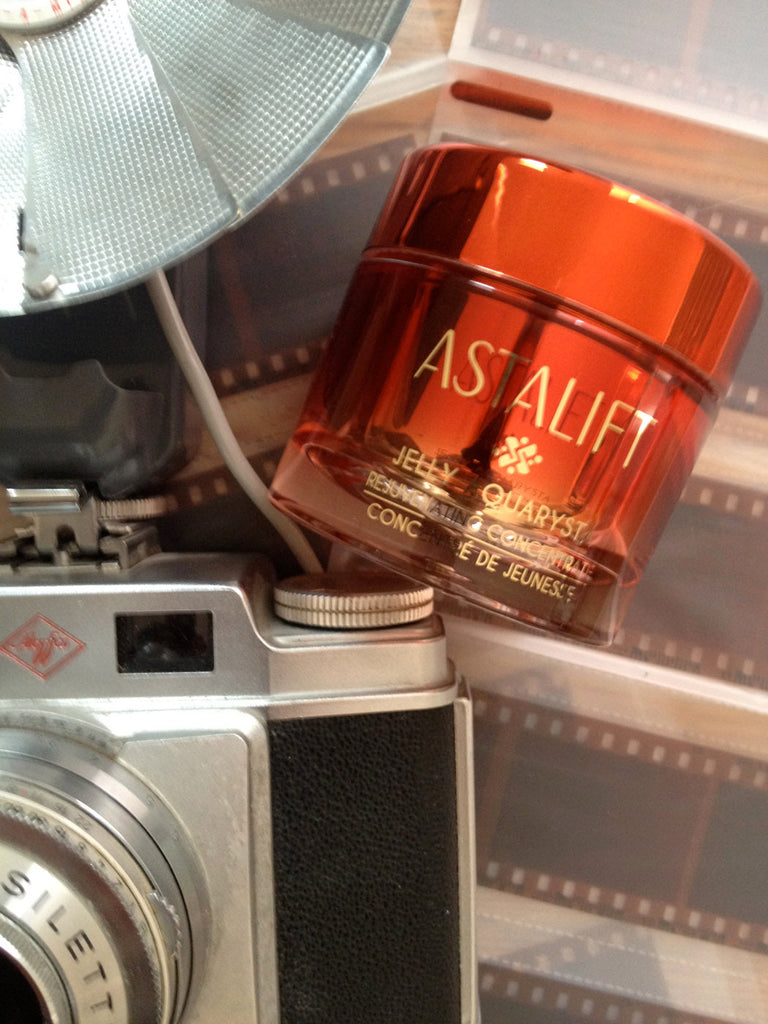 Lisa Loves - Photo Tech meets Anti-Aging
There's been a lot of a buzz around new Japanese skincare brand Astalift which launched in the UK last month. For anyone who hasn't heard about it, the brand has been one of Japan's bestselling skincare lines since it launched in 2007 and promises to fight signs of aging as it delivers a brighter, clearer, more luminous complexion.
The interesting thing about the brand is that it's been developed by Fujifilm, who have applied exactly the same technology they use to preserve and protect their photographic film to Astalift. I must admit that I was a bit sceptical when I first heard about the concept but learning more about it, it does make a lot of sense to bring this super-protecting and anti-aging technology into skincare and whilst I cant fully state that I love this range yet having not tried many of the items, I do love the ideas behind the technology.
In a nutshell, to preserve photographic film you have to protect its collagen and prevent antioxidation from UV rays. In the same way, to preserve skin and keep it looking healthy and hydrated, you also have to protect its collagen from the same UV rays and free radicals that we are exposed to daily.
So, Astalift has combined a natural protecting antioxidant called Astaxanthin found in marine algae with different types of collagen in its products. This helps to 'shield' skin from environmental aggressors which in turn helps skin to regain its natural luminosity, firmness and elasticity.
The hero product of the range is the Jelly Aquarysta, a bright coral jelly which I've been using for about a week. I really like the unusual texture which is perfect for someone like me who doesn't like to use heavy creams, especially at night. The light, cool, refreshing texture is also good for summer when you don't want to load too much product onto your skin. I've been applying this after cleansing twice daily and have already began to see a difference in my skin's overall brightness and tone. You only need to use a small amount of product as a little goes a long way. Its best to use the spatula that comes with the jelly as I noticed that when I used my fingers I applied far too much and wasted a lot. The other clever thing about the jelly is that it 'resurfaces' itself after 90 seconds; giving it back it's smooth texture.
I haven't tried the night cream because of the aforementioned reasons but I reckon that this could be great for anyone with drier skin (as would the nourishing Day Cream). I have been using the eye cream - the results seem good but its still only a week so too early to say. The cleansers are also lovely to use – the Gentle Make-up Remover Gel is quite thick but great to really work into the skin. Massage in for a couple of minutes before rinsing off and you'll see that it leaves your skin really clean with a gorgeous glow. I'm very keen to try the spf35 day protector to use on top of the jelly next, as I find Japanese brands generally do great skin protectors.
With all the new skincare launches that seem to happen on a constant basis, it's really interesting to see such a new, fresh and different concept on the market. I'd love to know what you think of the range if you've tried it – how long have you been using it for and what you think of the results?
I noticed a lot of top make-up artists  and industry insiders like Hannah Murray, Florrie White, Kay Montano, Ruby Hammer and others have given this line the seal of approval on their site too:
The small pot of the signature Jelly is £21.00 and the large £69.00