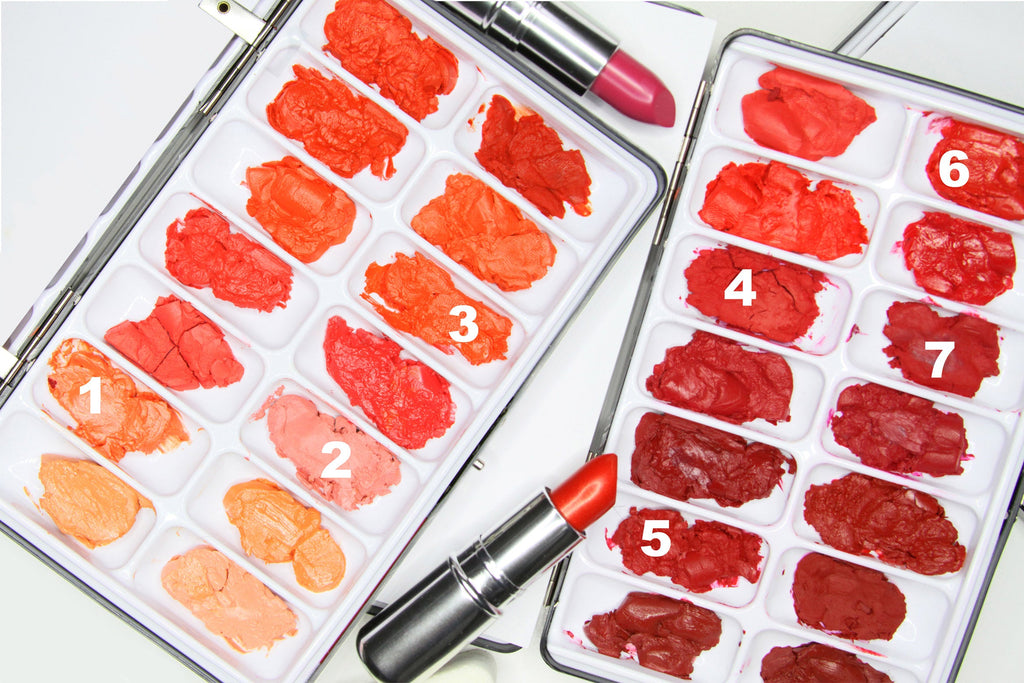 Lisa Loves - My lip palettes and favourite shades
Many of you have been asking about the lip palettes I use in my kit as they have a made a couple of appearances in my videos recently.
I first saw the Japonesque palettes a long time ago in a pro make-up shop in London. I had been working on my portfolio and building up my kit for a couple of years but hadn't started making any money as a make-up artist at that point. I really couldn't afford to get one but I absolutely fell in love with the 28 well palette. I eventually saved up and got one, carefully placing my lipsticks in it by painstakingly heating each one in a spoon over a flame and hot-pouring them so they would look smooth and perfect. In case you haven't noticed, I don't bother with that anymore! I now favour the 'squishing them in' technique, which I actually think looks a lot better and more artistic.
The 28 well palette is known as the foundation palette on their website but the cool thing about these palettes is the fact you can use them for whatever you like. I find their smaller palettes work well for concealers and cream eye shadow storage.
I keep around 5 of these in my kit at any one time with colours broken down into groups…reds, pale pinks/lilacs, nudes, dark reds/purples, bright pinks, oranges, dark black reds/browns etc. I find having these and some basic pigments (black, white, yellow, blue etc) means I can create absolutely any shade instantly. Its worth saying that these particular palettes although pretty are not the most resilient on the market and you do have to take care of them. 
I do think this type of palette works well for non professional as well and there are lots of much cheaper alternatives to the Japonesque ones available from most pro make-up shops.
Most girls I know have far too many lipsticks lurking in various drawers and make-up bags. The problem is you never really know what you have…out of sight out of mind. By making a palette of your favorite shades – you could do a palette which contains your favourite nudes, pinks and reds for example, you'll find you'll actually start using them a hell of a lot more.
To make it easy just cut your existing lipstick in half and place half you remove in a palette. That way you wont overfill the well and you will still have some of the lipstick in the bullet to take out in your handbag for touch-ups…simple!
Find out more and shop for the palettes and lipsticks using the following links:
Japonesque - USA
Japonesque - UK
Some of my favourites in these palettes are:
Orange Shades
1 Shu Uemura - Rouge Unlimited 524 - a shimmery golden orange
2 Illamasqua - Obey - a chalky matte
3 Mac - Morange - Amplified Cream Lipstick - loud and bright with cream texture
Reds
4 Estee Lauder - Double Wear Stay Scarlett - very long lasting classic bright red with a matte finish
5 Bourjois - Rouge Best 15 -  creamy richly pigmented true red with a glossy finish
6 Chanel - Enthusiast - lightweight non pearl, bright and orange based Limited Edition red …a favourite of many of my celebrity clients
7 Mac - Ruby Woo - a classic bluish red with opaque matte finish
Nudes
8 YSL - Rouge Pur - Tea Rose148 - very fresh perky warm pink nude with a cream finish
9 SUQQU 22 - Substantial pink/nude with a sheeny finish
10 Bobbie Brown - Beige 2 - a classic brown/nude with semi-matte finish
11 Givenchy - Voluptuous Nude - classic beige/nude cream with a smooth melting texture.
Pale/Medium Rose Pinks
12 Mac - Please Me - a matte muted dusty rose
13 Chantercaille - Petunia - non pearl and super moisturizing pretty lilac rose
14 Revlon - Pink Pout Matte Lipcolour - bluish pale pouty pink with a lightweight creamy matte texture