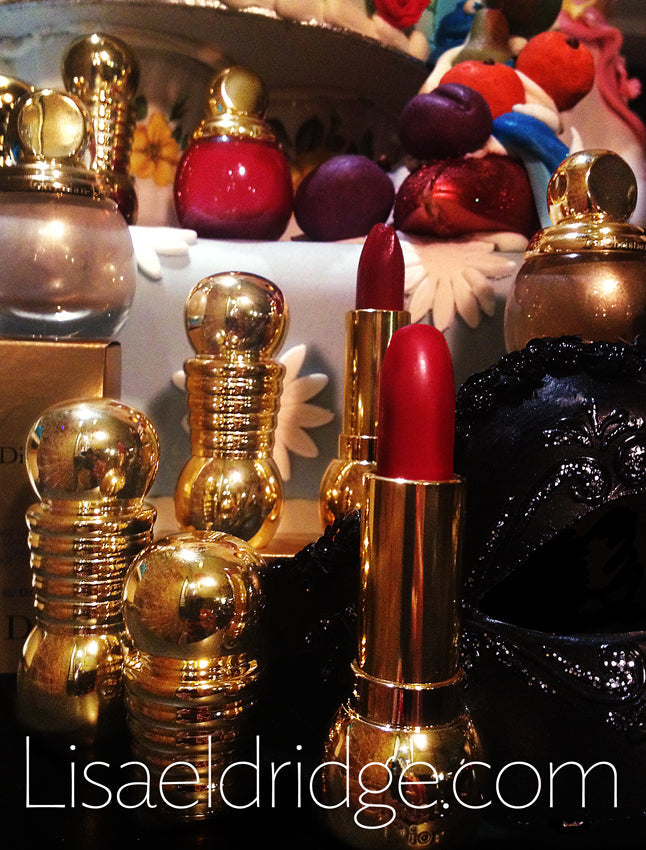 Lisa Loves - Le Grand Bal
There are so many beautiful Christmas make-up collections around this year (if you haven't watched it already have a look at my Christmas Gift ideas film), but this offering from Dior is particularly spectacular. The whole collection is inspired by Christian Dior's love of the grand balls and extravagant parties he witnessed growing up in Granville Normandy. He was always enchanted by ball gowns (himself designing some of the most beautiful couture gowns of all time) and the masked balls of the 18th century.
I absolutely love the unashamed glamour of this make-up collection. I decided to photograph it amongst these outrageously baroque cakes complete with iced ruby slippers and Venetian Mask. Not a traditional make-up picture I know but hopefully it conveys a little of the sheer romance and overblown allure of this collection.
For me, the hero products are the amazing lipsticks and nail varnishes, all housed in beautiful couture-inspired gold packaging with a modern twist. The Diorific Vernis nail varnishes (£20 each) are like cheeky little gold baubles – you can just image them on a dressing table looking achingly chic! This packaging was around in the 90s but was discontinued until now. The four shades - Marilyn/cream red, Lady/white pearl, Diva/cream black with multi-coloured pearl and Diorling, an antique gold pearl - look just as good on nails as they do in the bottles. I found one coat of Diva more than did the job.
The four Diorific lipsticks come in similarly decadent vintage inspired gold packaging and are all beautiful, party-perfect shades of red. Anyone who has seen my Ultimate Guide to Red Lips will know that I am a huge fan of red lipstick, especially when they come in packaging as gorgeous and eye-catching as this – this is definitely a lipstick you don't want to keep hidden away in your handbag! I have made a video using one of the nail and lip colours which I'll upload in a day or two so look out for that.
This collection is limited so if you are looking for something collectable and oh so couture, get your hands on it fast!
Get free worldwide delivery here:
www.feelunique.com/p/DIOR-VERNIS-Grand-Bal-Nail-Lacquer-10ml
www.feelunique.com/p/DIOR-DIORIFIC-Grand-Bal-High-Fashion-Lipstick