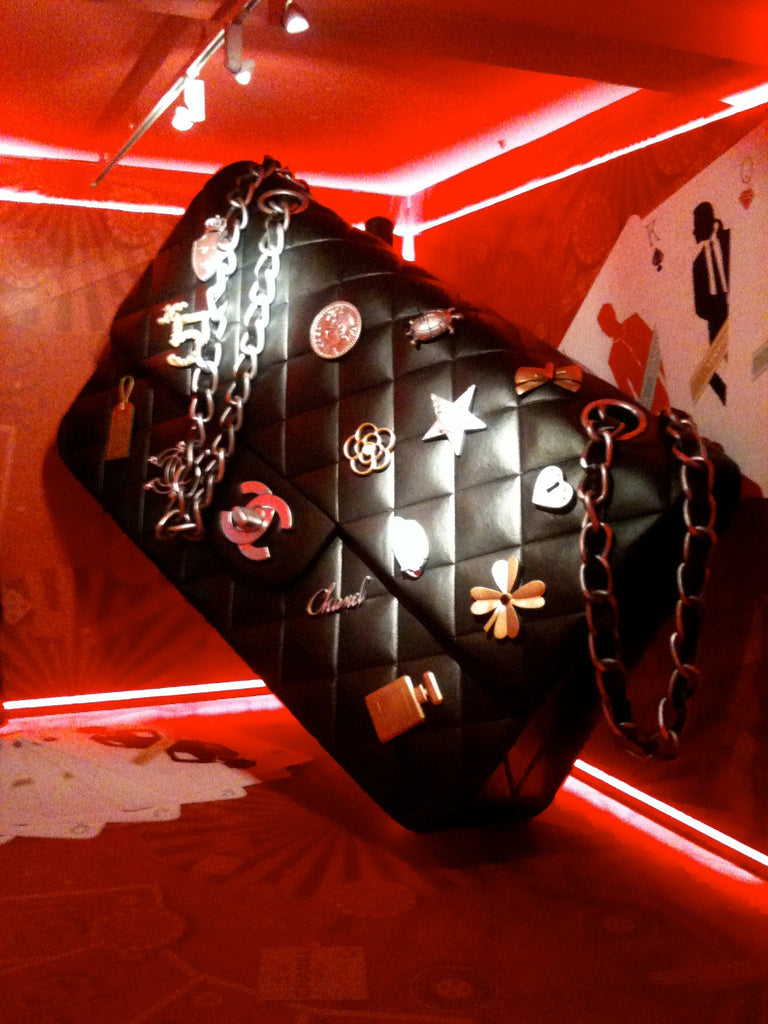 Lisa Loves - Chanel Takes Over Harrods
On Monday evening I was invited by the managing director of Chanel Olivier Nicolay and Michael Ward, the managing director of Harrods, to an intimate and very fabulous dinner to celebrate the opening of Chanel's World.
The brand is evident all over the store, filling all of the 23 front facing windows with giant Chanel flags fluttering overheard, pop up store on the ground floor selling, amongst other things, Chanels interpretation of the famous green shopping bag and wellies! There is also a visually stunning beauty pop up stocking Peter Philips's special Limited Edition 'Knightsbridge' make-up collection, created especially for this event.
On the third floor however, is the piece de resistance, a museum worthy installation entitled Une Promenade.
On arrival at 8pm (after the store had closed) myself and the other guests were treated to a guided tour of Une promenade by Olivier and Chanels Image team, the geniuses behind this masterpiece of themed interconnecting rooms around a central hub.
Entering through a drop curtain of oversized pearls we found ourselves walking around the set of the S/S show, a miniature version of the gardens of Versailles and on through a warren of exciting and intriguing rooms raging from a room of dolls to the very Alice in Wonderland experience of walking past a giant, floor to ceiling 2.55 handbag. In amongst the visual feast of elaborate sets is lots of great video footage charting the moving image, archival history of No5 and a short film depicting the handbag production process.
Everything that defines the brand is showcased beautifully. I recognised lots of things like the amazing peacock and flowers print from the screens in Mademoiselles apartment (which I visited a few years ago) used as wallpaper the in Couture Atelier room and the book shelves which line the Karl room which again I recognised from his studio. The Couture room is filled with Uh-m-azing dresses and I came over all hot and bothered when I saw this white and black dress (above) behind perspex on one of the walls. I think it's possibly my dream dress. Unfortunately the editor or UK Elle magazine completely agreed so I think I may have to fight her for it! 
The dinner took place at the iconic stores penthouse - who knew such a thing existed! I got very lucky with the placement, sitting with Olivier the MD and Alexis from the Image Team I got a real insight into how the ideas had come about and more importantly how they pulled it off (spookily working through the night, 'Night At The Museum' style).
I opted to wear a 1930's designer vintage dress I've had for years. The picture doesn't do it justice as its a pretty chocolate brown matte crepe silk with panels of satin on the shoulders, two deep satin kick pleats, a little black lace panel detail on the chest and the original black and silver bow belt. I mixed it up with my black satin Prada bag which has lots of clear crystals all along the strap and my new Miu Miu silver glitter boots (which look a bit like high srappy sandals with glitter pop socks really!). I know it wasn't very Chanel (oops) but no-one seemed to mind or notice as most of my fellow guests were in head to toe Chanel.
I did make sure my nails and make-up was Chanel, wearing Quartz nail polish from the Limited Edition autumn collection on my fingernails, Rouge Carat red from the Christmas L.E. on my toes and Coco Rouge shine in Liberte the perfect soft peach shade on my lips. I wore fake outer lashes on my eyes and kept the rest of my make up completely natural. Sorry for the rubbish picture quality, the lighting is very low in the rooms and I forgot to take my camera so had to rely on my iPhone 3 which wasnt up to the job.
It's huge triumph for both brands and I had a wonderful evening... Une Promenade - Coco in Wonderland is on view for three weeks and I urge all lovers of fashion, beauty, art and design (and handbags of course) to get yourselves down. It's free and frankly it would be rude not too.