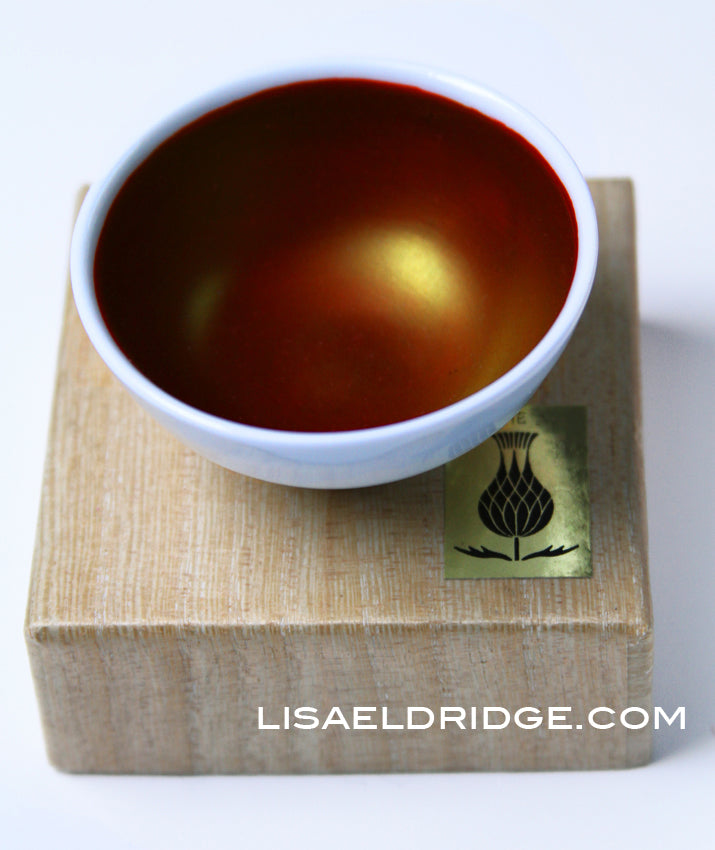 Lips of The Rising Sun
When I used to work in Japan a lot for Shiseido they would ask me at the end of each visit what treat I would like as a reward for all the hard work. Sometimes I would choose a treatment at the famous Shiseido Spa in Ginza but mostly I would choose Kabuki theatre tickets. I loved Kabuki from my first experience... so different to the western theatrical experience I was used to. From the extravagant costumes, make-up, wigs and story lines to the way people would shout out the number (the big actors have numbers) of the actor halfway through a dramatic death scene as a sign of appreciation.
On route to the theatre I always used to go to a small and very old fashioned theatrical make-up shop in the old district. The shop was a treasure trove of big old wooden and glass cabinets filled with interesting and often unidentified objects of delight. I always went to the theatre with my interpreter and put her to good use asking the shop proprietor many questions and then later to explain the plot and point out the 'national treasures' (what the Japanese call their finest Kabuki actors).
On one such visit I asked to buy something that would make a perfect Geisha or Kabuki red lip and was presented with a little ceramic dish (see picture). To the naked eye the powder looks gold (it has photographed much more red than it looks). I was confused and thought he had given me an empty mixing bowl, albeit a very pretty gold one.
He explained how the gold was the powder of a flower (cant remember which one unfortunately) which when dabbed with a wet lip brush would turn bright red. I tried it myself and unbelievably and charmingly it did exactly as he said and turned in the most beautiful red pigment, which dried to a deep vermillion stain. I bought 2, one to use and the other to archive, as it was such a beautiful object. I also bought one of their beautifully handcrafted Geisha lip brushes (since lost I'm afraid!). I've tried to search for more info on the origin of the powder but cant find anything on the net so it you are reading this and live in Tokyo anywhere near the old district please pop in to the shop and ask the nice gentlemen for me!
I've also posted a shot of a few of my other Japanese, Kabuki and Geisha, favourites.
1. Nightingale droppings - yes you read it right. A favourite of Geishas and Kabuki actors as the droppings contain Guanine, a naturally occurring enzyme that acts as an exfoliant and lightening agent to keep the skin pale, smooth and pigmentation free.
2. Shisedo - white theatrical power and base. This took a bit of getting used to as the powder has quite an oily feeling base but if you get the application right you can buff the skin to the most amazingly flawless and alabaster finish. I've used both of these products on jobs. Here are a couple of examples from my gallery of a make-up story from Nylon Magazine (shot by Robert Erdmann).
3. Camellia oil – known as tsubaki its been used for centuries by Geisha and Samurai to give the hair an enameled looking shine. Camellia oil is very high in olein acids and glycerides so as well as conditioning the hair it also treats the scalp. Often used for nourishing dry skin and as a bathing oil too, its one of the most traditional Japanese aides to beauty.