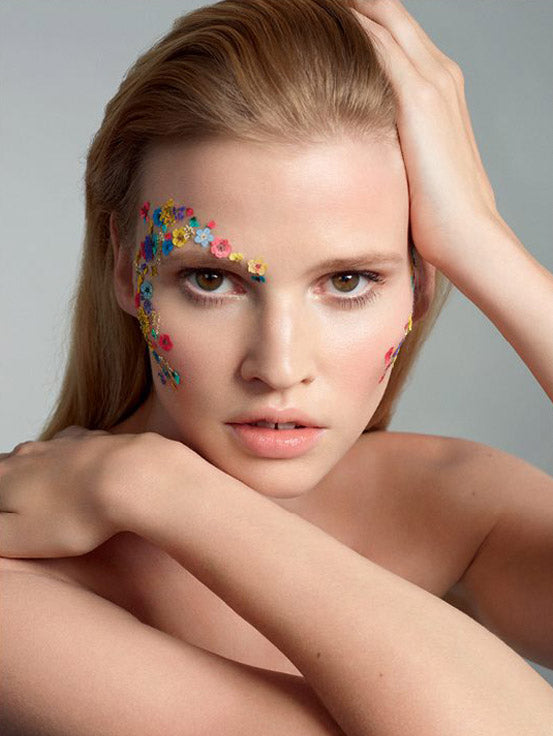 Lighten Up! It's time for a foundation refresh!
Depending where you are in the world, you may have noticed that for many of us spring is finally here. The mornings are getting lighter, the evenings brighter and the temperature is slowly starting to rise. Time to hit the foundation refresh button! Heavy, cakey foundations have been old hat for several years now, especially since the recent BB revolution – we now have so many more choices when it comes to our make-up base. I always carry a lot of different options in my professional kit but I have noticed that many non make-up artist friends now have a mini 'foundation wardrobe' so they can pick and choose what to use depending on the weather, how they're feeling and how their skin is behaving.
If we think about the kind of make-up we've been seeing on the catwalks for the past few seasons there's been a huge focus on clean, flawless, glowing skin that's not about layers of heavy foundation but rather about perfecting and beautifying what you've got – this is what your spring foundation should do for you.
There are a couple of things to remember when choosing your spring base: firstly, the shade - does it stand up to strong sunlight and look natural? As the lighter days and evenings roll on, the wrong shade of base will be more and more noticeable so if you know you've been getting away with wearing the wrong shade these past dark months – now is the time to get it right and face the brighter days with confidence.
The texture – has your skin changed at all recently? You may be feeling a bit dry, battered and in need of some post-winter hydration or you may need extra blemish coverage in certain areas but still want to look fresh faced. Although they have been built up around marketing nonsense, the new generation BB and CC creams are actually pretty good and, gimmicks aside, many have better coverage, skin-boosting ingredients and light textured abilities than the humble tinted moisturiser – of which they are just the next generation.
I've been using Bourjois' 123 Perfect CC Cream a lot recently as it really smoothes and evens complexions without masking. I also like that the finish is not too dewy and it lasts well. La Roche-Posay Rosaliac CC Cream is a great option for sensitive skin – it covers flaws and redness and leaves behind luminous coverage, plus it has SPF30 (it's currently only available in one medium shade so not suitable for all sadly) . Fans of Estee Lauder's Double Wear family who want an even lighter option will love their All Day Glow BB – it gives skin a natural, healthy glow that lasts all day without turning dull or flat.
If you are more on the oily side and prefer a matte finish, you can still switch to something more lightweight for spring – Jouer Matte Moisture Tint offers good-but-natural coverage and is packed with antioxidants.
The past few days I've been wearing Laura Mercier's Crème Compact Tinted Moisturiser. A bit like a solid BB cream, its buildable and instantly transforms skin. The compact with sponge format offers more coverage in certain areas when you dampen the sponge to apply. I think its best suited to a more mature skin (30+), which is neither very oily or very dry. It gives coverage without sitting in fine lines and pores and made my skin look really even toned and natural. I really liked the portable, ease of application aspect. I took it on a long haul flight this week and it was great for a quick arrivals make-over. I applied just where I needed it and also used it as my under eye concealer, for which it worked well. A similar product is available from Clinique in the form of their Moisture Surge CC Cream Compact– it's already out in the US and will be available in the UK and Europe soon.
Whichever brand or product you favour, finding the correct shade for your skin is key. Even though the formulas are lighter than traditional foundation, the wrong shade will still look glaringly obvious in daylight. No matter how much you like a product, its texture and quality, if they don't make exactly the right shade for you – move on!
The key when the seasons are changing is to keep an eye on your skin – how is it looking, how is it feeling? Is the base you were wearing in winter beginning to look a bit wrong? Do you need to switch to a different shade? If you are in any doubt about how to find the correct shade, texture or application for you skin then DO watch my Foundation Course films which contain loads of information on how to choose, wear and apply the best base for you.
Watch the entire course here.
Image Credit: Lara Stone for Antidote Magazine, Photography Cuneyt Akeroglu - Website / Facebook, Stylist Yann Weber