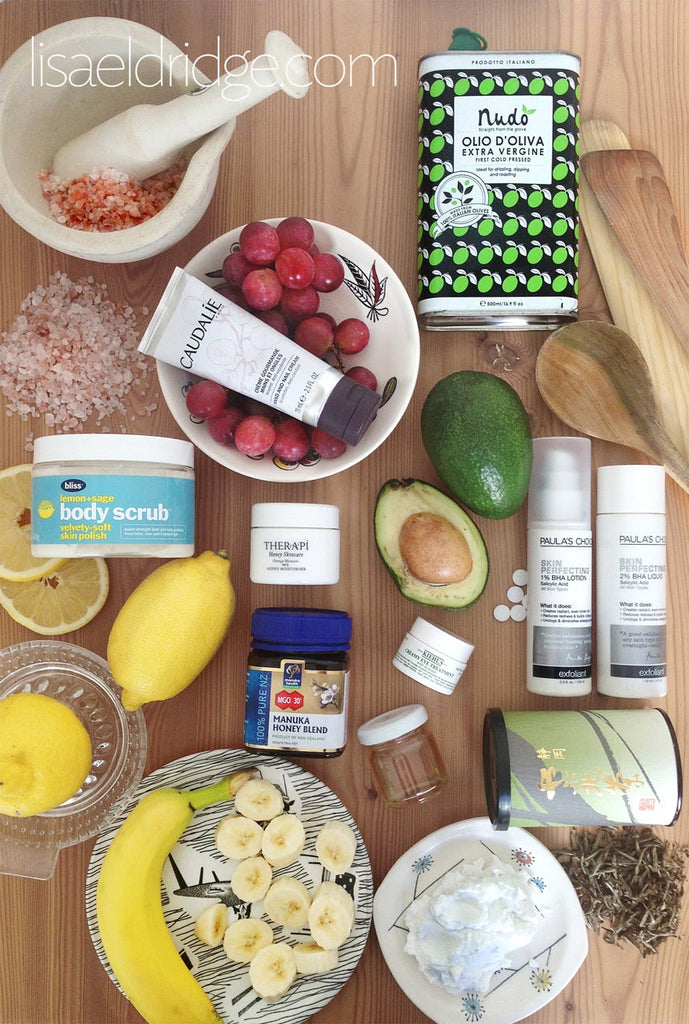 Kitchen Cupboard Beauty
Avocado, honey, banana, eggs, green tea and lemon. No, this isn't what's on the lunch menu today at Lisa Eldridge HQ! These are just a few of the many tried and trusted ingredients from around the kitchen that can be whisked-up into a multitude of home-spun beauty recipes. Ask any Grandma what she used before we were spoiled with so many luxurious "natural" beauty brands, and chances are she'll have a few culinary gems up her sleeve. Kitchen staples have appeared in beautifying preps for many centuries and even the most 21st century of products owe something to folk remedies of the past. Clinique's best-selling Clarifying Lotion which launched in 1968 is a prime example of high-tech prestige brand meets folk remedy, as its key ingredient is none other than salicylic acid, originally derived from willow bark, and best known as the active ingredient in Aspirin - not strictly from the kitchen, but you get the picture.
It's comforting to know that even modern day natural beauty advocates are not averse to blending up their beauty products over the stove. Jo Malone, revered for her gorgeous fragrances and Vitamin E skincare, started her beauty and fragrance empire as a facialist, and used to make her now world famous Vitamin E Gel in her own kitchen. Seriously. So, here are a few kitchen superstars. I've teased out their beauty benefits, and thrown in a few recipes to boot for those of you who like a bit of DIY. If not, I've also recommended ready-made, off-the-shelf alternatives, for those days when blending bananas, slicing avocados and brewing up green tea just aren't an option. Enjoy!
BANANAS
Packed with potassium, bananas are every bit as good for you when applied as a hair mask, as they are with your breakfast cereal or in a smoothie. There are a million good-enough-to-eat banana beautifiers but here's one of the favourites.
DIY: Blend up your own deep conditioning hair mask using one banana, rich in elasticity-boosting potassium, a teaspoon of olive or argan oil to moisturise and 1 egg to strengthen hair follicles. Smooth on to hair and massage in well, before wrapping your head in cling film and a warm towel (fresh out of the tumble dryer for the best results). Leave on for 20 minutes. Warning! Rinse with copious amounts of hot water and shampoo hair twice or you will be rediscovering banana morsels for days to come. Hair will feel super-soft and smell, well slightly of bananas (no surprise there, then.)
Buy: Love the smell of bananas but don't want all the hassle or banana bits? Try Shea Terra Organics Mongongo Banana Deep Conditioning Pre-Shampoo Hair Food Masque, an incredibly rich blend of mongongo nut, native to southern Africa and rich in protein and vitamin E and hair-strengthening bananas. Or, The Body Shop's best-selling Banana Conditioner,, which contains real banana puree, along with other naturally-derived moisturisers.
YOGHURT
A staple in everyone's refrigerator, yogurt is a beauty booster like no other. Not only does it contain lactic acid, which hydrates, gently exfoliates and brightens, but it's also a useful source of zinc, which is healing and anti-bacterial, and beneficial for acne and psoriasis.
DIY: For a quick brightening facial, apply a couple of tablespoons of plain, natural yogurt to dry skin and leave for 10 minutes. Rinse off with warm water and pat dry. If your skin is dry, add a teaspoon of honey or for oily skin, a squeeze of lemon juice. You can mix pretty much any kitchen favourites with yoghurt, depending on your skin type, to create a beneficial mask.
Buy: I'm a big fan of skin care that contains Lactic acid, one of the key alpha hydroxyl acids (AHAs). It has multiple benefits, moisturising whilst also removing dead skin cells and bringing back a glow to a lacklustre complexion. Mario Badescu Buttermilk Moisturiser. which contains lactic acid, carnation oil and anti-inflammatory Allantoin, making this the perfect hydrator for combination skins. Another product that contains lactic acid is Sunday Riley's Good Genes which also contains Licorice a great anti inflamatory ingrediant. 
HONEY
Honey doesn't just taste delicious; it's literally brimming with antibacterial (due to the hydrogen peroxide it contains) and antioxidant properties, as well as being a natural anti-ager. Even dermatologists acknowledge that it's an effective remedy for everything from cuts and grazes to acne. As well as being full of good things (like vitamins and amino acids), it's also "breathable" so is the perfect first-aid skin balm.  So buzz off and get busy with natures 'liquid gold' for beautiful skin.
DIY: This mask is a winner for skin that's prone to oiliness with occasional breakouts. Mix together 1 tablespoon of honey with 1 tablespoon of plain yogurt and 1 teaspoon of mashed up cucumber (peel first!) and, if you have any in your medicine cupboard, add a dash of witch hazel . Smooth over your skin avoiding the eye area. Leave it on for about 10 to 15 minutes, then rinse off with warm water and pat dry. Skin definitely feels softer and blemishes appear less inflamed. The amazing active Manuka honey from New Zealand contains proven additional antibacterial properties.... but it is more expenisve. 
Buy: Don't have the time to mix your own mask? Try this ready-made honey-rich skin treat. Therapi Honey Skincare Lemon Myrtle No.3 Honey Moisturiser Purifying, is a light, easily absorbed moisturiser which helps to purify and balance combination skin. The honey is blended with witch hazel and antibacterial lemon myrtle to promote a clear complexion. Their Orange Blossom moisturiser is also dreamy with soothing calendula for normal skin They do a nice range of cleansing and moisturising products catering for differnt skintypes all containing organic honey. Therapi is so commited to honey that they donate 5% of all sales to the conservation of bees.

GRAPES
Not just great by the glass, grapes are a fabulous source of skin-enhancing super-heroes including vitamin C and Resveratrol, an anti-aging compound that's not only beneficial for skin but has been proven to improve cardiovascular health when taken as a dietary supplement – or in the form of a remedial glass of red wine.
DIY: If you're looking for a fast and effective way to soften cuticles, try this clever fruity manicure. Grab a few grapes (the dark red variety are richer in resveratrol), cut them in half and dip them in sugar. Massage fingertips and nails with the sugar-coated grapes and leave for a few minutes before rinsing. The grapes contain fruit acids and vitamin c to exfoliate dead skin, while the sugar enhances the buffing action.
Buy: If you find sugary grapes too tempting an option (you may just end up scoffing the lot), and a little bit fiddly, invest in Caudalie Hand and Nail Cream. It's got orange pulp, almond powder and rosewater, together with all the goodness of Caudalie's home-grown Bordeaux grapes. 

AVOCADO
A brilliant source of Omega-9 fatty acids, fibre, antioxidants, Vitamin C, E and K, the avocado definitely deserves the title of superfood. But it's not just delicious when whisked up into guacamole and eaten with tortilla chips. It's a great multi-purpose skin and hair treat that softens, nourishes, repairs and protects.
DIY: Need a quick-fix for dry skin around your eyes? Cucumber slices may be the go-to for eye-brightening and soothing, but avocado wins hands-down on the moisturising front. Slice and de-stone an avocado, and place a couple of segments under each eye. Lie down, and leave to work for about 15 minutes.
Buy: Kiehl's Avocado Eye Treatment jam-packed with avocado, this creamy ophthalmological-tested eye cream is light but luxurious. Great for soothing and smoothing and the perfect remedy for morning-after eyes.  If you want something that packs more of a punch, try Peter Thomas Roth Power K Eye Rescue which contains Vitamins K and C, arnica, and Green Tea. Vitamin K, which helps to prevent clotting, is the most effective ingredient for treating dark circles. It is also used to minimise bruising, scars and after surgery to speed up skin healing. The only form which is approved for use in cosmetics is Several forms of vitamin K are used around the world as medicine. But in the U.S. the only form available is Vitamin K1.

GREEN TEA 
It wouldn't be an exaggeration to say that green tea is an all-round miracle cure. Whether you sip it, or smooth it on to your skin, it's full of therapeutic ingredients. A plentiful source of flavonoids, proven to protect against aging and to repair sun damage if you've over-done it on the beach, it's also an effective skin-soother, and is especially calming for psoriasis and rosacea.
DIY: One of my favourite remedies for reducing puffy eyes after a long haul flight or for refreshing tired eyes after work, are home-made green tea ice cubes. Great for boosting circulation and for draining the fluid under the eyes, they are the perfect pre-party eye treat. Make a cup of strong green tea, allow to cool and pour into an ice cube tray. Once frozen, wrap a single cube in a piece of muslin or gauze (find it in your first aid kit or buy from a pharmacy) and use the cube to gently massage and press under and around the eyes for a few minutes. Watch my film on Puffiness & Bags Under The Eyes - Causes and Treatments for more tips. 
Buy: The calming properties of green tea are also brilliant for cleansing and soothing oily and combination skins prone to breakouts. Model Miranda Kerr's Kora Organics Foaming Cleanser,, is a gentle, soap-free, foaming cleanser formulated for oily and combination skins and packed with green tea, aloe vera and sandalwood, which also smells absolutely delicious.

LEMON
Ice and a slice, anyone? The essential accompaniment for a refreshing G & T, lemons are also one of the most useful beauty boosters from the fruit bowl. Not only do they contain vital Vitamin C, they are also a source of B Vitamins, and the minerals calcium, potassium, magnesium, iron and phosphorus. Highly recommended for cleansing, both internally when taken with hot water, and externally in a variety of skin toners, cleansers and scrubs, lemons have potent anti-bacterial properties. Although lemons are acidic, they actually become alkaline when metabolised by the body, and as a result are extremely calming for the digestive system.
DIY: For a zesty body scrub, mix together half a cup of raw or brown sugar, 2 tablespoons of almond or olive oil and the juice of half a lemon. Combine all the ingredients, then massage into damp skin in the bath or shower and rinse off. Skin will feel amazingly soft.
Buy: If you don't have the time or inclination to make your own, this ready-made body buffer is a firm favourite. A zingy citrus and herbal combination, Bliss Lemon & Sage Body Scrub, leaves skin soft, smooth and tingling, and is great for boosting sluggish circulation.  

ASPRIN AND BAKING SODA
I'm not usually in the habit of suggesting you mix culinary ingredients with medicines, so please, be cautious, and note that this is an external remedy only. Aspirin or acetylsalicylic acid was originally extracted from willow bark in 1828 by Johann Buchner, a German chemist. Found to be an effective form of pain relief, as well as helping to reduce fever, it was later discovered to be therapeutic when applied to the skin. Excellent for acne-prone skin and for reducing rosacea.
DIY: Aspirin masks are a great divider. Many (like me who's a big BHA fan) absolutely swear by them for a peel on a budget, some feel they dont do much whilst others find them way too tingly/stingy. If you fancy giving it a go, here are a few ways to make your own exfolitaing mask. For a gentle skin peel, mix 2-3 apirins or aspirin powder (even better as less gritty) with a little watm water and leave to dissolve to a fine paste. Add a little honey or Aloe Vera and spread a thin layer over damp skin, avoiding the eyes, leave for 5 minutes and then rinse face throughoughly with luke warm water. For a stronger version, mix a teaspoon of baking soda with 1 cup of warm water and set aside. Mix the dissolved aspirin with a teaspoon of lemon juice (instead of water) and smooth on to skin for 5 minutes. To remove, use cotton wool soaked in the baking soda water which helps to neutralise the lemon acid. Skin may tingle for a while. If any stinging occurs remove immediately
.Buy: Paula's Choice Skin Perfecting 1% BHA Lotion Exfoliant,  is a light-weight gel that contains salicylic acid and helps to reduce breakouts, reduce redness and rosacea or, for combination to oily skin try Paula's Choice Skin Perfecting 2% BHA Lotion Exfoliant. 
Or, try my favourite blemish treatment Dermalogica Overnight Clearing Gel, which contains 2% salicylic acid which calms inflammation and helps to prevent blemishes. 
Please remember, natural home made skin treatments are no different to the shop bought variety in that some work brilliantly for you while others dont, so be guided by your own skin and common sense.
What are some of your favourite tried and tested kitchen remedies?