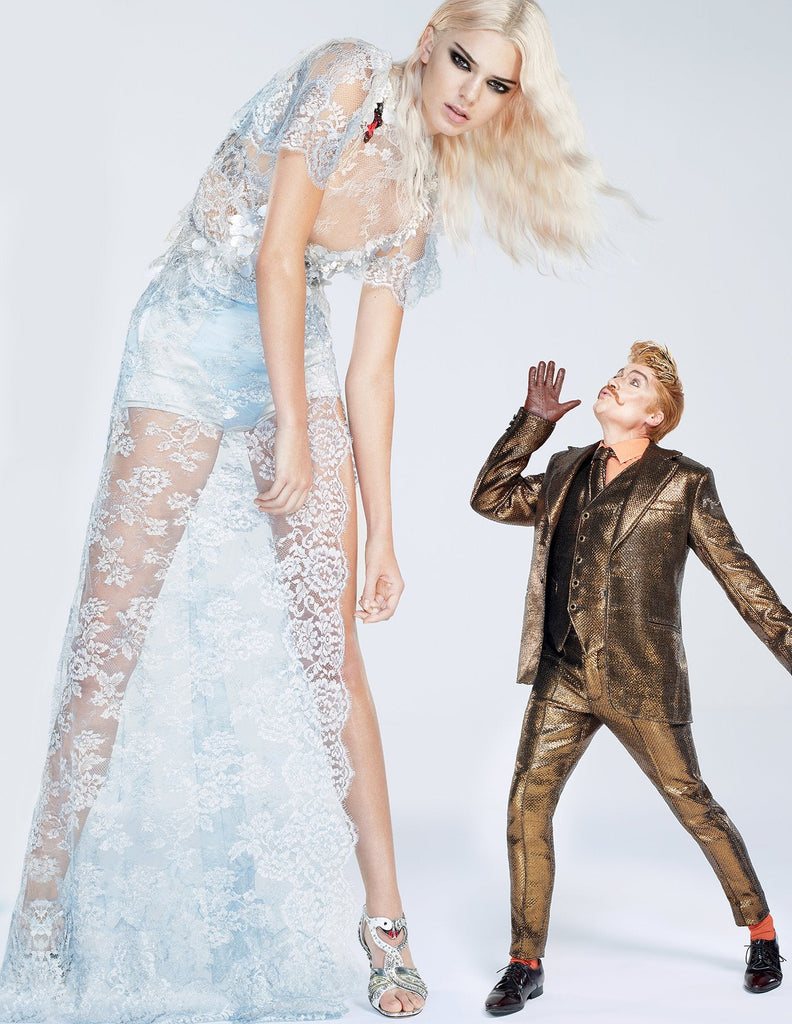 Kendall's Adventures in Wonderland - Behind-the-Scenes & Giveaway
I'm always excited when I get to work on shoots that are a real 'production', like this one I did for the December issue of American Vogue. The shoot was in collaboration with the National Theatre in London to celebrate the opening of their new musical, wonder.land - a hypermodernised and visually extravagant take on Lewis Carroll's classic story, Alice's Adventures in Wonderland (which - believe it or not - is 150 years old this year).
There was an incredible team working on the shoot - wonderful photographers Mert & Marcus, fashion legend Grace Coddington (who styled the shoot) and beautiful Kendall Jenner starring as our modern day Alice. We were also joined by some of the cast of wonder.land - iconic characters like the Caterpillar, White Rabbit, Cheshire Cat and Tweedledum and Tweedledee, donned in their spectacular costumes designed by Katrina Lindsay.
The promotional wonder.land imagery I'd seen was saturated with bright, neon colour, but for the makeup on the shoot we decided to create a dark, grungy, glossy eye, teamed with flawless skin, nude lips and Kendall's naturally bold brows. If you want the low-down, watch my tutorial inspired by the look here.
I was really happy when I saw the images, I thought that Kendall looked amazing (and almost unrecognisable as a platinum blonde!) and the wonder.land cast looked so cool - the costumes alone were enough to make me want to go and see the show!
I went to see it over the holidays with my teenage son and loved the modern take on such a classic tale - the script is so current in its storyline and taps into themes like online bullying and social media. wonder.land is a creative collaboration between Damon Albarn, lead singer of the British rock band Blur (music), Moira Buffini (lyrics) and the National Theatre's artistic director Rufus Norris (direction), and was written as an 'internet generation', coming-of-age take on the classic Alice in Wonderland story. The musical follows Aly, a 14 year old girl who's being bullied at school and feels alienated and unhappy at home. Aly discovers an online game called wonder.land and creates a tall, blonde avatar called Alice who, in wonder.land, meets reimagined versions of classic Alice in Wonderland characters. As the world of wonder.land begins to blur with Aly's real life, her mother emerges as the White Queen, father as the Mad Hatter and school headmistress as the Red Queen.
wonder.land is showing now at the National Theatre and runs until the end of April, so if you're going to be in London over the next few months and want to see a visually stunning, clever and creative show I really recommend it (you can read more about it and buy tickets here, and watch the teaser trailer below).
I'm also thrilled to have three pairs of top price tickets to give away to my gorgeous readers.
THIS COMPETITION HAS NOW CLOSED.
Credits 
Photographers: Mert Alas & Marcus Piggott
Stylist: Grace Coddington
Model: Kendall Jenner
Hair: Shay Ashual
Nails: Lorraine Griffin 
Set Design: Andrew Tomlinson
In collaboration with The National Theatre
For competition terms and conditions, please click here.