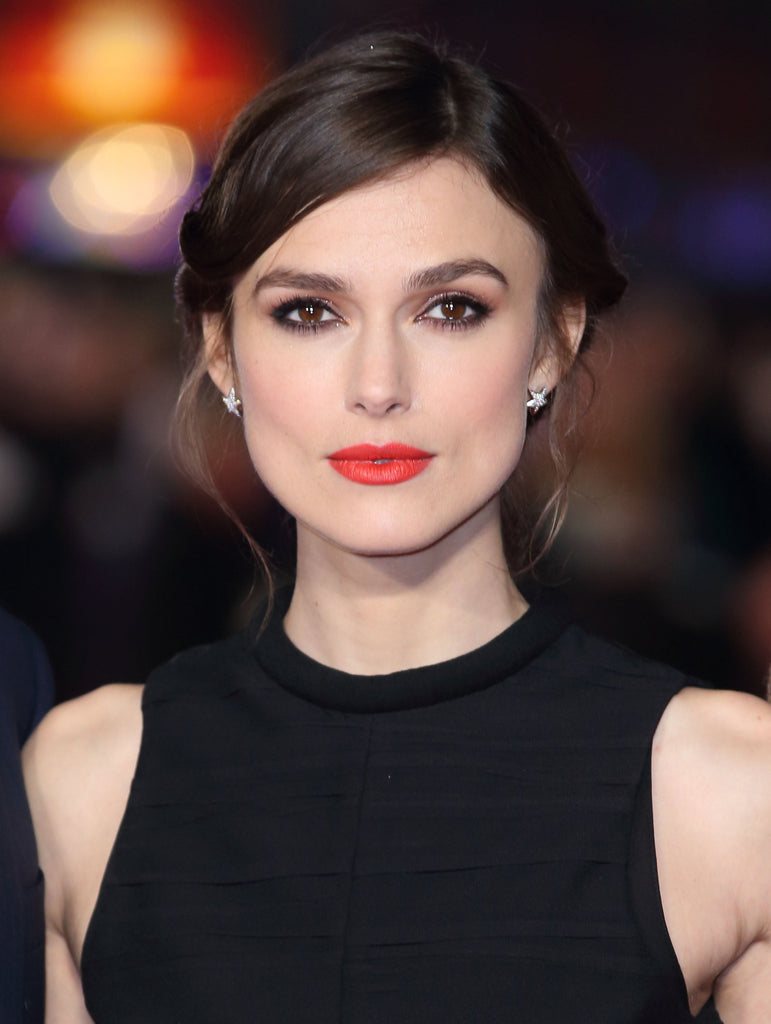 Keira Knightley's Red Carpet Make-Up - Get The Look
Yesterday, I had the pleasure of making up one of my favourite clients, the gorgeous Keira Knightley for the press junket and UK premiere of Jack Ryan: Shadow Recruit, an action thriller starring Keira, Chris Pine and Sir Kenneth Branagh (who's also directing).
When I checked the schedule I could see we were starting with print and tv interviews, a photoshoot and cast photocall. After that was the red carpet premiere in Leicester Square followed by a TV show and finally, the after party. I figured I would need to do three looks - each one would need to work pefectly with the different outfits, lights and conditions etc. Here's what I did using Chanel Products:
LOOK 1 
Keira was going to be wearing a cute, lacey midriffed, black and white Chanel dress with her hair down in loose waves. I wanted to create a very natural, fresh and pretty look that would work for all the different interviews and photos. I knew there wouldnt be time to re-do the base before the Red Carpet so I had to do an absolutely flawless, (not hard with Keira's skin!), long lasting base  -  that I could touch up rather than have to refresh. I applied Perfection Lumiere Foundation in 20 (plus a dash of 30) with a brush and then used concealer under the eyes. 
I then applied a light touch of cream blusher in Inspiration with a brush onto Keiras cheeks to add a soft, healthy glow. 
For eyes I used one of the new 2014 Summer Collection Illusion D'Ombres, New Moon #97 (available May). I'm absolutely crazy about this colour. Its a minky, mauvey copper with a hint of pink champagne ... divine!. I buffed it across Keiras eyelids with a very light hand for a transparent wash effect. I finished eyes with black waterproof pencil all along the upper lash liner, adding a good coat of Le Volume black mascara in Black, curling lashes first.
I finished off the first look with Rouge Coco lipstick in Charme - an understated Pink (see photo with Chris Pine below)
LOOK 2 
Onto the second look of the day -  the red carpet, evening look (top two photos)
When the stylist showed me the black Proenza Schouler dress, Chanel shoes (loved those bow shoes!) and earrings and Balenciaga bracelet Keira was going to wear, I knew exactly what look I wanted to do. I felt the makeup needed to be ramped up to contrast with the beautiful, chic simplicity of the dress. I really wanted to do a hot orangey, red lip and hoped Keira would go along with and trust my idea... luckily for me she did.
After touching up Keiras base and concealer here and there I applied a light dustng of Poudre Universelle Loose powder in Clair. 
Using the same eyeshadow as before (Illusion D'Ombre in New Moon #97),  applying more to up the ante and add extra sparkle and tone, the colour really complimented Keira's eyes.
I then defined eye's with Ecriture de Chanel Noir liquid liner all along the upper lash line and winged out at the corner in to a classic Eldridge kitten flick!! Next I used black waterproof lining pencil in Noir Intense  --- applying it along the upper and lower waterlines and smudging underneath the lower lashes to create a subtle smokey effect. 
For the lashes, I used lots of Le Volume Mascara in Black and individual lashes by Ardell - applying longer ones at the outer edge to emphasise the subtle flick and create a feathery lashline.
I worked brow powder through Keiras sumptuous brows and brushed them into shape. I wanted them to look polished but natural. Keira has amazing brows and I wanted to work with her natural shape.
I wanted to team the sultry smokey eyes and chic black dress with a bright pop of colour, something bold but still elegant. I started by covering lips with Le Crayon Levres in Orange Intense and then applied Rouge Allure Intense Long Wear Lipstick in Incandescente (97) a hot tomato red. After one coat I blotted the lips, defined the shape with pencil again and then applied a second coat ... gently blotting again.
To finish off the look, I touched up Keira's cheeks with Joues Contraste Rose Initial, a lovely warm , apricoty rose which toned in well with the lip colour.
LOOK 3
After the red carpet I created a super quick new look for a pre-recorded TV show and the after party. I removed the bright lipcolour completely and went for a more relaxed pink shade. I chose Rouge Allure Séduisante a gorgeous subtle rose, applying with a brush. On top of that a slick of the sheer and moisturising Rouge Coco Shine in Romance straight from the bullet created the perfect rosy pout. To compliement the new look I changed the blush to Joues Contraste in Rose Petal. With a rosier lip and cheek I pumped up the New Moon Illusion D'Ombre eye shadow to its absolutely sparkley max, patting it on to Keira lids with fingers (See photo above)
So thats it, what a great day with a charming and beautiful girl. I do love my job!
Jack Ryan:Shadow Recruit opens in UK cinemas this Friday.
Keiras hair was styled by: Amiee Hershan
Stying: Camilla Pole