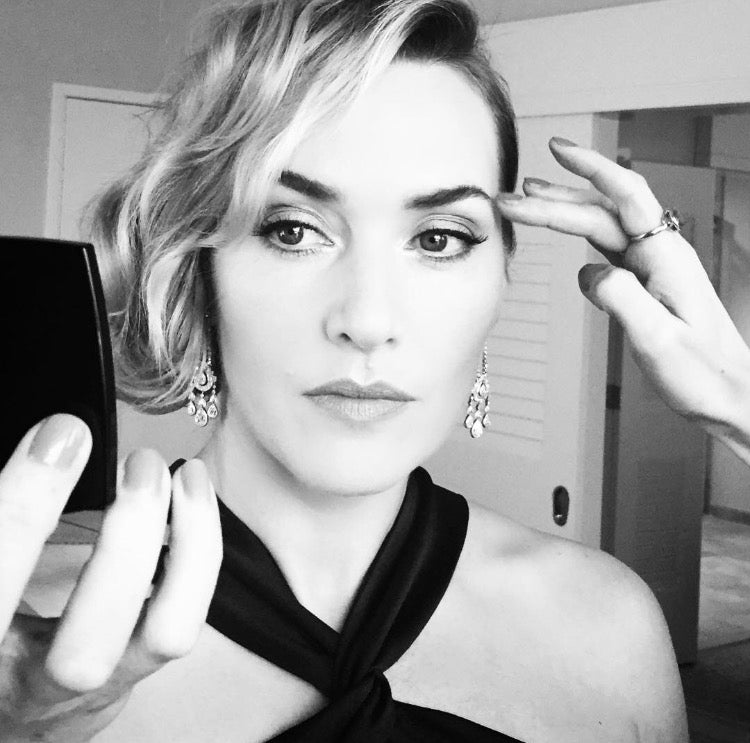 Kate Winslet at the Golden Globes - Beauty Breakdown
Hello from Hollywood! I'm in LA and have had an amazing weekend - on Saturday I did a book signing and meet & greet at Violet Grey's incredible store-come-beauty haven (thanks SO much to everyone who came, I loved it!) and last night I was making up Kate Winslet ahead of the Golden Globes awards. Kate was well-deservedly nominated for Best Performance by an Actress in a Supporting Role, for her part as Joanna Hoffman in Steve Jobs... and if you saw my Periscope you'll know that we were all jumping up and down with excitement when she WON!! HUGE congratulations Kate!
I got to Kate's hotel room in Beverly Hills early afternoon to start on her makeup. Kate had whatsapp'ed me a video of her in the uh-ma-zing royal blue Ralph Lauren gown she was planning to wear a few days before and we'd talked a little bit about the plan for her makeup. Kate wanted dewy skin and something quite fresh. I agreed that she would look great with shimmering defined eyes, a fresh pink lip and a glowy, flawless skin. Kate always looks so effortlessly beautiful in this kind of polished makeup.
Fantastic hairstylist Renato Campora was doing Kate's hair so we doubled up and while he got to work I started with Kate's eyes, using Lancôme's Hypnôse Star Eyes Palette in Brun Adoré to create a nude but sculpted eye. I buffed the taupey shade on the left of the palette all over the lids and blended the darker brown shade into the sockets for definition. I then dabbed the light rose gold shade onto the centre of the lid to highlight and the pale champagne colour (the lightest in the palette) at the inner corner to open the eyes. I curled Kate's lashes and added tons of Hypnôse Doll Eyes Waterproof Mascara, a half set of false lashes that I'd picked up in Japan and more mascara on top. Next was liner - I used Artliner in Noir all along the upper lashline, keeping it thin at the inner corners and thickening out as I went along, before winging it out slightly at the outer edges. Once the shape was right, and the liner was dry, I did my tried-and-tested red carpet liner trick and buffed a touch of the black powder from the eyeshadow palette along the liner to soften, without taking away any of the punchiness. I also used it softly about 3/4 of the way along the lower lashline.
After eyes I moved onto base. I started buffing in a thin layer of Teint Idole Ultra 24H to even out Kate's skintone naturally and, while it settled, defined Kate's brows with a few strokes (all that her naturally amazing brows need) of Le Crayon Sourcils in Brun. Next I highlighted using Éclat Miracle (my all-time favourite highlighter that I'm bringing back to Lancôme very soon... watch this space!), applying to the high points of the face and along the centre of the upper lip line. Then I went back to foundation, adding a little at a time wherever it was needed and buffing in really well to make sure that I kept the dewiness alive.
To conceal, I used Effacernes Longue Tenue under the eyes and under Kate's cheekbones to highlight her amazing bone structure. I powdered the sides of her nose, chin and forehead, but made sure that the high points of the cheeks were left unpowdered, again to keep the skin looking super-fresh and gorgeous. I did some sculpting using Belle de Teint powder in Belle de Miel, using this under cheekbones and bringing it lightly onto the temples, jawline and neck. Finally for base I swirled on some Blush Subtil in Rose Paradis, a beautiful bright pink that gives a lovely rosy flush.
After blush, I went back to Kate's eyes and buffed over with a touch more eyeshadow and also added a couple of individual false lashes for a feathery look, and to emphasise that winged-out shape that really suits Kate's gorgeous eyes. At this point I also added some mascara to the lower lashes and a touch of back liner to the upper waterline.
Finally, for lips, I wanted to make sure that Kate's lip colour was really long lasting, so I started by defining and filling in with Contour Pro Liner in Beige Rosé, then I applied a thin layer of Rouge in Love in 200M Rose Tea - a beautiful true rose shade that I thought looked stunning against Kate's complexion. I blotted, added another layer and a final touch before Kate left (I also gave her the lipstick to keep in her bag for touch-ups).
Once Kate was in her dress I took my Éclat Miracle again, putting a little into my hands and - very carefully! - swept over her arms and shoulders for a touch more shine. I made sure there wasn't any excess by pressing over with a tissue afterwards - I was terrified of getting any on that dress! Then I did a couple of final, final touches (above). All in all the prep took about two hours in total - but of course time absolutely flew by.
I thought that Kate looked completely phenomenal. Her stylist, Cheryl, told me that she and Kate had fallen in love with the dress initially for the stunning colour and, once Kate tried it on, they knew that the super-chic shape worked amazingly on her. The epitome of streamlined elegance!
I hope you like the makeup and congratulations again to wonderful Kate and all the other winners from the night. I'll try and film a tutorial of the look when I'm back in the UK this week if anyone would like to see it. X
Kate was styled by Cheryl Konteh and her gorgeous hair was by Renato Campora.