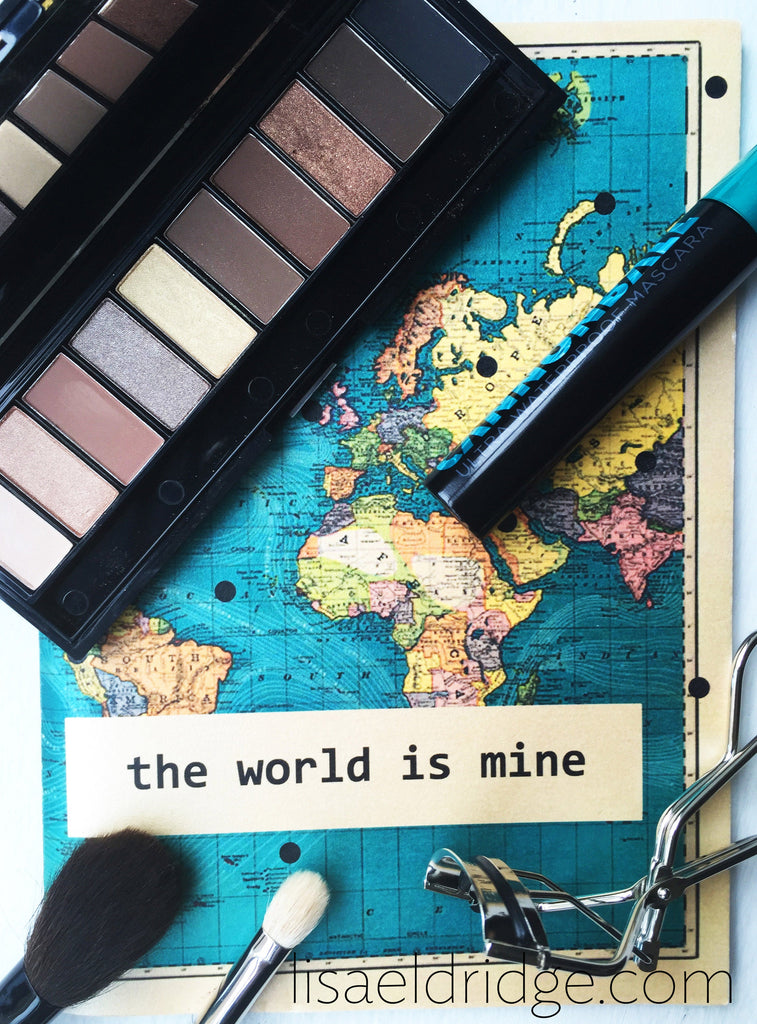 Jet Setting Makeup Staples
I'm lucky enough to do lots of travelling, for work and pleasure, and like to think I've got my beauty and makeup packing down to a fine art. I'm getting ready to head off on holiday later this week and am packing lots of my usual makeup staples that I wanted to share with you. For me, it's all about ensuring you have a really good edit of hard-working products that will perform well - and last.
Eyes
Anyone who watches my films will know that I'm never without a good pair of eyelash curlers - they're essential for a bright, wide-eyed look. Shu Uemura's have been in my kit and personal makeup bag ever since they launched. I usually have an eyelash lift pre-holiday but haven't had time this year, so my curlers will definitely be coming along with me. I also always carry mascara. Pack whatever is your favourite, but remember to bring a waterproof version if you're going somewhere hot - even if you're not going to wear mascara in the pool, you don't want the water in the humid air to make it run.
For eyeshadow, a great palette of neutrals is perfect because it's so multi-tasking - you can layer the shades to create lots of looks with different intensities, use them as eyeliner (watch my Easy Effortless Winged Eyeliner tutorial for tips) and as brow powder (mix a couple of matte shades to get a good colour if you need to). L'Oreal Paris, Urban Decay and The Balm all do great nude palettes - and I've written a blog post with more favourites here. Alternatively, for a bit more oomph, a water resistant liner like Stila Smudge Stick Waterproof Eye Liner is easy to apply and comes in colours ranging from smokey tones to metallics and primary brights.
Base
A tinted moisturiser, BB or CC cream is perfect to take away as they strike the right balance between believable coverage, hydration and protection. Although many contain SPF, don't forget to use your usual sunscreen underneath. The light textures leave complexions healthy and glowy - no-one likes to look cakey or overly made up on holiday (I've used Nars Pure Radiant Tinted Moisturiser and Bare Minerals Complexion Rescue in recent summer films).
Alternatively, you could pack a cushion foundation - compacts that contain fluid foundation that's delivered through a spongy 'cushion'. I picked some up in Korea, although only light shades are available. Lancôme has a great version that's available in 11 shades, including darker tones. I carried one on a recent long-haul flight and the portable case (with mirror) and no-fuss application made it perfect for a quick arrivals makeover (something that's much more difficult with a bottle of liquid foundation!).
For concealer, I often pack Nudestix's Skin Concealer Pencil (available in eight shades). It's really portable, comes with a sharpener on the end, and the soft, creamy texture is easy to blend - if you're staying somewhere hot and humid, pop it in the fridge. I also like Pixi's Illuminating Tint & Conceal (available in three shades) - the handy packaging has a tinted moisturiser (with SPF 20) in the tube and a concealer on the end, perfect for flights and holidays.

If you want to pack powder, bring a portable, pressed version like Bourjois Healthy Balance Compact Powder (available in four shades) or, if you're worried about shine, blotting papers like DHC's are perfect for travelling - they take up next to no room and are super-easy to use, just press them against your forehead, t-zone or anywhere you feel greasy and they'll get rid of shine without the need to add more powder or makeup.
Cheeks & Lips
Blush is another of my all-year-round must-haves, but especially for holidays - it's one of the fastest ways you can make yourself look fresh and radiant, whatever your skintone. Chanel Joues Contraste powder blushes come in good mirrored compacts and a great range of 15 pretty, flattering shades (the colour in the image above is Malice, a peachy shade with gold shimmer). I've written about more blush favourites (including powders, creams and gels) in my ultimate guide to blush blog here. Alternatively, if you're not a blusher person, swap this out for a bronzer - Bobbi Brown do good bronzing gels and powders.
For lips, try a 'balmy bright' - hydrating formulas that leave a hint of colour. I've been using Clinique Chubby Stick Baby Tints (available in four shades) a lot, and also like Burberry Lip Glow Balms (available in three shades) and Revlon Color Burst Lip Butters (available in 21 shades, Juicy Papaya is in the image above). You can also use lipsticks with fresh, sheer textures like these as blushers by gently patting onto cheeks.
Finally, I always pack a hand sanitiser - Dr Bronner's Hand Sanitizing Spray is great because it rubs in quickly without leaving hands sticky, and there's no chemical after-smell. 
If you're off on any summer breaks, let me know what beauty staples you'll be packing in the comments.

And if you're flying for more than a few hours, watch My Beauty Regime on Long Haul Flights film below - where I show you how you can turn your plane seat into a mini spa ; )