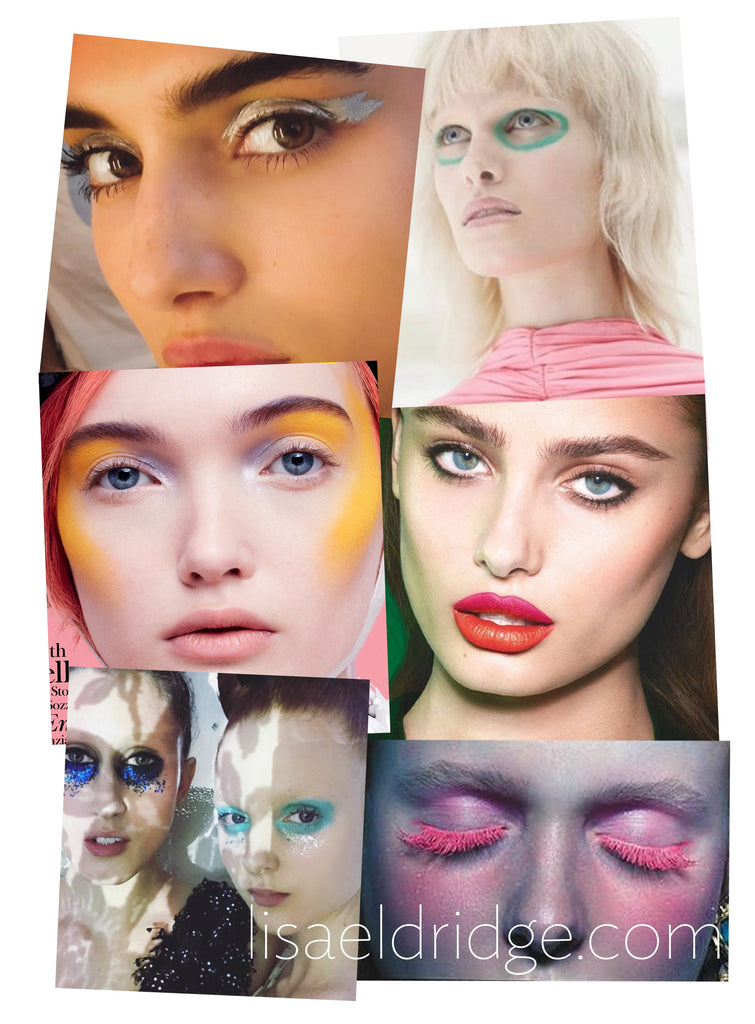 Inspiration - Ultra Modern Festival Makeup Looks
For those who love festival season and experimenting with next level makeup looks, I thought I would look through my instagram and gallery for some fun festival inspiration.
First up, Bright, Bold, Blocks of colour…
Sunshine Highlight
To make a colour blocking statement, I used a bright canary yellow (MAC's Chromaline Shadow in Primary Yellow) for this Vogue Turkey Cover shoot (image above), swiping the cream texture boldly on to cheek bones and eye lids. Then for contrast I brushed a silvery lilac shimmer pigment at the inner corners of the eyes for a feminine accent - for similar shades, Bourjois Smoky Stories in Mauve Again is great. If going all out with this look isn't up your street (I'll be honest it's a tough look to pull off) my latest tutorial is a more wearable version with tips on how to wear yellow eyeshadow - click here to watch it.
Crayola Eyes
This editorial makeup was inspired by my favourite Crayola crayons growing up so the shape is not meant to be perfect (great when applying makeup in a tent with a hand mirror!) For this pastel green look, I used actual face paint crayons from John Lewis which come in a great spectrum of shades.
Loud Lashes
An easy way to add a kick of Chroma to your festival makeup look is to apply a set of pre-coloured false lashes. For this look I layered lashes with neon pink aqua colour (you can buy coloured lashes if you don't fancy DIY'ing). Either match it to your eyeshadow (as I did here) or go a for a clean lid and make it all about the lashes.. Alternatively if you want don't want to fully commit, apply black mascara and add a dash of colour to your lash tips.
Next up, Anything Goes Glitter…
This behind the scenes image from my editorial in Stern Magazine is a dreamy, anything goes glitter look. If you love glitter and want it to be part of your festival look there's some great easy to use glitter products out there. From Stila's Metallic Metals - this product arrived at the House of Eldridge and went straight into my pro kit - it's a liquid glitter eyeshadow that's easy to use, sets and doesn't drop down. (see it in action in my 'Spring Bling' tutorial here.  To Topshop's Glitter Lip Kit - a tin with a lip liner, lip paint, lip mattifier and a pot of glitter, which comes in six shades. The glitter does drop down with this one but it's perfect for an epic boomerang ;-) Or if a smokey eye with sparkle is more your thing click here to watch my tutorial using highstreet / drugstore makeup.
Slicks of silver
If you follow me on instagram you get access to a few behind the scenes makeup looks before they come out, this simple swipe of silver was created using MAC's pigment in silver mixed with the mixing medium eyeliner. I applied it using an artist paint brush to create a more rough, painterly effect. To avoid the hassle of mixing pigments at a festival you could opt for a gel eyeshadow such as Revlon's Color Stay Creme Eyeshadow in Earl Grey - it also comes with a handy brush in the lid to apply.
Wow Power Lips
For a long lasting lip look with extra WOW, this two toned lip look with ombré (orange fading to pink) upper lip, is SO easy to create. I used two Matte Shakers, Yummy Pink on the top and Magic Orange on the lower lip. To see a tutorial on this look, I created one for Lancome's channel here.
Which makeup looks have you seen lately that are perfect festival inspiration? X
Image Credits
1. Vogue Turkey - Photographed by Miguel Reveriego, Styling - Koncaaykan, Hair - Naoki Tomiya, Nails - Kate Cutler, Makeup - Lisa Eldridge, Model - Ruth Bell.
2. W Mag - Photographed by Mert and Marcus, Art Direction - Marca Scoli, Styling - Edward Enninful, Hair - Cyndia Harvey, Nails - Kate Culter, Makeup - Lisa Eldridge, Model - Sarah Agee
3 & 4. Stern Magazine - Photographed by Nick Knight, Creative Director - Julia Von Boehm, Set Design - Andrew Tomlinson, Hair - Eamonn Hughes, Makeup - Lisa Eldridge, Nails - Hannah Bond, Models - Madison Stubbington and Anna Cleveland
5. Silver Swipe - Makeup - Lisa Eldridge, Model - Blanca Padilla
6. Lancôme - Photographed by Mert and Marcus, Creative Direction - Darcy Backlar, Hair - Odile Gilbert, Makeup - Lisa Eldridge, Model - Taylor Hill