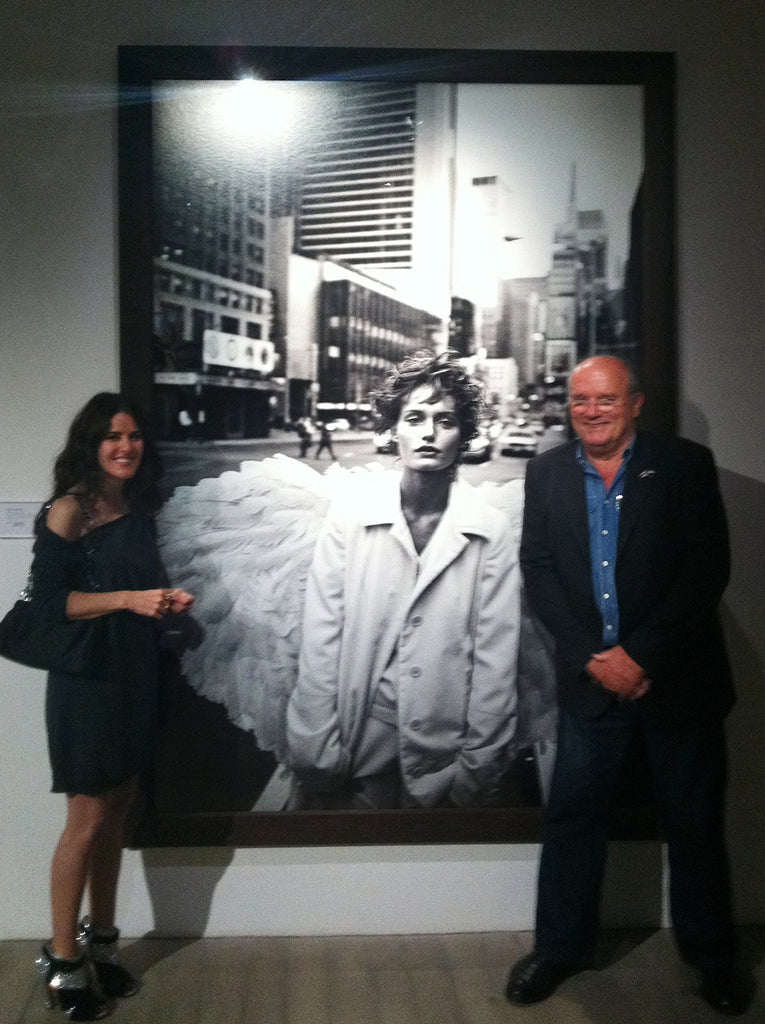 Inspiration - Peter Lindbergh
Monday night I attended a dinner at the gallery of auction house Phillips de Pury in honour of one of the most respected and influential photographers of our time, Peter Lindbergh. I worked with Peter many years ago when I was based in Paris and have always been a huge fan of his work. The things I always remember about working with Peter was his easy, charming personality and how quick he was... we once did an amazing 10 page story for Italian vogue in under 2 hours!! I hadnt seen him for at least 14 years so I was thrilled that he actually recognised me!
The dinner was hosted by GQ editor, Dylan Jones, who also engaged Peter in an insightful Q&A session. Dylan asked Peter for his idea of beauty "Beauty is whatever you want it to be" came the reply. On today's digital photography versus what he was doing back in the 80's and 90's, Peter said that he never did any retouching on the pictures unless a model begged him to remove a large blemish or spot and that he finds the overuse of photoshop in contemporary photography "disgusting". 
In the photograph at the top of this post you can see we are standing next to one of his most iconic pictures...Amber Valetta for Harpers Bazaar circa 1993 (if you've got a spare £120,000 knocking around you might like to bid for that one when it goes under the hammer on Novemeber 5th!) The shoot, inspired by the hauntingly beautiful Wim Wenders film 'Wings of Desire', was one of the most talked about, swooned over and inspiring set of fashion pictures in history. So I was surprised to hear during the Q&A that it almost didnt happen. Peter explained how Fabian Baron, Bazaar's Creative Director at the time, had really wanted him to do a set of more graphic pictures in a studio with a white background and was dead set against the idea of Amber the Angel that fell to earth wandering around Manhattan. Luckily Peter stuck his ground, even scouting the garden location featured in one of the shots himself from a newspaper ad, and the rest is history.
During dinner there was giant screen playing footage of several of Peters famous supermodel shoots. Naomi, Linda, Cindy, Stephanie and Tatiana all looking absolutely stunning. I have to confess this was my favourite bit of the night, I couldnt take my eyes off it.  From the most incredible footage of New York (twin towers intact) including the meatpacking district (how things have changed!) to funny and charming images like a cop asking Cindy Crawford to sign his shirt ... all summed up that period in time so perfectly. There was even an appearance by Peters main make-up artist throughout his career, the man credited with creating the signature smeared smoky 'look' of the girls in all Peters shoots, the incredible Stephane Marais. To see a short trailer of the film click here www.peterlindbergh.com/#FILMS/10
All in all an inspiring and fun night which had me digging out my old copies of Harpers Bazaar. As always I'd love to know your thoughts X 
For more information about Peters work, exhibitions and books visit www.peterlindbergh.com