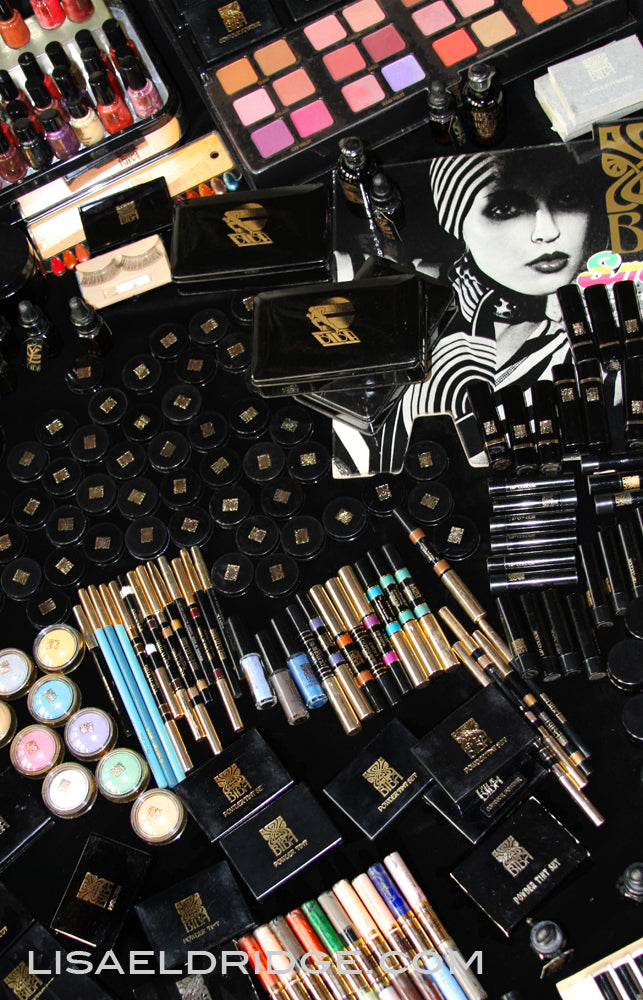 Inspiration - Oh you Pretty Things...
Biba founder Barbara Hulanicki was born in Warsaw Poland in 1936. After attending Brighton art school she moved to London and began designing clothes, setting up a small mail order business in 1964 which aimed to bring cool affordable fashion to regular girls.
I think we can safely say that Barbara had an unparalleled gift and talent for capturing the zeitgeist, as so instantly cool and sort after were her clothes that in no time she had moved into a shop, moving every two years after that to bigger and bigger premises in an effort to keep up with demand. The eclectic BIBA shops attracted a host of A-list film and music stars including Cher, Mick Jagger, The Beatles,Yoko Ono, Brigitte Bardot, Angie and David Bowie and even Princess Anne! The Biba look or 'Dudu Look" as it was known was that of a superwaif with long coltish legs, a bright young face and huge doll-like eyes.
In 1973 Biba moved into a 7-storey department store in Kensington High Street, which was known as Big Biba. At the height of its popularity in 1974, BIBA was attracting over a million customers a week and became the second biggest tourist attraction after the Tower of London (Buckingham Palace was 3rd!).
In 1970 Biba Cosmetics were launched and by the following year they were available from concessions in Paris, Milan, New York, California and Tokyo as well as 300 Dorothy Perkins Stores across the UK. The dresses and prints may be the things that first spring to mind when recalling Biba but it was the make-up line that became the most successful and profitable part of the business.
Growing up I knew about Biba make-up as my mum had some of it and I was always fascinated by the colours and strong pigments. The thing that's always blown me away is the amazing colour palette the likes of which had never been seen or done before. In a brilliant except from Barbara Hulanickis book 'From A-Biba' she describes how the range was developed:
"We had found a factory near East Grinstead that produced cosmetics for all the big brands. When I showed them the colours we wanted for our lipsticks and nail varnish and eye colours, the managers didn't seem to take us seriously. On the other hand, the girls in the laboratory were terribly excited and couldn't wait to formulate something different from the usual corals and bright pinks. They stayed up all night and mixed our first ever brown lipstick, which sold out in the first half hour"
Biba totally revolutionised what was considered acceptable for eye, lip and face colours years before anyone else did. Remember in my Biba Fever tutorial, the glittery silver/purple blusher I used? Well this is just the tip of the iceberg. Blushers, contouring products and face glosses came in every shade from blue to green to black! There were tons of amazing metallic silvers, coppers and golds for nails, cheeks and face and lipstick came in every shade from black to white and everything in between. The key Biba make-colours were blackish mulberries, blueberries, rusts, browns, mustard yellows, dark teals, mahoganies and plums, mirroring the colours of the main clothing collections. The Biba eye look was not about the harsh graphic lines of the 60's but more about big soft round clouds of colour.
The 'colours of bruised fruit' best describes the typical Biba palette. Wherever the Biba girls went, with their glossy metallic faces, huge round eyes and strange lip colours…everyone sat up and noticed!
Barbara drew inspiration from many sources but her main source was the opulent period at the end of the 20's and early 30's, she was 100% in love with everything deco.
Everything Barbara Hulinicki did was a first. Not only was there the exciting, and then unimaginable, colour palette, but up and down the country, Biba make-up counters with mirrors were packed full of girls who were encouraged for the first time ever to try before buying (something I always recommend myself!) Even more than trying, these girls experimented with daring and outrageous looks. Barbara says that girls would turn up in the morning with scrubbed faces so they could completely make themselves up in Biba before wowing everyone at work! Biba was the first cosmetics range that didn't have pink foundations, instead using yellow tones. Barbara even wanted to have a green foundation in the range! And in 1972, Biba created the first ever range of cosmetics aimed at women with dark skin tones.
Biba gave room to men to experiment with make up. Lou Reed and Freddie Mercury were both fans of the black nail polish and there were so many men wearing glam rock make up. The make up wearing guys of the 1970s paved the way for the new romantics of the 1980s and even the punks and goths who were to come.
Now, I wouldn't blame you for thinking that all of this maquillage must have cost a fortune, but in fact, despite Biba's utter coolness and desirability, it was a totally affordable and accessible brand- and the same was true of the clothes. Girls were able to easily afford to decorate themselves with false lashes and buy the latest Biba colours in the iconic black and gold packaging.
In the early 1990's I was living on Portobello Road and it was there on a Friday morning I spotted by first Biba find, two Duo blush/contour powders, and bought them for a fiver. Since then I've amassed quite a collection of the original (and unopened) stock from the Big Biba store including the entire range (minus one item which I'm on a mission to find!), tester stands, wrapping paper, brushes, make-up bags and all the original on counter photography cards. Its quite a collection, but I could look at the colours for hours. I find them so truly inspiring and particularly LOVE the quirky names of all the colours and products. The pictures I've posted here are of some of my personal collection. I havent taken the lids of the eyeshadows so you are not seeing the full extend of the colour but I think you get the general idea!!
In 1975, Barbara and her business partner called time on the iconic Biba empire. This seemingly unstoppable monster became far too expensive to run and so at the height of its fame and appeal, Biba folded. Biba definitely is the ultimate example of 'live hard, die young', which has meant that it is only remembered with fondness and in almost mythical terms.
3 books I strongly recommend if you want to know more and see more are:
1. Steven Thomas & Alwyn W Turners  Welcome to Big Biba: Inside the Most Beautiful Store in the World, available from Amazon. This book focuses on the Kensington High Street Store and has beautiful pictures giving one a real sense of what it was like. 
2. Barbara Hulanickis fabulous autobiography From A to Biba, is also available from Amazon.
3. The Biba Experience also by Alwyn W Turner and available from Amazon. 
Visit www.barbarahulanicki.com
If you want to learn more about the history of makeup, have a look at my FacePaint page here X
Also have a look at the video embedded below to watch Barabara Hulanicki (and our very own Madeleine Marsh) discussing Biba.
Products I have used in this video:
Click below for more info and buying options on the products I have used in this film. Some of the links provided are affiliate links for which I will receive a small percentage payment for any purchases made.
Lisa Eldridge - Face Paint - The Story of Makeup (Amazon)