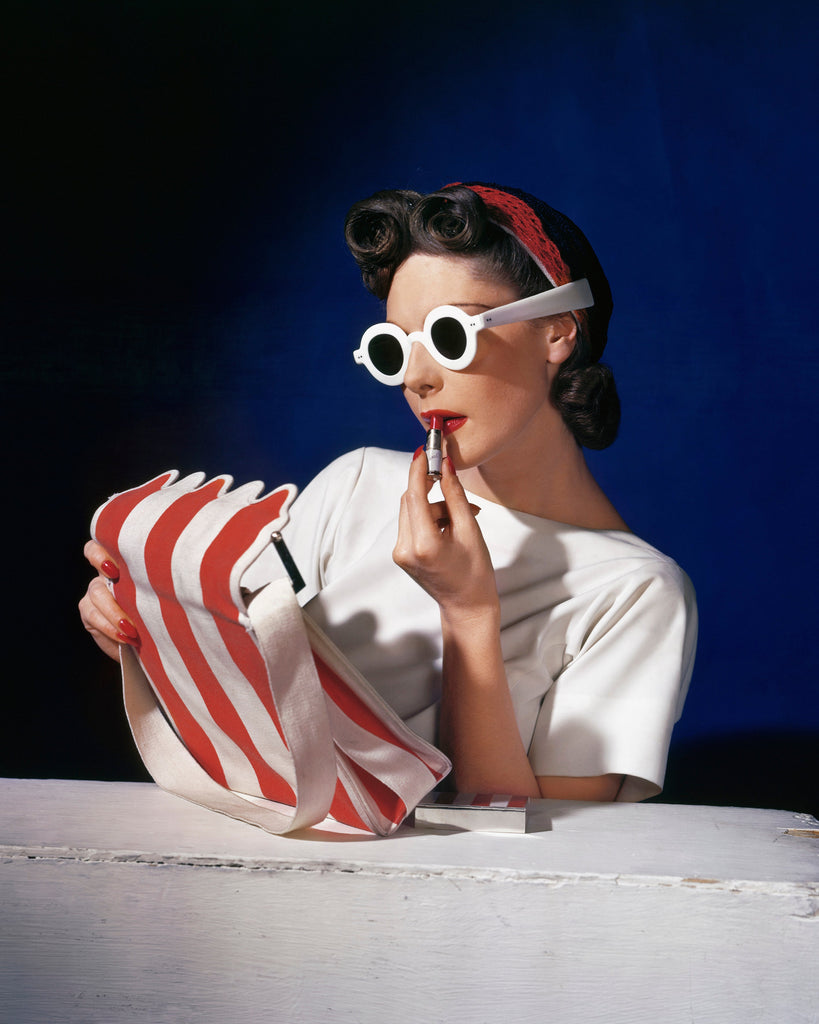 Inspiration - A Brave Click of The Shutter & Giveaway
As a make-up artist working in the fashion industry its important to be well versed in art, literature, cinema and photography references. Not only for inspiration but so you can take direction and work as part of a team in the various creative processes that take place when creating imagery for magazines and advertising.
I spent a good part of my teenage and early adult life pouring over images in glossy magazines and photography books and strolling around galleries soaking up as much visual language as I could squeeze into my head. One of my favourite images is this one of Muriel Maxwell in white sunglasses applying bright red lipstick (1939). It's one of those iconic fashion images that perfectly sum up the aesthetic, glamour and feminine mood of the time and chimes so well with the fast paced changes that were taking place in womens lives.
This striking image was taken by Horst, one of the leading fashion photographers of the 20th Century. Famous for many of his black and white images he was also one of the first photographers to perfect the new colour techniques of the 1930s. When someone has been close to the likes of Coco Chanel captured the beauty of Bettie Davis, Rita Hayworth,Vivien Leigh, Marlene Dietrich and created more than 90 Vogue covers - you sit up and take notice!
Horst moved from Germany to Paris and whilst working as an apprentice to architect Le Corbusier, became pupil and partner of photographer Baron George von Hoyningen-Huene. At that time he had never taken a photograph, knew nothing about fashion and in his words had "never seen an elegant woman" Under Von Hoyningens wing, Horst was mentored in photography and the stylish world of 1930's Paris; his first photograph was published in French Vogue in November 1931.
He quickly became a household name capturing the elegance, style and glamour of each of his subjects through his mastery of light and atmospheric illusion.
He was interested in people and bringing out a subjects true quality and beauty was what interested him most. When he first took a photo of Coco Chanel (whom he described as the '"Queen of everything"), she remarked "that's a very nice photo of the dress but it's nothing to do with me." He replied "how can it have anything to do with you when I don't know you" and with that, they went to dinner. The image below (and many more) became a result of their longstanding friendship.
Yesterday the V&A opened its doors to an exhibition that has more than 250 of Horst's photographs. Including an insight into the creative process of some of his most famous images like the Mainbocher Corset (which, you may recognise, was the inspiration for Madonna's 'Vogue' music video). As well as many of his most recognisable images there are personal projects and unpublished work; from his travels around the Middle East to images of natural forms and nudes.
The show runs from now until the 4th January and opening hours are 10am - 17.45pm daily with a late night until 10pm on Fridays.
The lucky winners of 5 pairs of tickets to the exhibition as well as Lipstick Queen's new red lipstick 'Have Paris' are... 
1. Laura MUA
2. Irina Fotache
3. Ei Kurihara
4. Joanna Worden
5. Lacey Elliot Make Up
You will each get a facebook inbox message from me for details on how to claim your prize. 
Thank you to everyone that entered. Xx
Products I have used in this video:
Click below for more info and buying options on the products I have used in this film. Some of the links provided are affiliate links for which I will receive a small percentage payment for any purchases made.
Lipstick Queen - Silver Screen