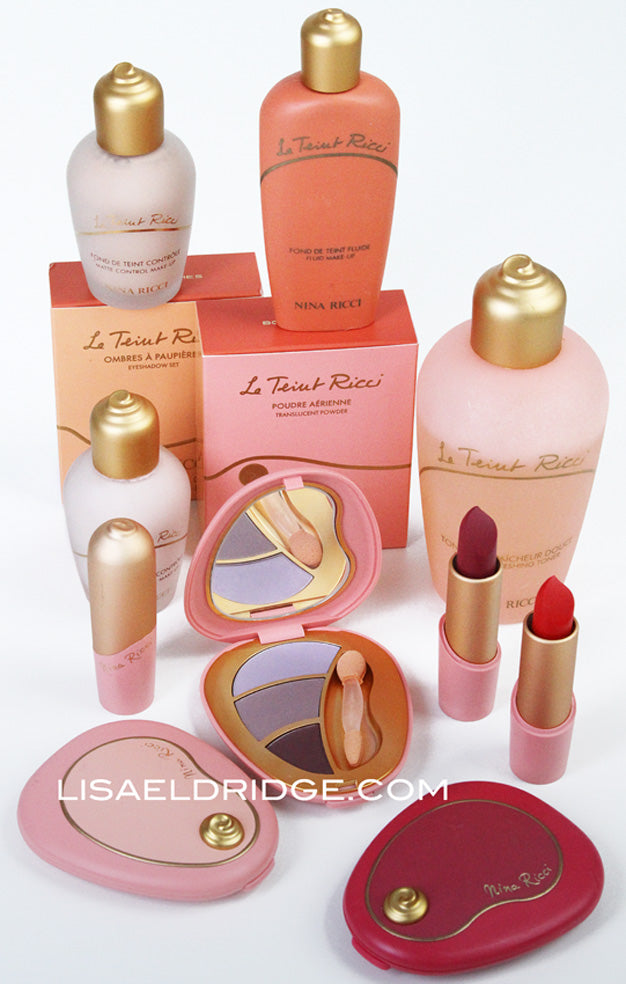 Inspiration - A bit of Make-up History
I was looking through my archives this weekend and came across a huge box of the original Nina Ricci make-up and skincare from the early 1990's. I was living in Paris during this period and used to do the make-up for the Nina Ricci fashion shows. When the range launched, I was given several boxes to use backstage and instantly fell in love. At a time when everything was minimal, pared down and either black, white or grey (the height of the Calvin Klein CKOne era) this explosion of colour and overly girly and indulgent packaging was like a breath of fresh air. Nikki de Saint Phalle the amazing French artist/sculptor who created, amongst many other things, the fantastical and brightly coloured sculptures in the fountain outside the Pompidou centre in Paris, was credited with the design. I'm not sure if she actually worked on the designs or whether her work was just the inspiration behind it. The thing I really loved about the range was the structure and colour concept. Some of the products where grouped together in colourways i.e. Les Lavandes, Les Carmins, Les Roses and the colour of the packaging related to the group they were in. The boxes were pink, lilac, lemon and peach and looked very like my favourite café in Paris, Laduree. The highlights of the range were the pale foundation shades (far paler than anyone else was doing at that time). They had one positively ghostly pale shade that had not a hint of pink or peach and was the purest, deliciously creamy and palest shade I've ever seen. The other highlights were the blushers and lipsticks both were highly pigmented and offered the best pinks, roses, cyclamens and reds ever and the wonderful brow pencils. Sadly the range bombed as the consumer was after clean lines and simple design. The range was re-launched in the noughties with clean white packaging and beautiful, quality textures. Luckily for me the unbelievably creamy pale foundation shade survived the re-launch and I used it regularly on clients including Cate Blanchett and Kelly Osbourne. I've taken photographs of some of my favourite bits so you can see how bold and bonkers it was for the time.
If you want to learn more about the history of makeup, have a look at my FacePaint page here X
Products I have used in this video:
Click below for more info and buying options on the products I have used in this film. Some of the links provided are affiliate links for which I will receive a small percentage payment for any purchases made.
Lisa Eldridge - Face Paint - The Story of Makeup (Amazon)