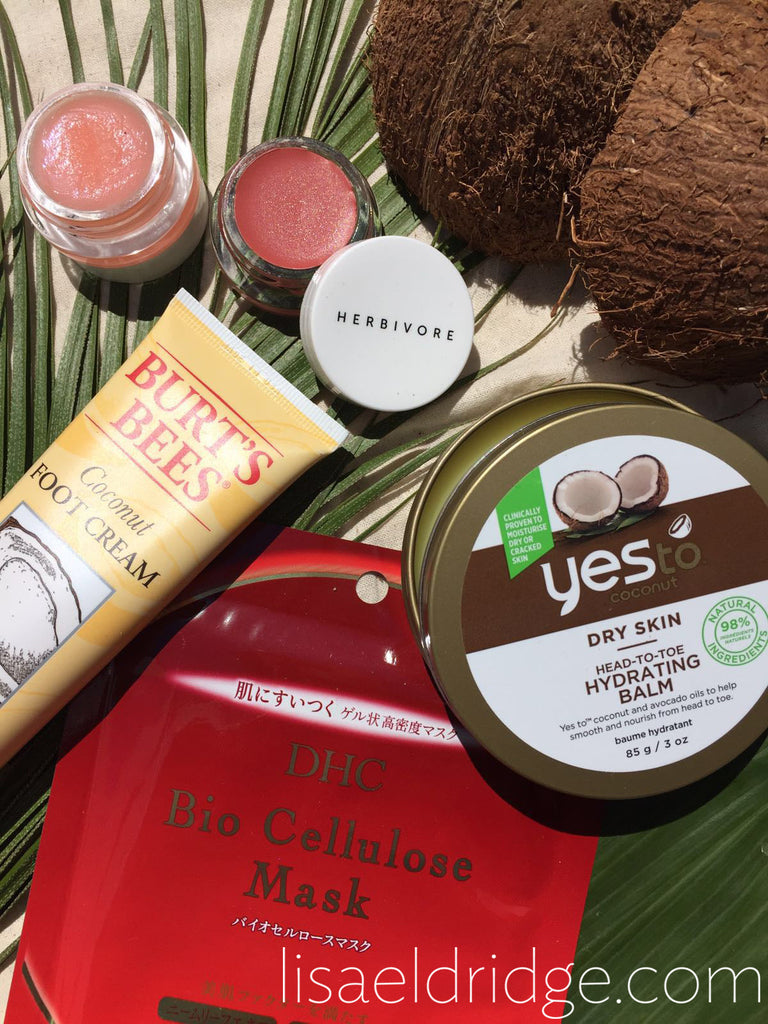 I'm Nuts for Coconuts
If you follow me on Instagram or Snapchat (THELISAELDRIDGE) you'll know that I was shooting in Barcelona last week where the weather was hot, hot, hot! I noticed that a few of the skincare essentials I packed to keep my skin happy and hydrated were coconut themed - coconut is such a great sunshine scent and, as most of us know, is packed with skin and health benefits, too. Coconut oil is rich in minerals, nutrients, antioxidants and vitamin E and it's a beauty ingredient that's gone mainstream with a plethora of coconut infused skincare, haircare and makeup on every shelf from department store to drugstore. Here are a few from my personal stash...
Herbivore Coco Rose Lip Polish and Coco Rose Lip Tint
I discovered this Seattle-based, all-natural brand recently - they have some fantastic head-clearing eucalyptus bath salts which I've been enjoying in my new bathroom ; ) I packed the Coco Rose Lip Tint for my trip - a pretty, coral-y shade with a delicious rose and coconut scent. I was also intrigued about the lip polish - I always make sure I prep lips really well on shoots and jobs to make sure that whatever I apply on top lasts, but a few lip scrubs I've tried in the past haven't blown me away. This one however is nicely scrubby without feeling too harsh/grainy (it's sugar based) and the coconut oil and shea butter base is gorgeously hydrating - work it in with a Q tip to get rid of any flakes and dryness. It felt so nice on my lips at the end of a long shoot day. Coco Rose Lip Tint available here and Coco Rose Lip Polish available here.
Yes To Coconuts Hydrating Balm
This smells like holiday in a tub! As you'd expect from a balm it has a rich, oily texture (it contains a mix of emollient oils like coconut, avocado, sunflower and almond) - great for dry spots like elbows and knees. As it's very greasy it's better for winter months, so I didn't bring it with me on this trip, but in colder weather it's fantastic for intensely dry areas. If your skin isn't as dehydrated, The Body Shop Coconut Body Butter is more of a classic 'full body' hydrator. Available here - N.B. the US version is called Restoring Balm and comes with a sponge applicator.
DHC Bio Cellulose Mask
I always pack some bio-cellulose sheet masks when I travel - they feel cooling and hydrating on the skin (especially if, like me, you keep them in the hotel mini bar!), great for pepping up tired, puffy faces - commonplace at a 6am call time. This is one of my favourites and good for all skin types - it contains brightening vitamin C, vitamin E and a moisture-rich concoction of coconut water, glycerin and hyaluronic acid to give skin a high dose of hydration in about 20 minutes. Once you remove the mask you can tissue off any excess or, if your skin is drier (and you're not going to apply makeup on top, which could cause 'pilling'), pat it into skin. Available here.
Burt's Bees Peppermint Foot Lotion and Coconut Foot Creme
As I knew I was going to be standing in the heat for most of the day (6am - 7pm), I packed Burt's Bees Peppermint Foot Lotion for my tired feet! It contains coconut oil but has a light, cream formula and the cocktail of cooling ingredients (tea tree, peppermint oil and menthol) was like heaven when I got back to my hotel room each evening. If you have very dry feet (and like rich textures), the Coconut Foot Creme is much thicker, like a balm - alongside coconut oil it contains olive oil, lanolin and vegetable glycerin, so it's uber-moisturising. For me, it definitely wouldn't be an everyday foot cream, more of a 'foot mask' - you could use it like a treatment, massaging in (a little goes a long way, so don't overdo it) before popping some socks on top to let it sink in. Coconut Foot Creme available here, Peppermint Foot Lotion available here.
Of course, if you want an all-round multitasking coconut product then you can't go wrong with a tub of pure coconut oil - you can pick one up in most health shops and food stores. I know some people who like to use it as a facial moisturiser (although on my acne-prone skin it would be far too heavy) and swear by it as a cleanser, and you can also use it for smoothing dry skin and cuticles, in cooking and as a mask for dry hair (though remember to flush out your drains with hot water after rinsing to prevent blockages!). If you're a coconut oil fan, tell me about your best beauty hacks and favourite ways to use it in the comments. X