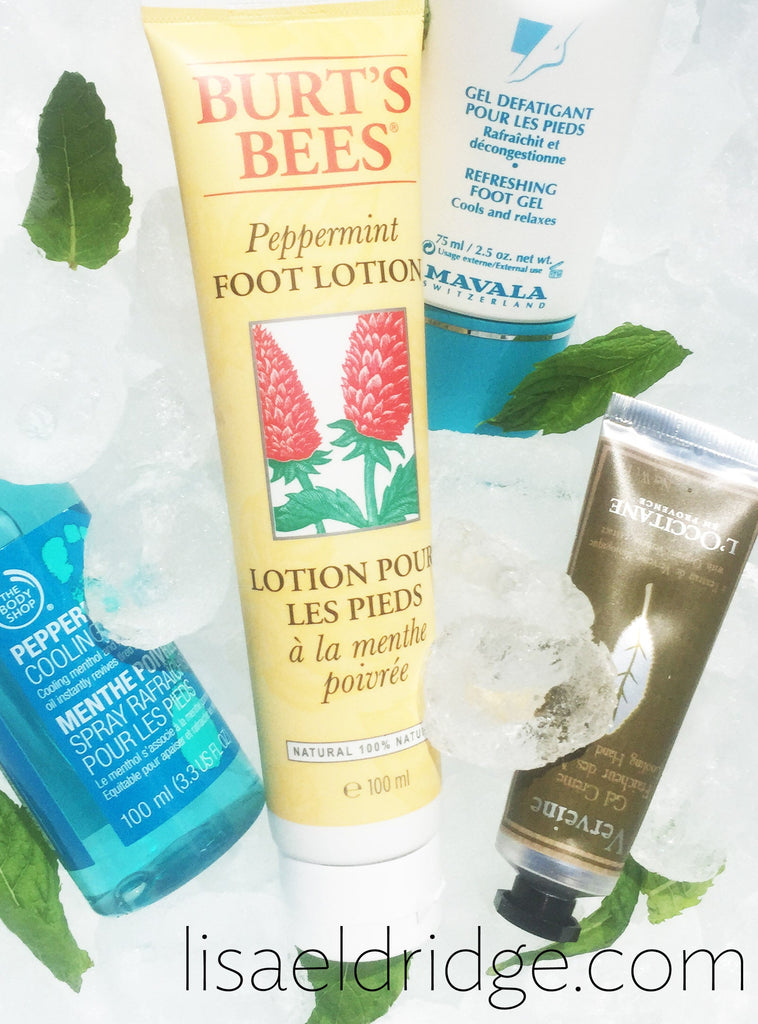 How to keep your cool
I know the weather is really hot for lots of you right now, and I'm currently enjoying some Italian sun on my summer holiday. While I love the warm temperatures, the hot, humid air can play havoc with skin, so I keep cooling products to hand. I also carry these in my kit to use on the models and celebrities I'm working with (they were especially useful during my shoots in Ibiza and the South of France recently). Think of them like instant pick-me-ups for sticky skin and bodies – they'll cool, calm, hydrate and take down redness and irritation. You can also use some of them post-sport and exercise as they can help soothe tired muscles.
There are lots of ingredients that have the ability to cool, from the more obvious like mint (which triggers the cold-sensitive receptors in our skin, making it one of the most effective cooling agents around) and cucumber, to the more unusual like avocado (a natural soother and hydrator), green tea (which can reduce inflammation and redness) and oatmeal (when combined with cooling ingredients, it can help to reduce irritation). Look out for ingredients like these when you're shopping for cooling products and have a look at my picks for keeping your cool in the heat below...
Hands & Feet
Our bodies radiate heat from our feet and hands, so keeping them cool helps the rest of us feel cool, too. The quickest way is to dip them in water (think about how good holding your wrists under a cold tap feels on a muggy day) but if you're on-the-go there are cooling gels and creams that you can use. L'Occitane Verbena Cooling Hand Cream Gel contains refreshing mint essential oil and the gel formula dries matte, so won't leave hot hands sticky.
For feet, The Body Shop Peppermint Cooling Foot Spray is a real instant hit. I love the minty scent and the bottle is dinky enough to carry in your handbag (you could also make your own with water and a few drops of peppermint essential oil). Mavala's Refreshing Foot Gel is similarly fast-acting – the gel texture absorbs quickly and the menthol and camphor infusion is an effective cooling duo (camphor produces the same cooling sensation as mint and is found in vapour rubs like Vicks).
If you prefer creams, try Burt's Bees Peppermint Foot Lotion. It's not as heavily moisturising as other foot creams I've tried (so you might need something a little more heavy duty on dry heels) but the cocktail of cooling ingredients (tea tree, peppermint oil and menthol) makes it perfect to use after a long day on your feet.
Face
Short of throwing a bottle of water over your face, one of the best things to use to keep complexions cool is a water spritz (keep them in the fridge for extra cooling power). They can help sun exposed or irritated skin feel instantly more comfortable and, as most contain purely water, they suit all skin types. You can use them over makeup, but don't spray too liberally over non-waterproof mascara. I carry Avene Eau Thermale and La Roche-Posay Thermal Spring Water Spray in my kit.
Eyes
For hot, tired eyes, try an under-eye roll-on – the metal applicators provide an instant cooling sensation (without having to put them in the fridge) and the massaging action helps to de-puff. I like Clinique Even Better Eyes (which contains titanium dioxide and mica to help brighten dark circles, as well as caffeine for de-puffing) and Garnier BB Eye Roll On (available in two tints), both perfect for popping into handbags.
Another good de-puffer is This Works Perfect Eyes Recovery Cream. It contains hydrating aloe vera, arnica to help treat dark circles and cucumber which, as well as its hydrating abilities, contains vitamin C and caffeic acid which together have a diuretic effect to bring down swelling and puffiness (if you're at home, you could also lie down with a couple of cold cucumber slices over your eyes!).
DIY green tea ice cubes also work really well - brew the tea with boiling water, wait for it to cool then pour into an ice cube tray and pop in the freezer. Once the cubes are frozen you can hold and massage them under eyes, wrapping them in a muslin cloth first if you like.
Body
A minty body wash is the perfect way to cool down at the end of a hot day or on a sticky morning. I like Original Source Mint and Tea Tree Shower Gel and Rituals Ice Shower. Malin and Goetz Peppermint Body Scrub is another good shower essential.
After-suns often make great cooling body lotions – as they're designed to be used post-sun exposure they're packed with cooling, repairing and anti-irritating ingredients. Look for ones with naturally cooling aloe like Hawaiian Tropic Silk Hydration Soothing Aloe Gel and Nivea Moisturising After Sun Lotion (also rich in avocado oil to relieve itching and irritation). Alternatively, I like Aveeno Skin Relief Moisturising Lotion with Cooling Menthol - a great option for sensitive and very dry skin.
I've also been using Hand Chemistry Hyaluronic Body Mist a lot recently (don't be put off by 'hand' in the brand name - it's designed to be used all over). The very fine, non-tacky mist feels instantly cooling and refreshing (similar to the face mists above) and on a hot day is much nicer to use than a heavy lotion or cream. It's packed with super-hydrator hyaluronic acid and tamarind, another natural moisture booster. You can mist it onto slightly damp skin after a bath/shower (it's probably the fastest way to moisturise your body) or throughout the day on exposed arms, legs and chests. 
Let me know if you've tried any of the above, or if you have any tricks for keeping your cool in the heat in the comments below - I'd love to hear your tips.