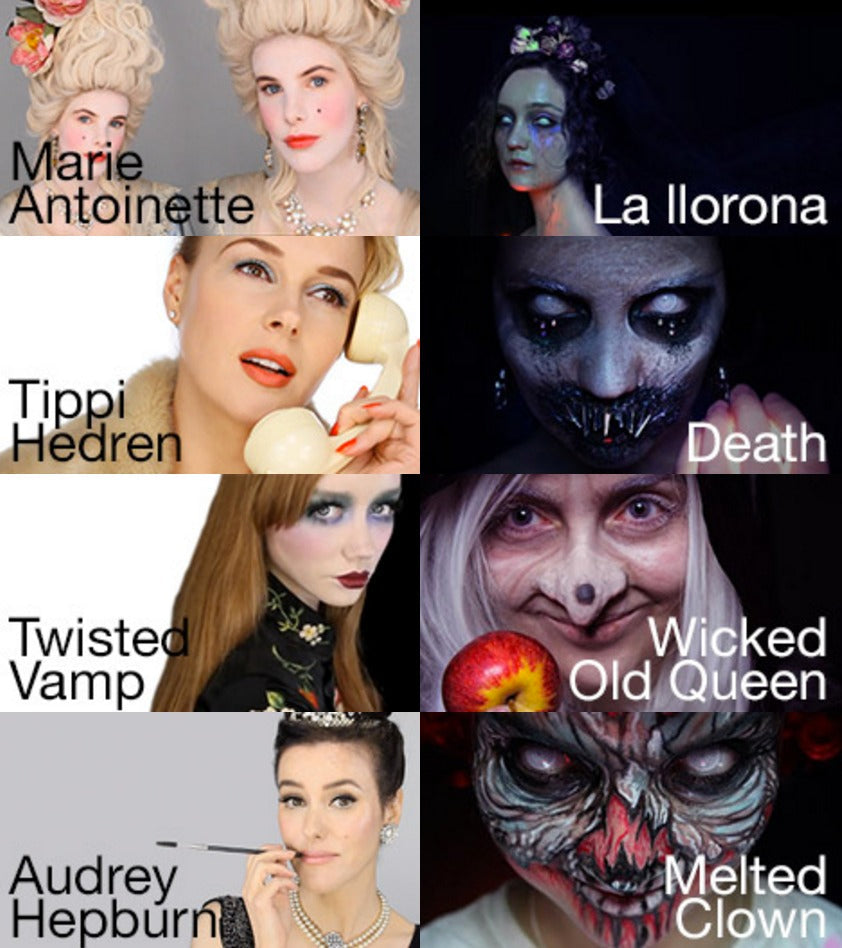 Glam vs Gruesome - Halloween Makeup Inspiration
I love getting creative with makeup, and if there's one time of year when you can really push the boundaries, it's Halloween. For me, Halloween makeup can go one of two ways - glam or gruesome!
Personally, I've always been a fan of the dark glamour of Hitchcockian heroines, historical figures with twisted or tragic stories - see my new Marie Antoinette tutorial - and doomed (but impossibly gorgeous) starlets for my Halloween makeup looks. I also love the more classic, Bettie Page-style 50s pin up makeup, with flicked liner and a classic red lip, and super-lashy 'Velvet Underground' 60s looks with big 'doe' eyes and pouty pale lips. You can't go wrong with Hollywood's golden era either - icons like Audrey Hepburn and Marilyn Monroe are classic beauties with signature makeup looks that are easy to recreate (and always look great).
If you prefer to use Halloween as a free pass to try something more gruesome, have a look at Klaire de Lys' YouTube channel here - she has some amazingly freaky, spooky (and downright disturbing!) makeup tutorials. I met Klaire a couple of years ago when I asked her to assist me and my team on a film I was working on for the British fashion designer Gareth Pugh. The film had a magical, supernatural feel involving lots of creative makeup effects, like turning bodies into marble, and after seeing some of Klaire's work I knew she'd be perfect to work with me on it. On the day of the shoot she showed me her sketchbook and I could tell that she is a real artist with an amazing eye. She's a lovely, sweet girl who, as well as being a makeup artist is also a writer, musician and all-round creative enthusiast (talk about multi-talented!). 
If you have a Halloween party or event to go to and need some makeup inspiration, have a look at the tutorials above - hopefully they'll give you some ideas that you can play around with. Let me know your Halloween makeup plans in the comments, and remember the most important thing, as always, is to have fun! X