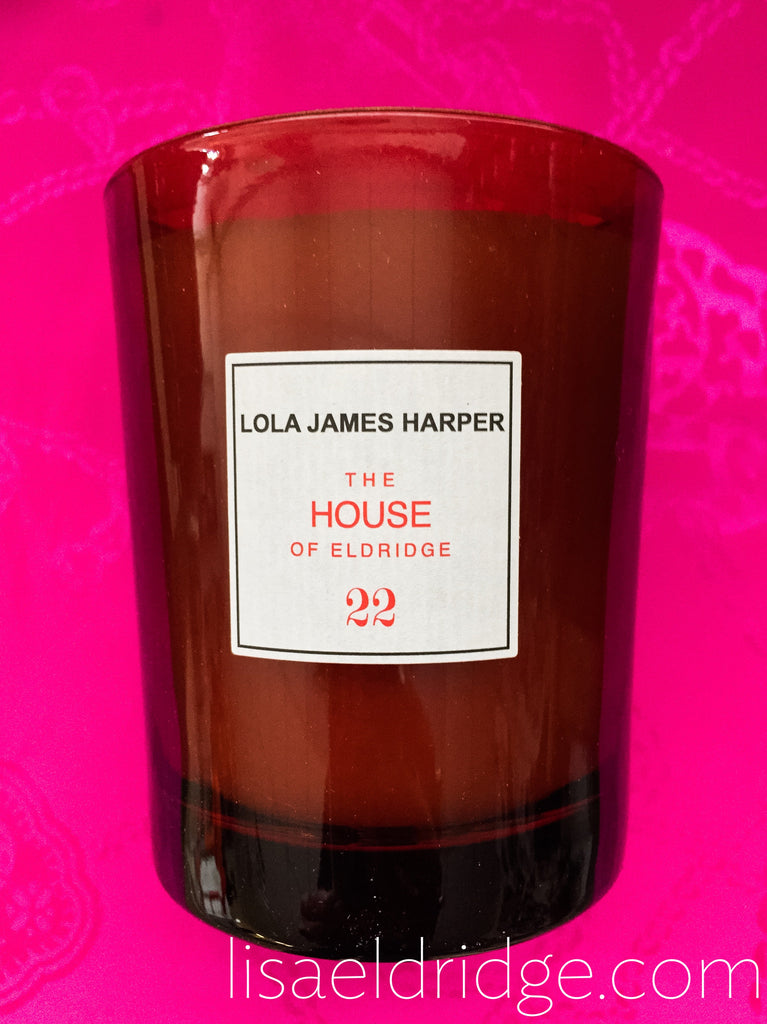 #Giveaway - Your Chance to Own an Exclusive, Money-Can't-Buy House of Eldridge Candle
When I'm not on shoots or working in Paris for Lancôme, I love nothing better than hanging out at my studio, the #houseofeldridge. I've filled the space with beautiful chairs, reference books, printed rugs and great 20th century vintage furniture, as well as cool finds and souvenirs that I've picked up on my travels. I've also got drawers full of vintage makeup and a beautiful old cabinet that houses my Biba collection, which I started about 20 years ago (I've now got the world's biggest collection!).
I love being surrounded by fantastic imagery so I've covered a lot of the walls in a mixture of my own work, vintage images and classic photos from shoots and photographers I love (many of which I used in FacePaint). When I'm working amongst images that inspire me I feel like I've always got something to look at and I'm able to come up with fresh ideas. It also reminds me of the journey I've been on throughout my makeup career - especially when I look back at my first covers and editorial shoots.
If there's one thing we love at the #houseofeldridge (other than a fantastic rug and a cup of tea haha), it's a scented candle. I sometimes have celebrity clients drop by the studio to get their makeup done before an event, so lighting a couple of my favourites is a nice way to create a relaxed ambience. So I was thrilled when I was approached by Rami Mekdachi, the founder of Lola James Harper, who said that he would like to design a special candle just for the House of Eldridge. Having previously seen his candles in Colette in Paris, I was excited by the prospect.
Rami is an art director who's worked for some of the biggest French perfume houses and hotels such as Costes, Chloé and Lacoste. He's also a bit of an all-round creative with sidelines as a photographer, filmmaker, musician and producer. He founded Lola James Harper in 2013 and each of the scents he's created for the line are inspired by places he's visited and people he's met - think names like 'The Rainy Days in Lake District', 'The Woody Office of Daddy' and 'The Vinyl Store on Rue des Dames' - so they're a bit like olfactory snapshots of his favourite people and places from around the world. Rami also says that creating his scents and candles is his way of capturing his memories… it all sounds very whimsical and romantic, especially when you find out that the candles are created with one of the last 'Maître Cirier' (master candle makers) in France.
I invited Rami to the studio for a cup of tea, chat and look around when he was in London a couple of months ago. He's obviously a very creative person with a huge passion for what he does. We chatted about makeup (of course), how I got started and some of my most-loved pieces in the studio. He also asked me about my favourite scents and I told him that I love the smell of old fashioned lipsticks, blush and mascara. When I was about 12 years old I discovered a box of my mother's vintage makeup at my grandmother's house, full of treasures from Mary Quant and Coty. It was the moment I first fell in love with makeup, and the smell of those lipsticks, shadow sticks and pots of paint is still strong in my mind - whenever I get a whiff of a new vintage makeup buy it really brings me back to that moment.
When Rami got back to Paris he emailed me to say that he was thinking of conjuring up a candle inspired by all of this, with notes of rose, patchouli, sandalwood and cardamom. I told him it sounded divine… and when I had my first sniff of the finished result this week it really was! The rose is heady but pretty while the deeper, richer notes add balance so it's not too girlie sweet or overpowering. I've been burning one non-stop at the studio (the wax seems to burn cleanly and evenly) and have stockpiled some for when all the refurb at my house has been finished ; ) I adore the old apothecary style brown glass that Lola James Harper use - when the wax has burnt down the jars will make the perfect storage for cotton wool / makeup brushes / hair ties / pens… anything!
The House of Eldridge candles are going to live exclusively at the studio (so will not be on sale generally) but I've set aside 10 to give away to my loyal makeup bunnies. If you want to win one of these extremely rare and special candles - you'll be one of only 10 others in the world to own one! - read on for all the details…
THIS COMPETITION HAS NOW CLOSED.
You can see my 10 winning looks in the image above. There were so many fantastic entries to choose from, so picking the final 10 wasn't easy but I think we've ended up with an amazing explosion of colourful looks! Congratulations to the 10 winners and thank you to everyone who entered, I enjoyed seeing all your creativity and joy!
Read more about Rami and Lola James Harper here (their website offers global shipping). X