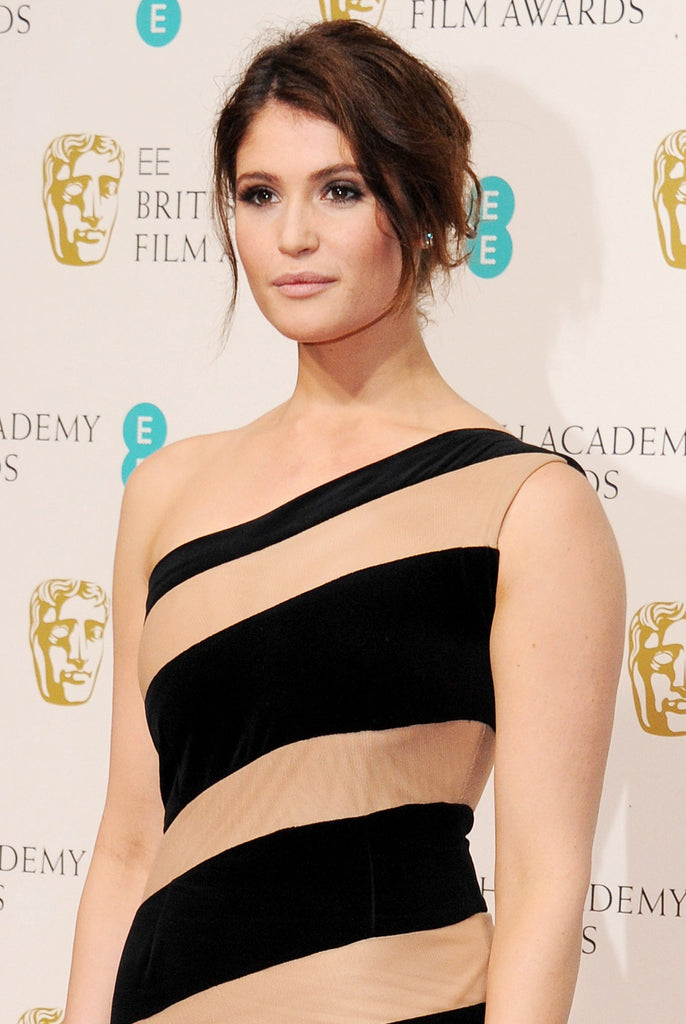 Gemma Arterton - Baftas Make-Up Look
The BAFTAS (Brit version of the Oscars) take place in February every year and are usually accompanied by rain, snow or high winds.... this year we had all three. Gemma Arterton asked me to do her make-up and I was very happy to accept as I work with her a lot and admire her in many ways. Firstly, she's gorgeous, obviously, but gorgeousness alone is not enough to induce a major girl crush, there has to be genuine talent, integrity, intelligence and an appetite for fun ...and Gemma knocks it out of the park on all counts.
Elizabeth Saltzman styled her for the event and sent a photograph of the dress the week before. I envisaged the focus of the make-up being a dark eye as a strong lip would have detracted from the modernity of the black with sheer nude panels. The dress was such a strong statement I felt it was better to compliment it with monochrome tones rather than fight against it. I decided to go polished, smokey and lashy with a sophisticated natural lip.
The Make-up
Foundation - Gemma has beautiful skin and I prefer it to look as natural as possible so her freckles show through. I usually use Chanel's Vitalumire Aqua but went for classic Vitalumiere this time as Gems skin was drier than normal having just flown to and from Australia earlier in the week. I mixed 30 and 40 to get the right shade (with an 80/20% mix).
Concealer - I used Estee Lauder Double Wear concealer whereever needed with a touch of Clinique's Airbrush mixed in for shadowy areas. Double wear stays put beautifully and helps to tone down the light reflective element for photos.
Contour and Highlight - Tom Fords cream textured Shade and Illuminate to sculpt and define cheekbones subtly.
Powder – Chanels Poudre Universelle in No. 20.
Eyes - I wanted to create a dark smokey eye without using black so I started with a light priming base of Mac Paintpot in Blackground which is a dark pearlised grey all over the lid. I then used the Tom Ford eyeshadow palette 'Cognac Sable'. I used the dark purpley/brown cocoa colour in the bottom right of the palette first to shape along the socket and outer edge of lid. And then applied the bronze shade (bottom left) all over the lid. I added a touch of the very shimmery bronze shade in the centre of the lid to add more dimension. When I blended everything together, a combination of the grey base, dark cocoa and shimmer gave a great smokey effect without looking too heavy. I then used Bobbi Brown Gel liner in Sepia (one of my all time fav's), a cool grayish brown shade along the lower and upper waterlines and through the lash roots.
Lashes – I curled Gemmas lashes and then applied plenty of DiorShow waterproof mascara in Black. I then applied Ardells 'Wispies' false lashes with Duo's waterproof dark glue.
Brows – When going for a smokey/dark eye, I personally prefer it when the brows look very natural – so much more balanced and modern than an overdrawn brow. I used Suqqu's waterproof Liquid Brow Pen in 02, gently drawing lots of light strokes to define without blocking. I was conscious she would be standing in the pouring rain for some time so chose as many waterproof formulations as possible.
Cheeks - A light dusting of Chanels Rose Petale to give a sophiscated healthy rose, glow.
Lips - Tom Ford Lipstick in Blush Nude which I applied straight from the bullet and patting in with fingertips. I wanted the lips to look completely natural but slightly lighter than Gemma natural lip colour and very relaxed. I gave the lippie to Gemma to take with her for touch ups.
Hair dresser Lisa Eastwood (who I work with a lot for the red carpet) styled Gemmas hair in loose chignon and made a beautiful job of it.
I've just been with Gemma again tonight for The Graham Norton Show (a chat show here in the UK) and did a completely different look on her ...very Ava Gardener meets Bianca Jagger at studio 54 – super glossy, glam and girly complete with vibrant pink lips. So if you are in the UK have a look, the show is on tomorrow night.