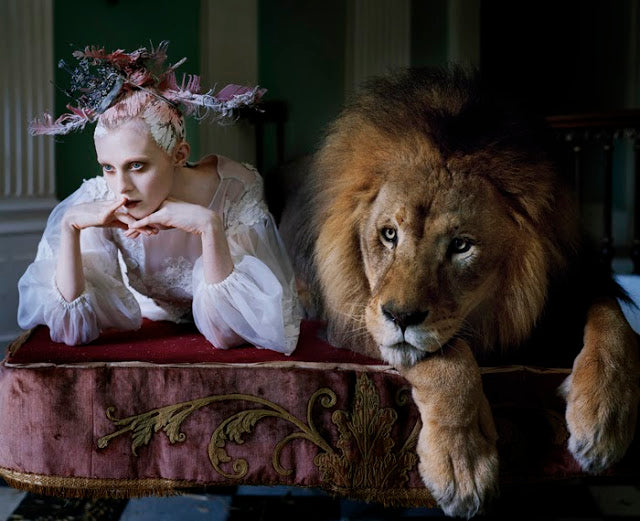 Gallery Update: The Lion King
I recently worked on this extraordinary and adventurous shoot with Tim Walker for the latest issue of Love Magazine. When Tim first told me there would be a full grown lion on the shoot I was a little taken back but excited as I knew with a visionary like Tim, an iconic and visually dazzling story was going to come out of it. The inspiration for the character was a Victorian female lion tamer Tim had been very taken with. After researching references and looking at lots of performance make-up from that era my assistant Jessie and I arrived at the country house estate location full of enthusiasm. Every now again in this industry you work on a shoot that has so much potential for magic and other worldliness that it's almost palpable, like a little jolt of electricity. From the incredible styling courtesy of Katie Grand and film costume designer (and 3 x Oscar winner)  Sandy Powell, to the inspired headdresses and painting by legendary hair artist Julian D'ys and enchanting sets by Rhea Thierstein. Right down to the perfect casting of models Karen Elson and Edie Campbell who brought their own poetry and magic to the mix, the alchemy was just right.
Atlas is such a beautiful and fascinating creature but we did have a couple of scary moments. When he decided to charge at the scaffolding which was holding up the caging dividing us from him and his trainer – we all ran like wild things tearing through the house adrenaline racing!
Atlas's growl was unimaginably deep and unnerving, reverberating throughout the house; and his roar … was utterly terrifying. Tim took the pictures (Atlas first, models second) from inside a shark cage keeping his cool throughout … I thought of him as a daring, adventurer rather like the woman the shoot was inspired by. It was an honour to be part of such a wonderfully epic and memorable shoot. All respect to Tim who is a very clever and gifted man, not only a great artist but a lovely soul to boot – some people have it all! Tim has produced some beautiful photography books of his work and if you don't know his work already, I insist you Google image him immediately and prepare to be amazed!
To see the other images in this story view them on my Gallery here. 
Credits: 
All images are from Issue 10 of LOVE magazine - on sale now! 
Fashion Editors - Katie Grand and Sandy Powell
Photographer - Tim Walker
Headdresses and Hair Design - Julien D'ys
Set design: Rhea Thierstein
 
Models:

Edie Campbell - Agency - Storm Model Management / Twitter - @ebcampbell
Karen Elson - Agency - TESS Management
Atlas The Lion