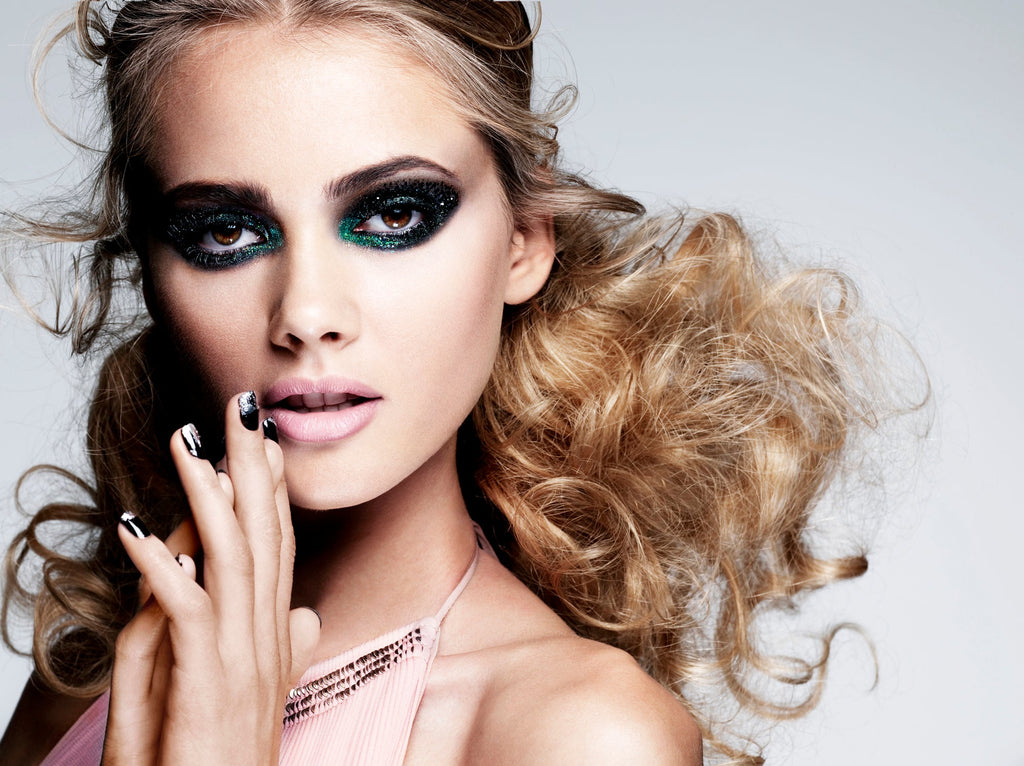 Gallery Update - New UK Glamour Beauty pics
This month's Glamour magazine features a beauty story I worked on with uber beauty photographer Kenneth Willhardt featuring 5 gorgeous party looks. With so much minimalism in make-up around this season, it was great to let loose and create these stand-out looks, full of Christmas sparkle and shine!
I'm a big fan of glitter make-up and tried to use it in lots of different ways. In the first shot I layered large ' jet bead' style glitter over a dramatic smoky eye and added fine glitter in peacock hues to accent the inner corners. For the second image I started with a classic eye and lip make-up and then added a bright violet glitter to the lips which gave a gorgeous, almost holographic effect. For the shot below, again quite a trditional make-up of liner, lashes and a matte red lip, I added fine silver glitter as highlighter on and around the cheekbones to give the make-up a twist. Its also a great way to bring a real Christmassy feel to the make-up without being over the top.
Remember, Christmas party make-up is all about having fun - it's your chance to try something new that you wouldn't at any other time of the year. If you're feeling adventurous, experiment with little crystals, glitters and rhinestones around the eyes, as I did below. You can find this type of stuff at any good bead shop. It's a really fun look and all you need is a touch of eyelash glue to make them stick.
Nails are also a great way to add glamour and interest to your party make-up – check out the amazing creations in this story by the fab David Barton! If you want to try something new without spending any money, layer a couple of colours you already have in your kit (he used red over a black base) to create a brand new shade.
For those of you who prefer a more subtle but equally glam look, keep an eye out for my Christmas Party Look tutorial which I'm going to be uploading next week. It's definitely a less extreme version of party make-up compared with some of the examples shown here but it's just as gorgeous with shimmering eyes and a wow factor lip!
If there is a particular look that you would like to see a tutorial on then please let me know in the comments below. If I get enough comments I'll film it!
For more details on the make-up in these photos grab a copy of this months UK Glamour.
Photographer: Kenneth Willardt
Beauty Director: Alessandra Steinherr
Hair: Kerry Warn
Nails: David Barton
Model: Tetyana Piskun At Next