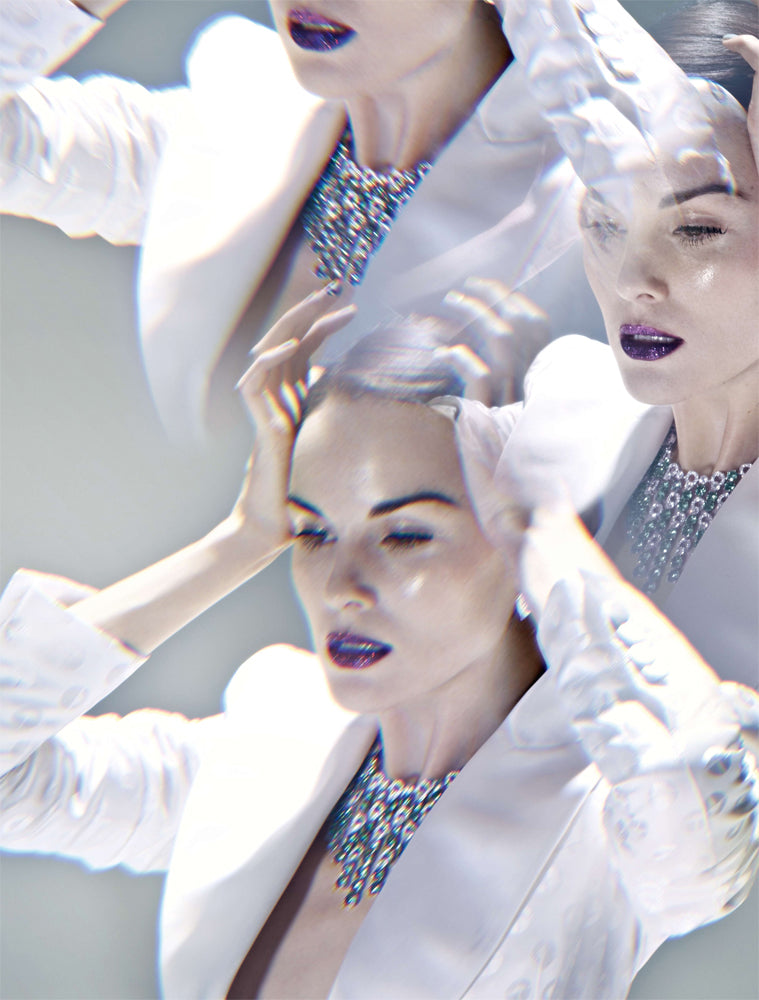 Gallery Update - Downton Abbey's Michelle Dockery
The photographers moodboard for this shoot with Michelle Dockery (aka Lady Mary) was covered with images by surrealist photographs from the early 1930's by Erwin Blumenfeld, Angus McBean and Man Ray etc. Michelle's natural languid gracefulness suited the the brief and styling so well. For the make-up, my only nod to this period were Michelles brows which I styled in a typically 30's high arch and bold shape. For the rest of her face I wanted the make-up to be as far away from the period as possible so a red lip, powdered face and pink cheeks were off the menu. Instead I created a deep, rich mouth using a intense purpley/pink shade (the sort of colour that really wasnt around in the 30's) which I covered with a mixture of dark purple and bright fuschia pink glitter (Fardel's P09 & P10). For skin, a very glossy finish created something a little strange and surealist without being too period. For the cover and interview shot (below) I whipped off the glitter lips and gloss and replaced them with winged liner, a peachy lip and blush - make-up for covers is usually pretty clean, simple and fresh. As a Downton fan it was great to work with Michelle who is absolutely charming!
To see how to create your own version of this glitter lip (you can do it with any shade) click here.
I recently worked on a shoot with Laura Carmichael (Lady Edith) that shows her in a completely different look from the show too, so I'll post that when it comes out.
All images from Harpers Bazaar Singapore
Photography: John-Paul Pietrus
Fashion Director: Kenneth Goh
Set Design: Alexandra Leavy
Hair: Tracie Cant @ premierhaireandmakeup
Nails: Lucy Pickavance