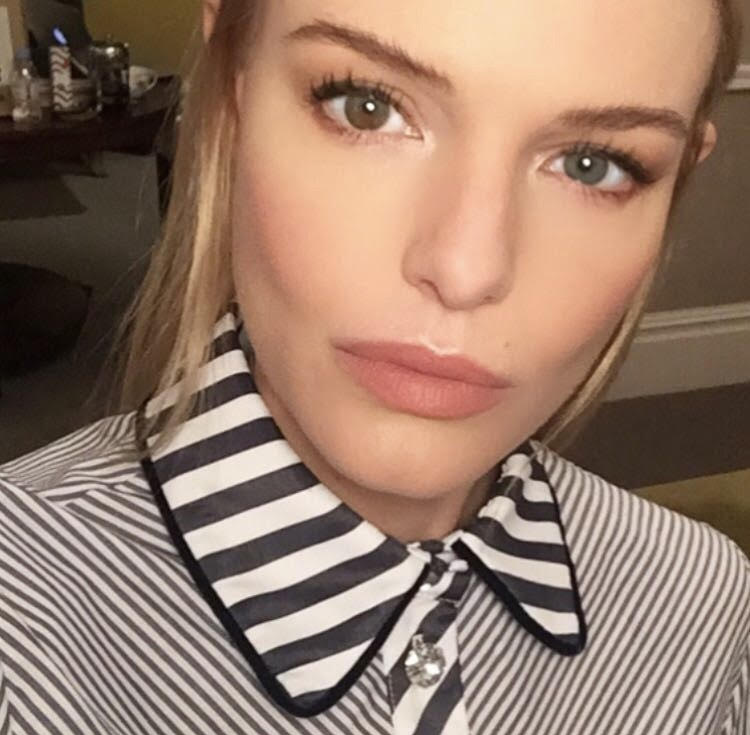 Four Lip Looks on gorgeous Kate Bosworth
Over the past few weeks exquisite Kate has been in the UK promoting her new BBC drama SS-GB (If you haven't already, check it out Sunday nights at 9pm). 
Kate is not only my girl crush but she also LOVES makeup and is always excited to try out new looks (insert dancing girl emoji!) Here's my beauty breakdown on four recent lip looks I created on her…
Look 1 -  'No makeup makeup look'
For this look low key look (see Kate's selfie above) we decided that a fresh, rosy, no makeup, makeup would be the perfect jet lag pick me up. Glowy hydrated skin, pretty pinks and a nude lip. Here's how I created the look...
Base
Kate has naturally incredible skin so I applied a few light layers of Makeup For Ever Ultra HD Foundation (available here) buffing in with the ZOEVA Face Shape (available here). I then used my new favourite concealer, Lancôme's Teint Idole Ultra Wear Camouflage Concealer (available here) for under eyes and any areas that needed it. It's an extremely high coverage concealer but has a light texture so doesn't feel cakey and it lasts for ages - perfect for red carpet events or when you're feeling in need of a bit more coverage.
Eyes
For eyes, I primed with NARS Pro Prime (available here) and used Urban Decays Naked 2 Palette (available here) buffing the warm golden tones to create a sculpted socket. I then swept a thin line of Lancôme's Grandiôse Liner (available here) in black to add definition. For the inner corner a touch of my latest favourite eye shadow, Kevyn Aucoin's Loose Shimmer Shadow in Kunzite. (available here)
Finishing off with a good curl of lashes (using my staple Shu Umera Eyelash Curlers -(available here) and a slick of Lancôme Doll Eyes Waterproof mascara in black. (available here)
For brows I shaped and defined with Suqqu Brow Powder in 01 (available here) and brushed through Kate's incredible brows with Charlotte Tilbury's Brow Gel in Clear.(available here).
Cheeks
To sculpt, I used Kevyn Aucoin's Sculpting Powder in Light(available here) and to bronze, Guerlain's bronzing powder in Nude (available here) across the forehead and along her chin.
For blush, I finished the look off with Chanel's Rose Initial (available here) the perfect peachy pink toned blush and my Suqqu Cheek Brush. (available here)
Lips
To create a natural, nude lip, I defined with Chantecaille's Lip Definer in Natural (available here) and applied Lancôme's L'Absolu Rouge in Suspense, a lively caramel nude. (available here).
Look 2 - A Long Lasting Blushing Berry Lip Look
For the premiere of SS-GB. Kate mentioned she had been watching my tutorials recently and that she wanted to try a Berry Lip Look, similar to the one in my Rosie Huntington-Whiteley Tutorial (watch here).
Here's how I created this blushing berry look (base as above)…
Eyes
I wanted the makeup look to be fairly monochromatic, so started with Lancome's Fraicheur Rosée Doll Eyes Palette (available here) softly sculpting using the rosewood and blush shades and applying the lighter colour to Kate's inner corners. A good curl of lashes and lots of thin layers of DHC's Perfect Pro Mascara (available here) for a fluttery feminine effect.
For brows I brushed through Suqqu's balancing powder(available here) and set with Shavata's Brow Tamer (available here).
Lips
To create the berry lip, I used Lancôme's L'Absolu Rouge in Berry Noir (available here), patting in thin layers to create a stain that would last all night.
Cheeks
To bring the look together I used Marc Jacobs Air Blush in Night Fever & Hot Stuff (available here) mixing the colours together for a rosy plum flush.
Look 3 - Confident Coral Lip - Day to Night Look
Sometimes clients have more than one event to attend in a day. This day Kate had morning TV, Afternoon Press Junket, a live evening TV appearance and an awards cremony to attend after that - with little time for makeup, hair and outfit changes in between (eeeek!). So after seeing her outfits I thought a confident coral lip would work perfectly with some tweaks throughout the day to adapt for the evening.
Day Look
Eyes
For the first look, I used Lancome's Brun Adore (available here), washing the lightest shade all over the lid and slightly sculpting. Then adding a dash of Kevyn Aucoin's Loose Shimmer Shadow in Kunzite to the inner corner (available here).
Curling lashes, and applying DHC mascara (available here), for a light, separated early morning look and filling in brows softly with Suqqu powder (available here).
Lip
For the fresh and pretty lip I opted for Lancome's L'Absolu Idole - (the shade I created for myself but Kate said it's also her favourite in the range ;)) and applied with a lip brush to shape and define. (available here).
Cheeks
To add a subtle, peachy coral sheen, I swept a wash of Chanel's Jous Contraste in Malice (available here).

Night Look
Eyes
As the day progressed I built up the makeup slowly, working up to the full on evening glam! I created a bronze, coppery smokey eye using Lancome's Terre D'Ivore palette (available here). Over that I used a rich black eye pencil (Stila Kjal in Onyx - available here) buffing into lashes and smoking out with a small brush. A few more layers of mascara (Lancôme's Grandiose - available here) on the lashes.
Cheeks
I upped the ante to balance the smokey eyes using Kevyn Aucoin's sculpting powder in Medium (available here) to really sculpt and shape the face and then added Guerlain's Terracotta Bronzer in blonde to warm and bring everything together (available here).
Lips
Finally we re-did lips and gave a good cleanse and exfoliation, using KIKO's Scrub & Peel Wipes(available here) before applying Idole again, this time with MAC lip liner in Redd (available here) slightly overdrawing for a full pout!, I used similar techniques that feature in my latest tutorial Supersize Your Pout Instantly. Then on top I layered Idole for maximum colour wow.
Which of Kates looks is your favourite? I'd love to hear all about your favourite lip colours... let me know! Have a great weekend. X