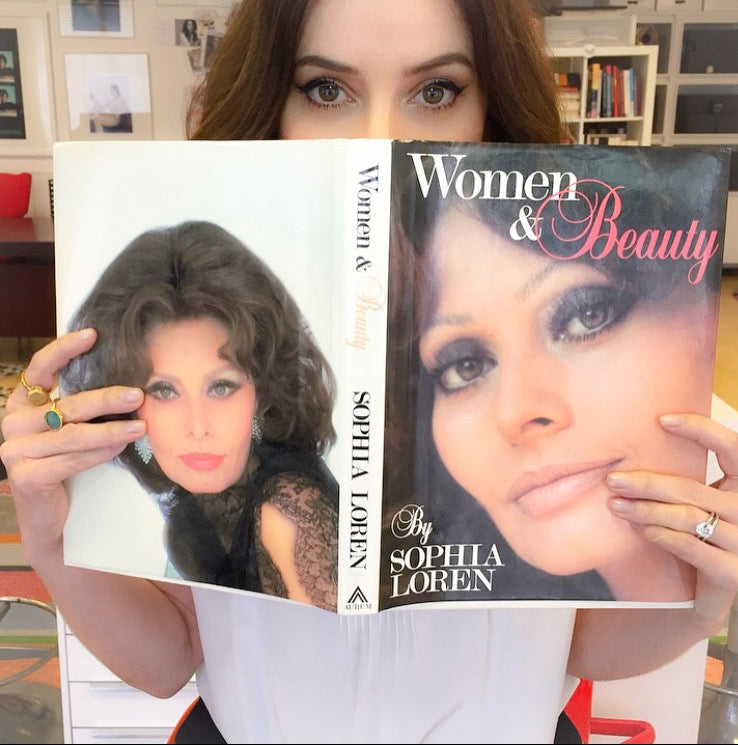 #FlawlessFriday Sophia Loren's Brilliant Beauty Anecdotes
When I was researching the enduringly beautiful and phenomenally talented Sophia Loren for my latest film, 'Sophia Loren Inspired Makeup Look', I dug out her book Women & Beauty from the #HouseofEldridge library. Sophia wrote this in 1984 as a collection of all the beauty, health and fashion tips she'd picked up throughout her career (I heard someone describe it as an auto-beauty-ography which I love!). Even though I've had this book for a while, and have read it cover to cover numerous times, whenever I flick through it never fails to make me smile - Sophia has some absolutely brilliant beauty anecdotes and I thought I'd share some with you for today's #FlawlessFriday. Hopefully they'll make you smile too!
Sophia on loving your 'imperfections'... Once upon a time, when filmmakers tried to get me to shorten my nose, small noses were popular. But times change. Today a strong nose is often considered an asset. No-one now would tell me to take a bit off my nose. If you have the strength to appreciate your idiosyncrasies, the rest of the world in the end may come to agree with you.
On makeup rules... I remember once seeing a friend pluck the hairs on the top of her eyebrow. I told her I had heard many times that one was only supposed to pluck those below the brow. Well, she told me, she had always heard that too, but she much preferred the way her brows looked when she plucked them her own way. It makes you wonder who invents these rules, and why.
On choosing a new lipstick... When most people think about lipstick they imagine a closed mouth that looks soft and inviting. And that is dangerous because you forget about how you look when you smile. The simplest thing to do is to smile when you try on a new lipstick. Not only will you get an accurate idea of how the colour will affect your teeth, you might also cheer up the woman behind the counter!
On experimenting with colour... I know there are many rules about how to choose the right colour according to your skin tone. I suggest, however, that on your next trip to buy makeup you cast aside all these rules and try a few shades you never thought of before, just for fun. It's worth a try, and the worst that can happen is that when you leave the store you look like a little girl who broke into her mother's dressing table and went wild!
On evening makeup... Evening makeup provides a great opportunity to realise a fantasy. The women who spends the day with just a bit of mascara and lipstick can be transformed at night with smouldering eyes and ruby red lips. Even if you don't sparkle with witty conversation, you can sparkle with makeup that tells the world you are a woman of mystery and surprise.
On exercise (not makeup related but I couldn't resist sharing this one with you!)... When I came to LA and saw everyone running down the street I thought the long-awaited earthquake had finally arrived. I wondered why everyone was leaving their children behind in their rush to flee the city. Then I learned that they were running for exercise and fun!
Let me know if you or anyone you know has received some funny makeup advice in the comments. And if you're going out this weekend, make sure you send me pictures of your 'fantasy evening makeup' (as Sophia would say!) using #MyLisaLook.
Watch my Sophia Loren Inspired Makeup Look (& Chat) film below and read more about my book, 'FacePaint: The Story of Makeup' here.