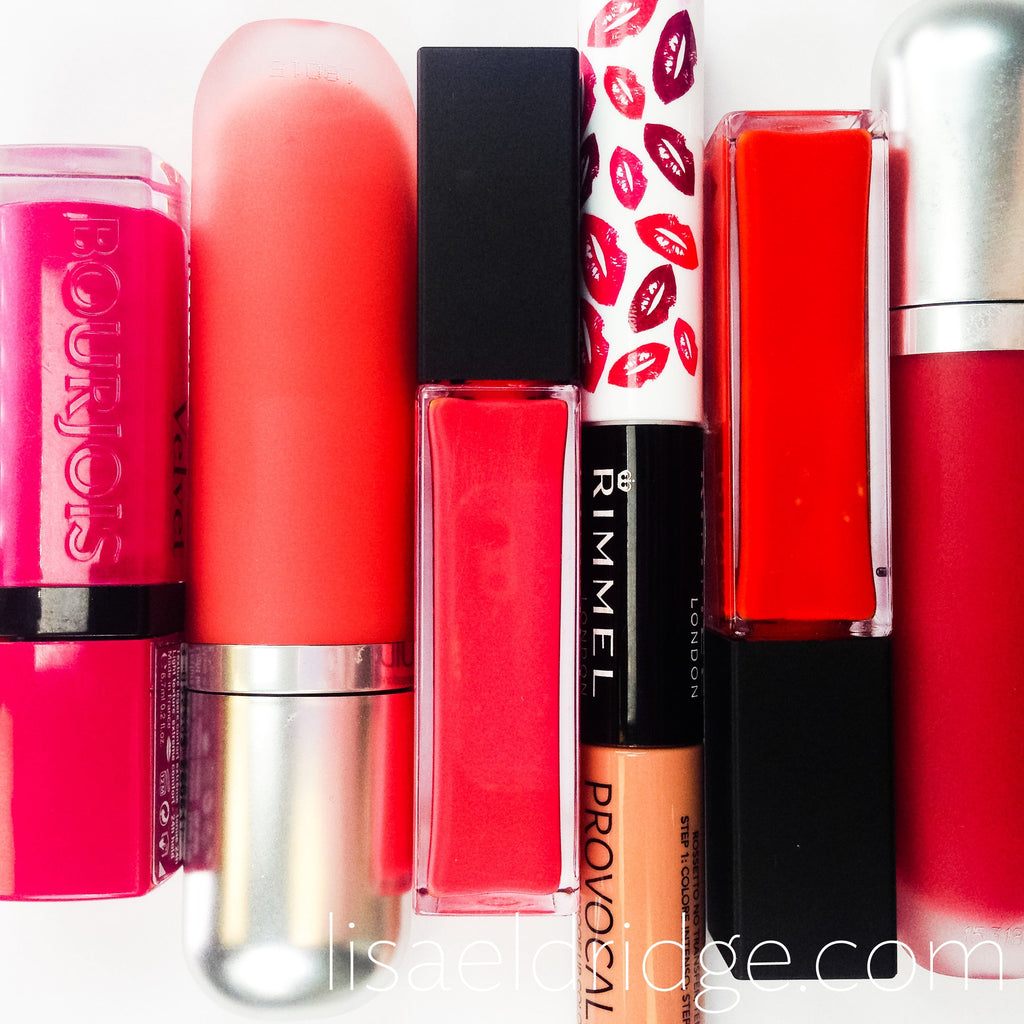 #FlawlessFriday Long-Lasting Liquid Lipsticks
Liquid lipsticks are great if you're after a gorgeous hit of dramatic, intense colour. They also tend to have long-lasting formulas so a good lip choice if you've got a wedding, party or date and don't want to worry about touching up. The downside is that they can sometimes feel drying, so make sure you prep your lips first - a gentle scrub if you need to (liquid lipsticks, especially matte finish, may exaggerate the look of any dryness or flakes), and a bit of balm - you can read more about how I do this in my long-lasting lip tips blog here. Application also takes a bit of practise as liquid lipsticks can be messy - you definitely need to use a mirror when applying! If you're a beginner, keep some cotton buds and makeup remover to hand to clean up any mistakes quickly. 
Myself and my team have been testing a selection over the past couple of weeks, and a lot of the ones we liked were high street buys. Here are four drugstore formulas that stayed put through sun, rain, lunches and - of course - multiple cups of tea!
Bourjois Rouge Edition Velvet
This has a super long-lasting formula - the colour starts of beautifully intense and after a long hike, dinner and drinks I found that it had worn down to a pretty, still-vibrant stain. It takes some effort to remove - you'll need to use an oil or balm-based cleanser to get it all off. Available here in 17 shades. 
Maybelline Vivid Matte Liquid
Although they're called matte, I find that these liquid lipsticks leave a subtle sheen, making them slightly easier to wear than a full-on matte. The creamy formula feels lovely, almost cushiony on lips, and there are some fantastically vibrant shades in the range - perfect for anyone who likes a really statement lip. Available here in 10 shades.
Revlon Ultra HD Matte Lip Colour
These apply evenly and have great pigment pay off and vibrancy - a little goes a long way. Despite the intense colour and matte finish, they feel comfortable on lips - one of the #houseofeldridge girls who found a lot of other liquid lipsticks slightly drying liked this formula the most. Available here in 6 shades.
Rimmel Provocalips Lip Colour
This has a more fluid consistency so doesn't feel as messy as some of the other thicker formulas, and once it sets it lasts well. There's a clear gloss on the other end of the applicator which you can apply on top of the colour for a hint of shine (and throughout the day to 'refresh'), but if you prefer a matte finish you can skip this step. Available here in 10 shades.
Let me know which lip camp you're in - bullet or liquid?! - in the comments! X