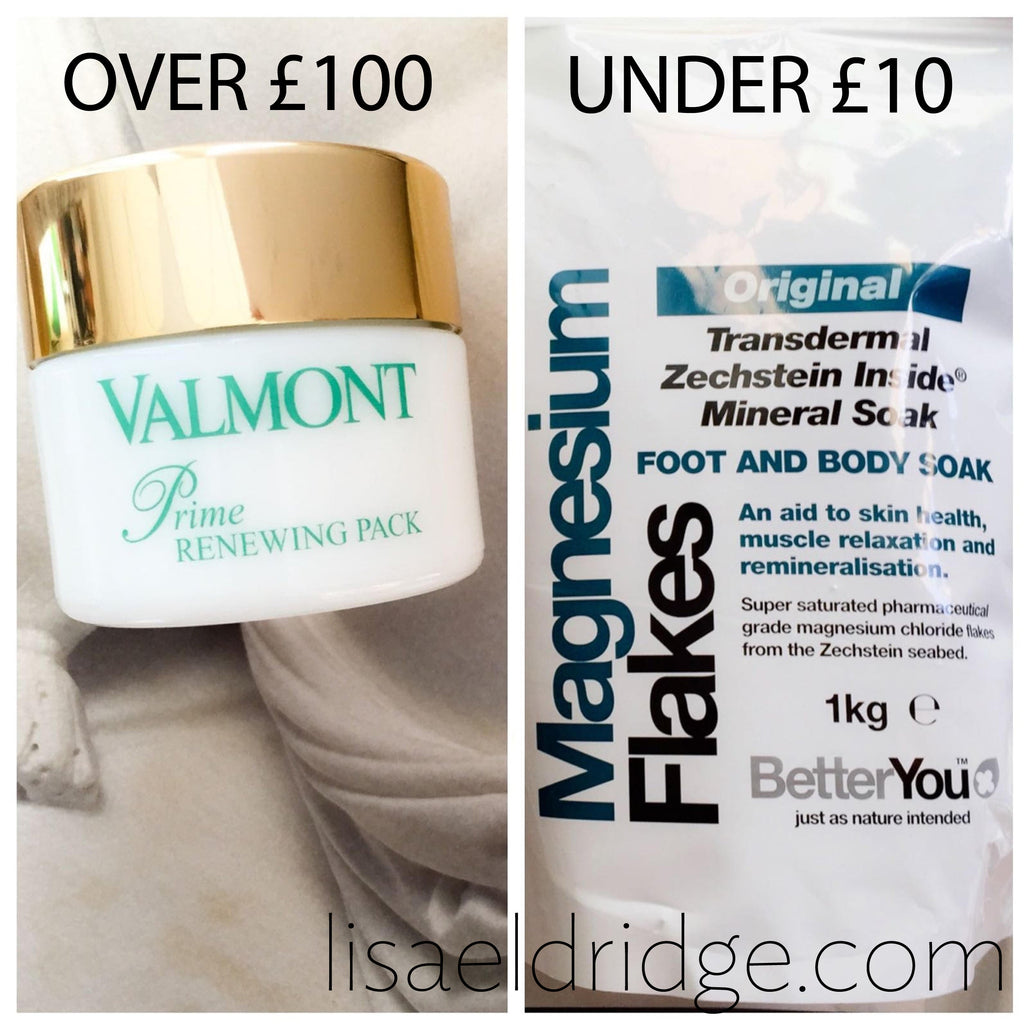 #FlawlessFriday High/Low Treats for Tired Skin
For today's #flawlessfriday I wanted to tell you about two new beauty treats I've been using recently on opposite ends of the spend scale.
First up is the high end treat - Swiss brand Valmont's Prime Renewing Pack (available here). I arrived in Paris last month for a huge event and, when I got to my hotel, tried to book in for a last minute facial as I was feeling frazzled and decidedly blah. They couldn't fit me in but the therapist very enthusiastically recommended this mask as a quick fix. It's a very good salon with good therapists I've used in the past so I was all ears, but I'm always skeptical and wasn't 100% convinced. Anyway, tiredness and knowing I had to look fabulous quickly made me desperate, so I bought it... nothing ventured, nothing gained. I applied a thick layer, left it for about 15 minutes (there was a bit of tingling, but nothing uncomfortable) then tissued and rinsed off the excess. Sure enough it really did noticeably plump up and tighten my skin and even the next morning it still looked uber-glowy, fresh and rested (and the results seemed to last into the following day, too). You can also apply it in a thin layer as a pre-makeup base, and if you have drier skin you could leave it on overnight as a treatment.
It contains some good peptides, ginseng and lots of humectants (to plump!). If you're someone who prefers to avoid mineral oil then this won't be for you as it's in there, however you can apply and rinse off like I did, rather than leaving it on your skin. I've had a look around and prices really vary - I bought mine at the hotel premium price for about €170 (approx. £130 / $190) but I've also spotted some online for closer to £100.
Next up are these Magnesium Flakes (available here) which I've been adding to my bath at least once a week for about the past year, they're just brilliant! Magnesium is one of the six essential macro-minerals that make up 99% of our body's mineral content - it helps to build bones, enables nerves and muscle function, keeps blood glucose and blood pressure regulated and is essential in energy production. It's also been shown to have therapeutic value in treating things like headaches, chronic pain, asthma and sleep disorders, so I'd really recommend trying these if you're feeling generally tired, stressed (when you're stressed you burn off the magnesium in your system) and run down.
Because the flakes are transdermal, the magnesium is able to get back into your bloodstream when you soak in them. I pour about two cups into the bath and when I get in I can feel my muscles instantly relax. After about half an hour of soaking I'm struggling to make it to bed! If you don't have a bath, you can use them as a foot bath (using less flakes, about one cup) for the same results. I've also tried the Magnesium Body Oil (available here) which is fantastic for cramping and restless legs, or if you're particularly deficient.
I buy my flakes from a local health food shop near the #HouseofEldridge, but you can pick them up in lots of places (and online). A pretty good treat for about £8!
Tell me about your stressed and tired skin fixers in the comments. X