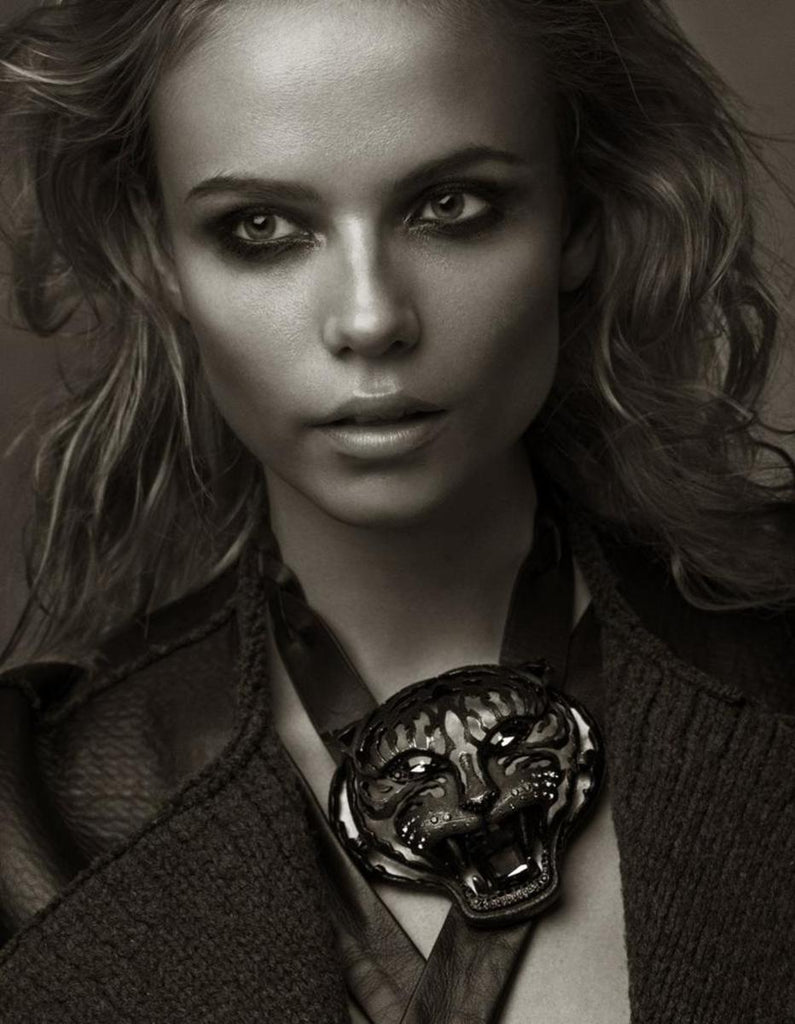 Five of the Best - Modern Day Kohls
Of all the varieties of eye makeup that we have at our fingertips today, kohl is the one that's proved the most enduring. Although it's been used for thousands of years in many parts of the world, it's recognised as being an ancient Egyptian invention, dating back to pre-dynastic times where is was used daily by men and women of all classes for protection, spiritual and religious reasons, as well as aesthetic. More recently, it's associated with specific periods and cultural movements - when you think about the silent movie era, the beatniks and hippies of the sixties and the grungy look of the early nineties, kohled eyes are one of the first images to spring to mind.
If you've watched my latest film you'll have seen me recreate a (non-toxic!) version of the kind of kohl the Egyptians produced (if you haven't seen it, watch it here). Although today's formulas have benefitted hugely from recent technological advances, in terms of basic ingredients, pots and applicators, modern day kohl is not that different to what the Egyptians were using. Today's kohls also create the same look - a smokey, sooty, smudgy and lived-in effect, as opposed to the crisp, precise finish of a liquid liner.
Kohl is a product I always have in my kit, whether I'm working on an editorial shoot, runway show or red carpet event. It's is also great for liner novices or anyone who doesn't like their eye makeup too perfect as the idea is to keep the finish slightly undone. Here are five of my favourite smudgy black liners…
Guerlain Loose Powder Kohl - as close to something that looks like it's been swiped from Cleopatra's dressing table as you can get! The packaging is pure eye candy, and there's a slight iridescence to the powder formula which looks beautiful against all eye colours. It does take a bit of practise, so make sure you apply before foundation/base (and keep some Q tips and makeup remover on hand) to make it easier to clean up any fallout. Available here.
Maybelline Master Kajal Khôl Liner - a gorgeously smudgeable, super-silky crayon with a rich, buildable pigment that lets you work up to the finish you want (it's also a brilliant base for smokey shadows). I love the authentic feel of the pointed tip, it's a bit like a kohl 'cone'. Available here.
Rimmel Scandaleyes Waterproof Kohl Kajal - the girls at the #HouseofEldridge are crazy about this high street kohl. It's a very smooth pencil so glides onto lids and has fantastic pigment payoff that's easily smudged out. One of things I love most about kohl is that you don't have to worry too much about it staying put (to me it gets sexier as it moves around a bit), but this waterproof pencil sets after about 30 seconds, so a good option for lining waterlines or for anyone with watery eyes. Available here.
Stila Kajal Eye Liner - this is the blackest kohl I've ever used - the payoff is seriously incredible, it's almost blacker than black, and super-soft. It was recommended to me by one of my A-list clients who's know for her trademark smokey eyes, so when she told me about it I naturally rushed out to buy and it's been in my kit (and personal stash) ever since. Available here.
Smashbox Always Sharp Kohl Liner - this clever kohl has a sharpener built into the lid that works whenever you screw it shut, so you have a perfect point every time - great for scribbling right into the roots of the lashes (and genius if you're like me and are constantly misplacing your eye pencil sharpener). The dense pigment is also easily smoked-out with a brush or Q tip for a worn-in look. Available here.
Tell me about your favourite smudgy liners in the comments - I'd love to know which ones you rate for sexy, smouldering eyes. X
Watch my Ultimate Kohl Tutorial below. I've written a lot about the history of kohl and it's origins in FacePaint - read more about the book here.
Model shots: Natasha Poly photographed by Cuneyt Akeroglu for Vogue Turkey.