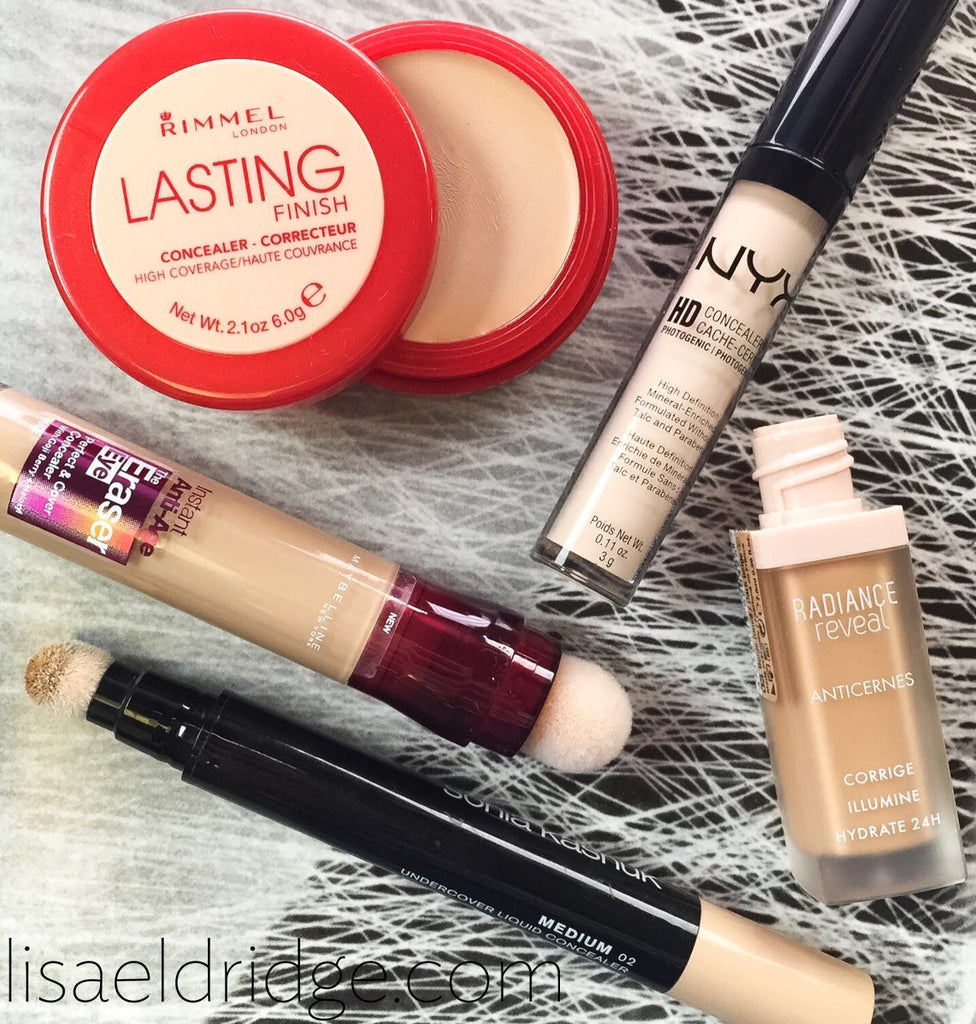 Favourite Drugstore Concealers - Updated
Concealer was the first makeup product that changed my life - as someone who suffered with acne, once I learnt to successfully cover my blemishes without looking like I was wearing a mask, my confidence grew and grew. Today, it's my secret weapon on shoots and red carpet events to blend away darkness, blemishes and uneven skintone for beautiful, flawless-looking skin. 
There are some great concealers on the high street - I wrote about five of my favourites last year (you can read about those ones here) but, as requested, I've been testing new ones at my studio - here's an updated round-up of some others I've tried and like...
Great for Under Eyes
Bourjois Radiance Reveal Concealer
A creamy and highly pigmented liquid - I find that it's quite similar to Nars Radiant Creamy Concealer if you've tried that, although a touch more lightweight. The formula contains hydrators like hyaluronic acid, so it's good for dry skin - if you're oiler, set it with a little bit of powder. Like the matching foundation (which I wrote about here) it has a brightening and illuminating effect, great for disguising dark circles, but isn't too light-reflecting so you could also use it on red/pigmented areas too. Available here in 3 shades.
High Coverage and Long-Lasting
NYX Photogenic Concealer Wand
This has a very thin, lightweight feel but the coverage is medium to full, so start with a little and build up slowly (the matte finish is good for combination and oily skin types). It's also very long-lasting, perfect for weddings, parties and events when you need your makeup to last. I find it has a bit of a brightening effect when you use it under eyes and on any dark areas, however one of my #houseofeldridge girls loves this for spot and blemish concealing. There are also three colour correcting shades (yellow, green and purple) in the range, if you want to tap into the huge colour correcting trend that's around at the moment (just make sure you blend really well!). Available here in 11 shades - 8 concealing and 3 colour correcting.
Good for Pinpoint Concealing
Rimmel Lasting Finish Cream Concealer
This hot pour concealer is very thick, creamy and long-lasting, good for oily skin - drier skin might find that it's easier to blend if you mix with a little bit of moisturiser first to thin it out (similar to how I would suggest dry skin types use Laura Mercier Secret Camouflage). The formula is high coverage and sets, perfect for pinpoint concealing and covering spots and blemishes. To conceal larger areas, warm it up in your fingers and make sure you blend well with fingers or a brush. Available here in 3 shades.
On-The-Go Touch-Ups
Sonia Kashuk Undercover Liquid Concealer
This twist-up concealer pen has a fuzzy sponge tip which I was a bit dubious about at first - however, after trying, I find that so long as you're not over-zealous with your twisting (and end up with too much product in the sponge), it does help to blend well and is good for quick touch-ups. However, for a more seamless finish, I prefer to use fingers or a brush. The formula is lovely and creamy with medium coverage, however it only comes in two shades at the moment - if you like the look of the packaging, Maybelline Master Eye Concealer is similar and comes in a bigger range of colours. The texure is similarly creamy and blendable. Available here in 2 shades. 
Tell me about your go-to concealers in the comments. Read about five other drugstore favourites here, and watch my Natural, Flawless Skin - The Eldridge Technique tutorial below to see my pinpoint concealing tricks in action. X