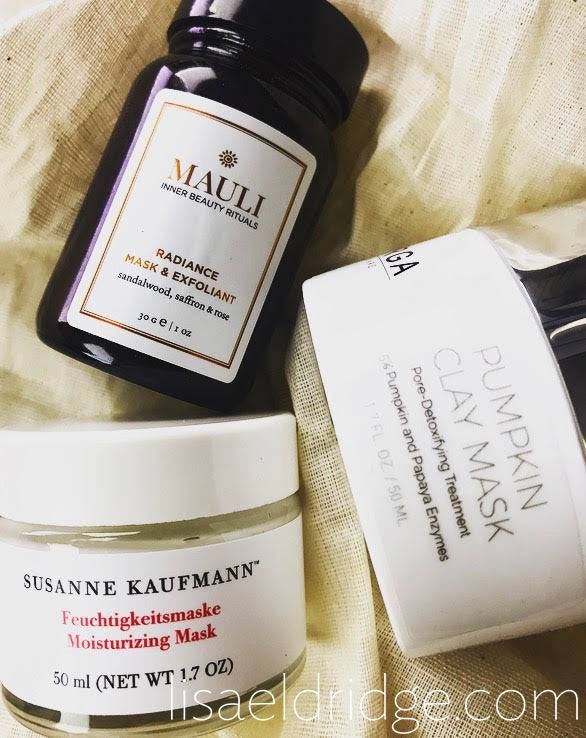 Exfoliate, Detoxify and Moisturise - 3 Face Masks I've been testing this week
If you follow my instagram story and snapchat, you'll know that in between shoots myself and my team (who all have different skin stypes) have been product testing at my studio this week  
The first face mask we tried, Mauli Rituals - Radiance Mask and Exfoliant, had everyone at the House of Eldridge enjoying a mid-week treat. It comes in powder form, so you need to add water, mix well and apply. It's fun and feels like you're in the lab... albeit a little messy.  Inspired by the ancient Eastern beauty rituals, it contains rose, sandalwood, kashmir saffron and turmeric. The base ingredient is powdered clay (fullers earth) so it sets ... tight! My team (including our male member of staff who never usually tries products) reported that their skin felt very fresh and that the glow lasted well into the next day. For me, the only con was how abravsive it was to remove (I personally hate scrubs and microdermabrasion), so avoid this one if your skin is sensitive or acnegenic.. Available here.
Good gentle exfoliation is a good idea this time of year to remove dead skin cells so that hydrating and moisturing products can really get into the skin. I tried  Pumpkin Clay Mask a new product by my trusted New York Facialist Yurga. With exfoliating pumpkin enzyme, papain and, my favourite pore grime clearing ingredient, salicylic acid. Testing can sometimes go wrong in the studio as we have lots of people popping in to say hi and I had forgotten my accountant was coming until he knocked on the door.  I was able to brazen my way out of it but having to talk seriously to a pink facemask was a bit of a challenge for him! The removal process was very gentle and my skin felt very smooth and plump after. Available here.
This week London has experienced every type of cold weather including snow, so the heating has been on HIGH. This has been a challenge for our dry skinned gals, so Jessie slathered on Susanne Kaufmann's Moisturizing Mask It has an instant calming and soothing feel to it, with hydrating  bee's wax and hazel nut oil. . Personally I've been using her healing mask and bath products which are all good. I'm intrigued to try more, this Austrian mountain natural brand is one to watch. Available here.
I'd love to hear you stories of being caught wearing a facemask! Happy Sunday everyone X