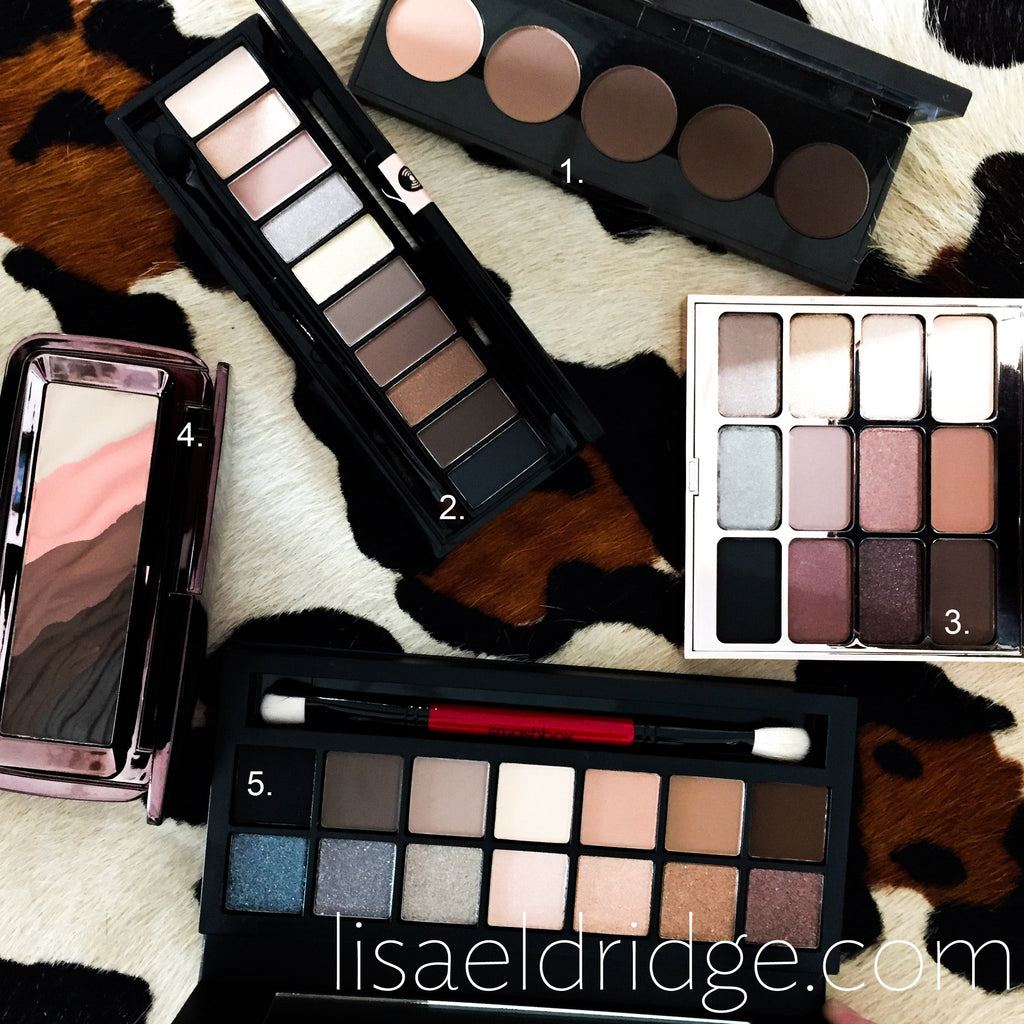 Everyday nude palettes
A nude eyeshadow palette is a modern makeup staple. The combination of shades from light to dark means they suit a lot of different skintones, and as they can be layered and blended in every way they're pretty much foolproof to use. For me, they're a kit essential because they're so versatile - the light to medium shades are perfect for creating subtle day looks while the darker shades can be layered for evening eyes with sophisticated drama. Obviously as most of you will already know, Urban Decay's Naked palette was the one that kicked off the trend for great multi-toned, neutral palettes and it's still one of the classics (and now comes in five different variations). Here are a few others that are also really good…
Becca Ombre Nudes Eye Palette - this palette contains five matte, warm tones ranging from vanilla to cocoa - perfect for sculpting. I really like the soft, non-chalky texture of the shadows and the colours work well on everyone, especially warm skintones and mature eyelids who prefer no shimmer.
L'Oréal Paris La Palette Nude in Beige - this 10 pan palette is £14.99, so £1.49 per shadow! There are six matte and four shimmer shades that err on the warmer side but there are also a couple of cool tones and an all-essential black. The colour payoff is pretty good for a drugstore palette, but if you have oily eyelids use an eyeshadow primer beforehand for extra longevity (if you have oily lids, this is the case for most shadows and palettes, no matter the cost). It's also worth mentioning that e.l.f and NYX have some good nude eye palettes at high street prices.
Stila Eyes are the Window Shadow Palette in Soul - a 12 pan palette with a really good mix of cool and warm mauve-y, chocolatey tones, five matte and seven shimmer (some a bit more glittery). You can create all sorts of looks with this palette, from a natural, sculptural day look to major party eyes - the shimmery bronze tones create a really strong smokey eye that's perfect when you want a bit of razzmatazz for a night out.
Hourglass Modernist Eyeshadow Palette in Atmosphere - this palette comes in seven different colour ways but Atmosphere is one of the most neutral. The four lightest shades are matte and the darker shade at the end has a low level shimmer. The shadows are all really, really soft, with great pigment pay off - so you can use them sculpturally or build them up for a full-on smokey look.
Smashbox Full Exposure Palette - a mega 14 pan palette (so the £37 price tag works out as under £3 a shadow). Seven of the shades are matte and seven vary between shimmer and subtle glitter. What's lovely is the mix of warm and cool tones, from grey through to black, with natural browns and some gorgeous warm golds (in the picture above, you can see the six cool shades on the left and the six warm shades on the right, while the two neutral shades in the middle are perfect for bases). It also comes with a really great brush that's perfect for buffing and blending - one side is a good dupe for a MAC 217.
Let me know if you've tried any of the above or if you have any other favourite nude palettes X
To see some nude palettes in action, watch my Classic Polished Nude and Ultimate Beautifying Makeup Look tutorials below…