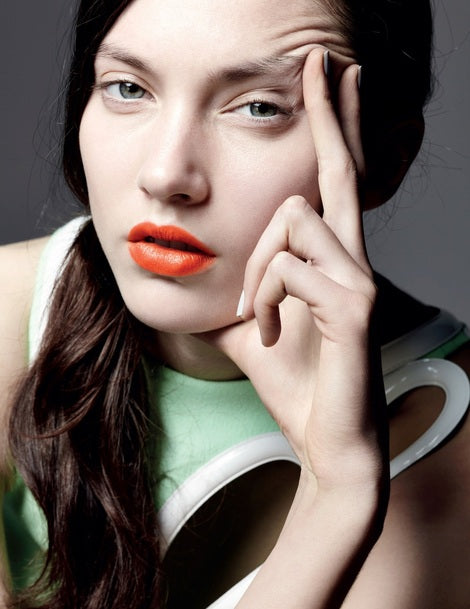 Embrace the Zing! My Favourite Orange Lipsticks
When I posted last week's #FlawlessFriday, with my pro tips and tricks for long-lasting lipstick (if you didn't catch it, read it here), a few of you asked me about the orange lipstick in the image above. I had to have a look back as I couldn't recall what I'd used (a combination of Tokyo and New York jet lag!), then remembered it was MAC Lipstick in Morange, a gorgeous, full-blast orange, really creamy and pigmented, that makes a brilliantly bold colour statement - although you can blot it down to more of a tint/stain if you prefer a less intense finish.
On the shoot I applied it pretty much the way I describe in the post, i.e. starting by creating a really good, indelible stain, then building up thin layers until I reached the intensity I wanted. I also dabbed a little bit of balm at the centre of the bottom lip which caught the light and made my beautiful model Mathilda's lips look even more sumptuously full and juicy.
If you're new to orange lipstick it can seem a bit daunting at first, but I'd really urge you to give it a go as it's such a fantastic, modern colour and perfect if you want to wear something a little different to a classic red or pop of pink. Try a fiery orange pout for your next night out and I guarantee you'll turn heads ; ) It's also a colour that can work for everyone - it looks incredible contrasting vibrantly against fair and dark skins and brings out the golden undertones of olive skin. You just need to find the shade that's right for you and looks most flattering against your skintone, whether that's a soft peach, vibrant coral or hot tomato.
There are lots of beautiful orange lipsticks around, in a huge range of shades, textures and finishes. I put together a blog post a couple of summers ago with some of my favourite shades for every skintone which you can read here. A lot of the ones I included (you can see them all in the image above) are still in my kit - hopefully it will give you some inspiration to find your perfect orange.
If you'd like more tips on how to wear orange, and what kind of makeup to team with it to keep the focus on your popping pout, watch my How to Wear an Orange Lip film below (it's based on a red carpet look I created for Keira Knightley). I filmed it in three 'comfort' levels, so whether you're a newbie and want a sheer, wearable day look, a fresh take on a much brighter orange, or a vampy, glamorous, red carpet look, you can embrace the finish that's right for you.
Let me know in the comments if you'll be rocking an orange pout soon! X
Top image:
Photographer: Liz Collins
Model: Mathilda Lowther
Styling: Miranda Almond
#makeupbylisaeldridge
Products I have used in this video:
Click below for more info and buying options on the products I have used in this film. Some of the links provided are affiliate links for which I will receive a small percentage payment for any purchases made.
MAC - Lipstick