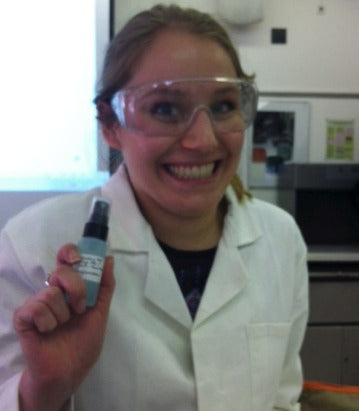 'Dear Lisa' - An Inpirational Letter ...
Happy New Year dear readers. I want to wish you all a very happy, healthy and fulfilling 2015 and to thank you for all your support, encouragement and love this past year.
I am always overwhelmed by the lovely photos and messages I receive daily via social media from viewers of this, my little piece of the interweb. Way back in the early days of my blog I had a competition to win a personal online consultation (a sort of 'ask me anything' type thing) and a bunch of products tailor-made to the winners skintype and style. The winner was a great girl called Janne-Marii. We began an email correspondence that lasted for a couple of months and I remember being struck by her intelligence and enthusiasm. We talked about many aspects of the beauty industry and, based on photos and information she provided, I sent a box of make-up products I thought Janne would like and would suit her colouring. A couple of months ago I received a beautiful email which, admittedly, brought a lump of pride to my throat. In it, Janne explained how she had followed her heart and made a significant move into the cosmetic industry and the job of her dreams, thanking me whole heartedly for the inspiration and impetus I had provided. Her letter moved me so much that I asked if she would consider writing a short blog post for my readers so that you could take inpiration from her journey. I really like how this story highlights the variety of jobs open to women in the cosmtic industry,
Here's Janne-Maril's story....
"When Lisa Eldridge held her first giveaway in 2011, it never even crossed my mind that I could actually win. I have never been lucky with the lottery or anything similar, but on 21st September 2011 I won the jackpot! The prize was an online consultation with Lisa during which she handpicked products that would suit me best (and I still have, and keep most of them very dearly).
Our conversation inspired me so much that I knew I had to pursue a career in the beauty industry from then onwards. I have been obsessed with beauty since I was 4, but I had never considered it as anything more than a passion before. Make-up artistry seemed to be the obvious choice but I felt I lacked the artistic part, as I have always been better at science-based subjects at school. Like a little miracle it dawned on me that there had to be a science bit behind all those products.
And lo and behold, I found a degree, MSc Cosmetic Science, at the London College of Fashion. It is a very comprehensive course that teaches everything you would need to know to set up your own cosmetic company. Other opportunities would be also to work for cosmetic giants, like Procter& Gamble and Estee Lauder, or raw material companies and consultancies. As it sounded too amazing of an opportunity to miss, I set my goal to attend this course and moved alone at 18 from a small Estonian town to London not even knowing whether I would get accepted. Two fast years later, I have only just started my second year in the course, and have never looked back.
Since May I have also had a fantastic opportunity to work as a laboratory technician at a consultancy company which specialises in the development products ranging from high-end skin care to foot creams and hair care products. My role mostly entails making (sometimes even creating) formulations, and researching raw material and the current market. It might sound a bit dry and studious but it also can be very creative! As a cosmetic scientist, there are many other different areas in which to specialise, be it research and development, perfumery, packaging, marketing.
It is such a brilliant industry to be in: there is always, always so much innovation, you can never grow tired of it. It has withstood the economic crisis and it certainly seems that our industry will remain incredibly sustainable thanks to continuous innovation and an ever growing, ever changing market.
Words completely fail me when it comes to thanking Lisa for giving me the inspiration to get to where I am now. What can anyone say to someone who has helped them find their right place in life? I am eternally grateful to Lisa as I could not imagine myself being happier doing anything else than this. And I encourage all of her readers who share this wonderful passion to perhaps think of it as something more than just a hobby. Becoming an MUA is not the only opportunity out there, there are so many different paths to take and cosmetic science is just one of them.
Thank you Lisa!!
With love,
Janne xx"
Pictures from top: "Maybe you can tell how excited I was to formulate my first product at Uni"
Below: "I Still keep the cards Lisa send me on my bedroon wall" 
Bottom: "This is me making a body lotion"
Thank you Janne, I'm SO proud of you, a fantastic girl with an amazing future ahead of you... you go girl! You have done this all yourself, my role is hardly worth a mention but thank you for your generosity. I look forward to meeting up with you in London soon!
Janne has kindly offered to answer questions from any of you with similar dreams and aspirations on twitter. You can find her here: https://twitter.com/Janne_Marii
Please share stories below of how you discovered your passion in life and persued it with determination. Its a bright new year, lets talk inspiration! X