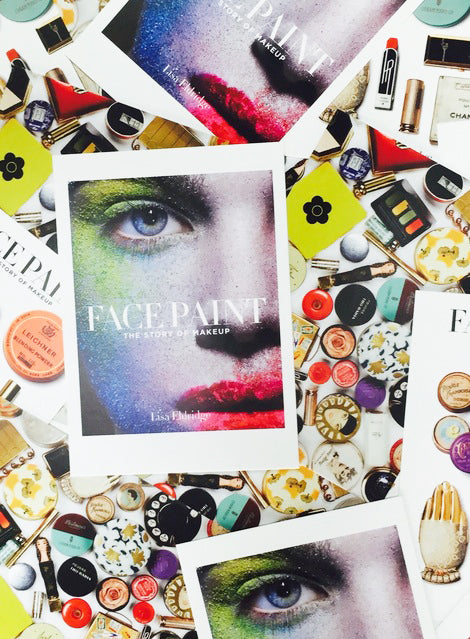 Come And Celebrate My Book Launch With Me! #facepaintbook
I can't believe the two week countdown to the launch of #FacePaintBook is finally on - despite all the long days, late nights and lost weekends spent researching, the launch day (13th October!) seems to be coming around so quickly. I'm quite nervous but also really excited to finally get this baby out!
Lots of you have asked me about book signings, so here are details of the talks, signings and events I'm doing in London throughout October. If you live in London, or are going to be visiting over the next few weeks, I'll hopefully see you there - each event is very different so you can choose the one you like the sound of the most.
Wednesday 7th October
At Home with Lisa Eldridge at Liberty London (Heritage Suite, 3rd Floor), Regent Street, W1B 5AH
THIS EVENT HAS TAKEN PLACE
This will be the most intimate of all the FacePaint events I'm doing. There will be three, one hour sessions, with a maximum of 50 people in each. I'll be talking about my book, answering any questions you have and previewing a brand new, exclusive (and fun!) film I've made to go with the launch.
I'm working with the team at Liberty to turn their Heritage Suite in to a House of Eldridge 'home from home', so you all feel like you're just dropping by my place to hang out. I'm also going to bring a case of my vintage makeup (many of the pieces that were photographed for the book) for you to have a look at. This is a one off experience as I usually never allow my precious pieces to be taken anywhere - so all in all it should be a really cool evening!
If you want to buy tickets, contact Liberty with your name, phone number and preferred time slot on beautyevents@liberty.co.uk (Liberty's events team will then call you back to confirm and take payment). Tickets are £25 and on a first come, first served basis. The ticket price includes a drink on arrival, a goody bag and a copy of FacePaint, which I'll be delighted to sign when you're there - as the event is a week before the official launch date, you'll have the book a full week before anyone else!
Tuesday 13th October - launch day!
Book Signing at Hatchards, 187 Piccadilly, W1J 9LE
THIS EVENT HAS TAKEN PLACE
On the official day of FacePaint's launch I'll be at Hatchards book shop near Piccadilly Circus signing copies, meeting and greeting. It's a drop-in event so you don't need to buy a ticket in advance -  just drop by when you like any time between 6-8pm (perfect if you work in town). 
If you haven't been before, Hatchards is a really beautiful, historic book shop (right next door to Fortnum and Mason) that opened in 1797, so feels like the perfect spot for the launch of a book about the history of makeup.
Saturday 17th October
Stylist Live, Business Design Centre, 52 Upper Street, Islington, N1 0QH
THIS EVENT HAS TAKEN PLACE
I'm going to be on the Stylist Inspires stage at Stylist magazine's much anticipated 'Stylist Live' event talking about the beauty industry, my career, videos and of course, FacePaint, with fab beauty journalist Sali Hughes. There will also be an audience Q&A and then after the talk, at 5pm, I'll be signing copies of FacePaint at the Waterstones stand.
Full day adult tickets start from £25 and each talk on the Stylist Inspires Stage is an additional £10 (although if you buy a VIP ticket entry to one is included).
There are lots of other inspiring talks, creative workshops and fashion shows happening throughout the day, including an in-conversation and book signing with domestic goddess, the gorgeous Nigella Lawson.
Monday 26th October 
London College of Fashion, 20 John Prince's Street London, W1G 0BJ
Time: 6pm to 8.30pm
If you're a student or member of staff at London College of Fashion, Central Saint Martins, Chelsea, Camberwell and Wimbledon Colleges of Art or the London College of Communications, come to my 'Inside the Industry' talk at LCF. Tickets are free for students and staff, but make sure you register beforehand on the UAL events website here. You can also submit any questions you want to ask me for the Q&A. And if you want to buy a copy of my book, there will be copies on sale in the canteen after my talk for £13 (RRP £18.99).
I'm sooo looking forward to seeing you all and showing you what's been taking up every spare second of my life for the past few years! ;) This book is for all of my makeup lovers out there, a big thank you for all of your amazing support so far.
If you're planning to come to any of these events, please let me know in the comments! X
Click here to read more about #FacePaintBook and order a copy